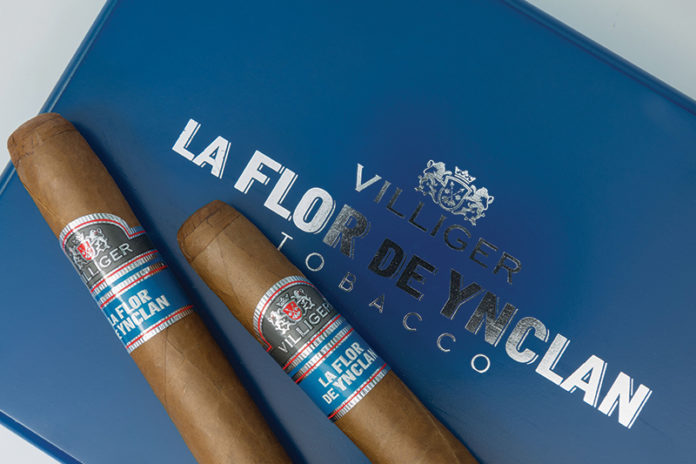 Villiger Cigars is expanding the Villiger La Flor de Ynclan line with the addition of a new size. The company has announced the release of a new Toro (6 x 52) format of the highly rated Villiger La Flor de Ynclan cigar.
Villiger La Flor de Ynclan is a medium-bodied cigar blended by Heinrich Villiger and Matias Maragoto of ABAM Cigar Factory in the Dominican Republic. It took nearly a decade to make this cigar brand. Villiger produced a small batch of La Flor de Ynclan over a decade ago but wasn't satisfied with the results and decided to cease production. The tobacco was set aside and aged and Maragoto meticulously tweaked the amount of the Indonesian, Dominican and Nicaraguan tobacco within the Ecuadorian wrapper. The cigar was finally relaunched in 2017 and has since gone on to earn a 93 rating from Cigar Aficionado and it was also ranked as the number 10 cigar by Cigar Aficionado in 2017 and earned the distinction of being the number 6 ranked cigar of the year by Tobacco Business Magazine in 2017 as well.
Heinrich Villiger, chairman of the board at Villiger, commented: "The Villiger La Flor de Ynclan seems to be a blend that we keep going back to. Over ten Years ago Matias Maragoto and I began on this journey to create a blend that would pay homage to the Pre-Revolutionary style of Cuban cigars. Although, the brand has received many important accolades, I still felt that the blend can be an even better version of itself. We expect the Villiger La Flor de Ynclan in this new Toro size to be an upgrade from the already highly rated robusto vitola."
The new 6 x 52 Toro size will come packaged in 10-count boxes and will have an MSRP of $13 per cigar.
For all the latest news from Villiger Cigars, visit villigercigars.com.