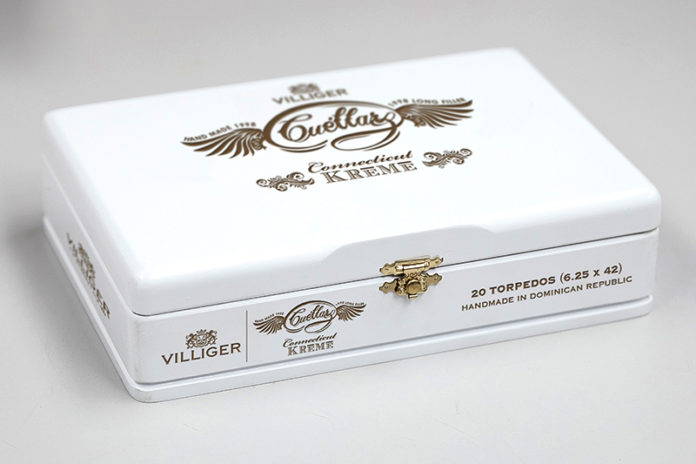 In an effort to streamline its branding, Villiger Cigars has announced that it will be bringing the Cuellar cigar bran d under its umbrella. The brand will now be known as Villiger Cuellar Connecticut Krēmē.
"Villiger Cuellar Connecticut Krēmē is one of our most popular cigar brands," explains Rene Castañeda, president of Villiger Cigars North America. "It's extremely creamy profile, combined with just a hint of spiciness, has made the brand a hit with consumers. This small change of adding the "Villiger" name on band and packaging, will help consumers better identify it as a Villiger brand."
Villiger Cuellar Connecticut Krēmē is a mild- to medium-bodied cigar made in the Dominican Republic. Like most Connecticut shade cigars, Villiger Cuellar Connecticut Krēmē is creamy and smooth with flavor nuances that include hints of spiciness throughout the smoking experience. The wrapper houses filler tobaccos and a binder from the Dominican Republic. It is available in four vitolas: Robusto (5 x 48), Toro Gordo (6 x 54), Churchill (7 x 50), Torpedo (6 1/4 x 52).
For all the latest news from Villiger Cigars, visit villigercigars.com.