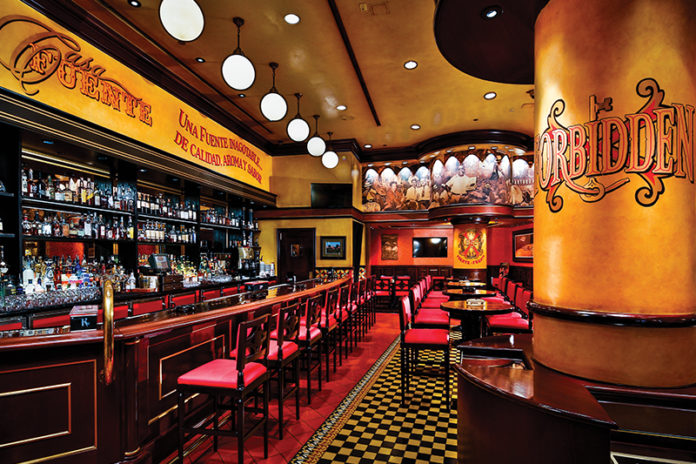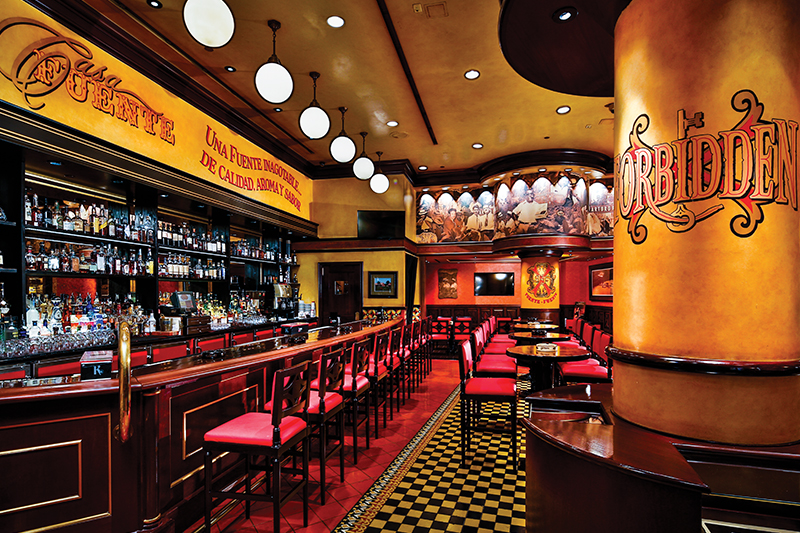 While many cities are cracking down on cigar bars and lounges, there are still plenty of places to smoke throughout Las Vegas. With so many smoker-friendly trade shows and conventions occurring in Vegas each year—from the Tobacco Plus Expo in the winter to the International Premium Cigar & Pipe Retailers Association show (IPCPR) in the summer—knowing where exactly you can go to not only purchase a great cigar, but also to smoke it without many restrictions is important. Here are a few places throughout Las Vegas where you can enjoy your stogie.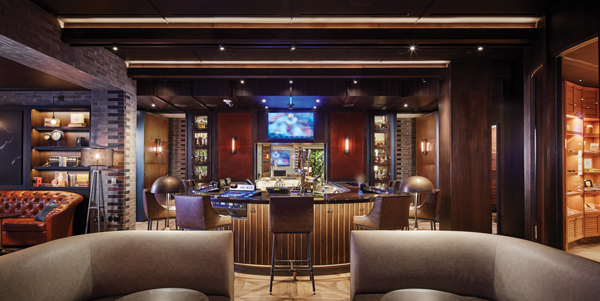 In Caesars Palace, the Montecristo Cigar Bar is one of Vegas' newest cigar bars [Located in Caesars Palace | 3570 S. Las Vegas Blvd., Las Vegas, NV 89109 | (866) 227-5938]. Barely a year old, the Montecristo Cigar Bar is a 100-seat bar, lounge and gaming area that offers visitors a place to enjoy a selection of libations and small bites in a 4,000-square-foot space. In addition to offering plenty of seating in its lounge areas where you can enjoy a cigar, smaller gatherings can be held in the bar's Vault Room. The walk-in humidor is stocked with a selection of familiar brands, including Romeo y Julieta, Ashton, Montecristo and Rocky Patel, among many others. With more than 135 different bourbons and whiskeys, Montecristo Cigar Bar has a lot of offer for any person or group of people looking for a place to relax and spend their leisure time.
"Here you can game, you can drink, you can smoke, and you can eat. In most places, you can only do a few of those," says Chelsea Ryder, public relations manager at Caesars Entertainment Corporation. "People can camp out here. It's a nice, secluded space."
If you want to get away from the gaming aspect of Vegas but still want to be in the middle of the action, there's Casa Fuente, also located within Caesars Palace [Located in The Forum Shops at Caesars Palace | 3570 S. Las Vegas Blvd., Las Vegas, NV 89109 | (702) 731-5051 | casafuente.com]. Casa Fuente has been a destination for many cigar enthusiasts since it opened in 2005. Though it only carries Fuente products, its spirits selection is worth stopping in for as well—we definitely recommend trying a mojito while you're here. According to Michael Fayerverger, Casa Fuente's general manager, 100,000 people from around the world pass by this Vegas cigar destination on any given day.
"We're in the most expensive mall in the country. We get all types of people: male, female, young, old. They walk in, they relax, have a nice drink and will have a cigar. We've become a destination spot," says Fayerverger. "There are plenty of machines out on the strip. You don't have to worry about gambling here just come in and relax."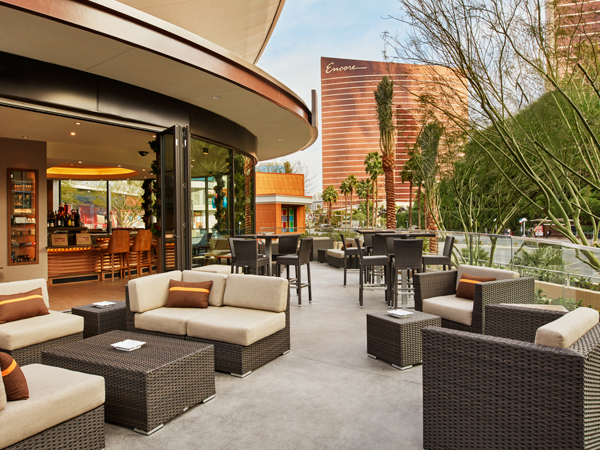 If you are looking for a place to enjoy a cigar and a drink that comes with a view, head to the Davidoff of Geneva Cigar Bar at Fashion Show shopping mall [3200 S. Las Vegas Blvd. #1245, Las Vegas, NV 89109 | (702) 473-5001 | davidoffcigarbarlv.com]. Located alongside the famed Las Vegas Strip, the Davidoff of Geneva Cigar Bar isn't like many of the cigar bars you'll find in Vegas. Encased in glass with a fully stocked bar as the center focus of the lounge area, a walk-in humidor modeled after a curing barn and an outside lounge area, this business caters to those who are looking for hard-to-find cigars that are a bit more high-end.
"When we did our initial market research after being open for 60 days, we saw that cigars over $40 and the high-end cigars were what we sold most," reveals Rich Wilson, assistant general manager and cigar ambassador at the cigar bar. "We already had a tremendous amount of high-end stuff, but as soon as we saw that was the trend we started pushing to find even more and make sure that we had it, because if you could get the stuff in along these margins, then why wouldn't you want to do that?"
In planning the launch of the bar, those at Davidoff wanted to align it with the company's overall brand and motto, which is "time beautifully filled." When thinking of what kind of clientele they wanted the cigar bar to attract, they decided it was those who wanted the highest echelon of not only cigars but spirits as well. Since its opening over a year ago, Davidoff has attracted those patrons and also seen many of them become repeat customers.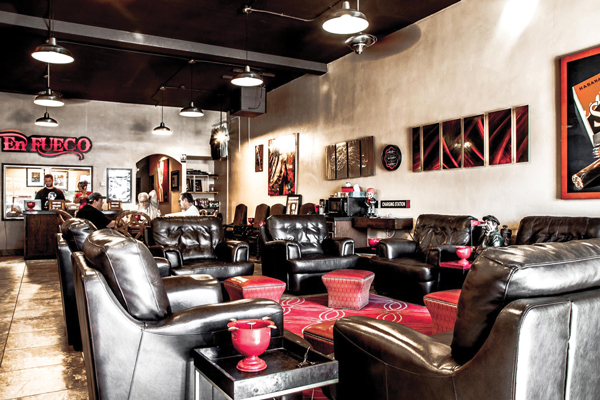 Finally, where do the Vegas locals like to smoke? Ed Munn, owner of Dig This Las Vegas, recommended En Fuego Cigars & Lounge [328 W. Sahara Ave., Las Vegas, NV 89102 |
(702) 384-9262 | enfuegolasvegas.com]. Reviewers of En Fuego have described it as comfortable, relaxing and welcoming. Noted as having a knowledgeable and friendly staff and great customer service, En Fuego is another great lounge for cigar enthusiasts to visit during any trip to Las Vegas.
– Story by Antoine Reid
This story first appeared in the July/August 2017 issue of Tobacco Business magazine. Members of the tobacco industry are eligible for a complimentary subscription to our magazine. Click here for details.