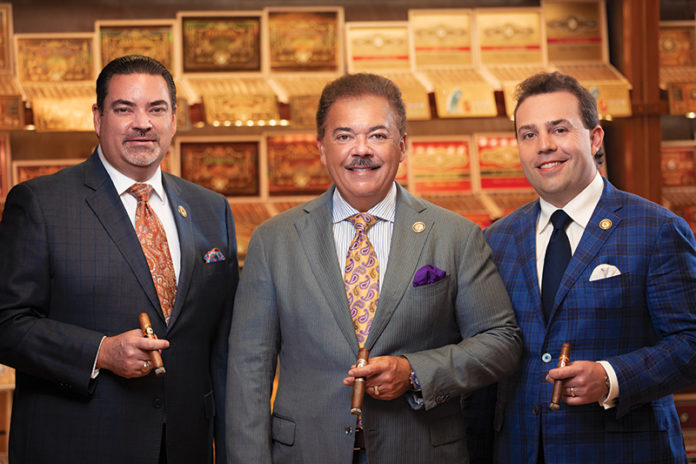 Nick Perdomo Jr. and Nicholas Perdomo III reflect on past generations of their family and its business and history in tobacco. For part 1 of this story, click here.
On the Shoulders of Giants
In a letter dated Feb. 5, 1676, Sir Isaac Newton wrote his contemporary physicist Robert Hooke, "If I have seen further, it is by standing on the shoulders of giants," to explain that his scientific breakthroughs could be traced back through the contributions of others before him. While not using the exact same terms that Newton used, Nick Jr. attributes Perdomo Cigars' success to the work previous generations in his family put into learning the premium cigar business and tobacco growing.
"My father was a great businessman who was also a great cigar-maker in Cuba," reflects Nick Perdomo Jr.. "My uncle was a great businessman, and he was in the tobacco business, too. My grandfather's brother was the minister of tobacco in Cuba for over 44 years. Our family had this heritage in cigars that I wanted to continue."
It was those previous generations who inspired Nick Jr. to chase his own dream of being in the premium cigar business. In those early days when he was still working as an air traffic controller, Nick Jr. arose at 5 a.m. and went to work at his factory by 6 a.m. He worked there until 3:15 p.m., when he had to leave for the airport to work his 3:30 p.m. to 11:30 p.m. shift. Worn out from his workday, he staggered home to get a few hours rest before waking up to do it all over again.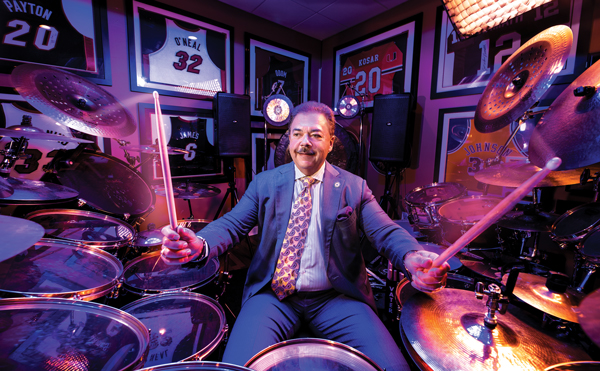 "The biggest moments in my life were whenever my father told me that I was blessed to live in the greatest country in the world and that if I worked hard enough I could attain anything I wanted," Nick Jr. explains. "It was a dream to establish my own cigar company, but I had some advantages in pursuing my dream. I was around cigar smoking all my life, and I loved cigars. I was always frugal when I was in the military, so I had savings to set aside. When I got married, I decided to follow that dream. I was blessed that my family supported me."
Like his father before him, cigars and tobacco also enamored Nicholas III at an early age. Rather than resenting that his family spent their summer vacations at the factory in Esteli instead of taking an exciting trip to a theme park or spending the summer playing sports or attending camp, Nicholas III relished the time he spent at the factory.
"I have been very blessed in my life, and I always thought I was the luckiest kid around. Spending the summers with my family in Nicaragua and learning the only thing that I ever wanted to do in life was incredible," says Nicholas III .
Nicholas III formed an especially strong bond with his grandfather, who passed away more than a decade ago. Nicholas III refers to Nick Sr. as "The Man!" and says that he thinks about his grandfather every day. Obviously, Nick Sr. had a profound influence on Nicholas III. His parents, of course, also greatly influenced the young man and encouraged him to be the best he could be. His immediate family has inspired him to pursue his dreams, but the extended family—the employees in both Nicaragua and in the United States—have been the ones who have taught him the lessons in patience and determination to fulfill his dreams.
There is Aristides Garcia, Perdomo Cigars' pre-industry manager, who has 74 years of experience in the industry and who has passed on his tobacco knowledge to Nicholas III, especially the invaluable secrets about fermenting tobacco. Sarah Gonzalez, Perdomo Cigars' factory production manager, was once the top cigar roller at H. Upmann. She taught Nicholas III the proper way to construct cigars from forming the bunch to applying the wrapper. Miguel Rivera and Silvio Loaisiga, Perdomo Cigars' general manager and assistant general manager, respectively, spent a lot of time with Nicholas III when he was a teenager, taking him through each department and training him thoroughly in every aspect of making cigars and taking care of tobacco.
"In addition to those very important people, I would have to say that Arthur Kemper [Perdomo Cigars' vice president] is a man who has influenced me tremendously for many years," Nicholas III continues. "Arthur has invested a lot of time in me over the years because he knows how much I love our company. We are a great team, along with my dad. It is an honor to work with them both. I believe that the common factors between my grandfather, my father, my mother and Arthur is that they are all extremely dedicated, hardworking and passionate to be the best. The impact that they have made in my life is tremendous."
Indeed, while Nicholas III gained a valuable education about the art of making fine cigars during summer vacations spent in Nicaragua, he also received tremendous tutelage in the craft of customer service from his father and Kemper at the International Premium Cigar & Pipe Retailer Association (IPCPR) trade show and conventions. Augmenting those experiences at trade shows were visits to retailers in their shops—learning firsthand their concerns and then their needs and figuring out the best solutions to benefit them and their customers.
"My father always tells me that character counts and that it takes a lifetime to build and only a few seconds to destroy," Nicholas III says. ."He tells me that it takes 10 years to gain a good customer and just three seconds to lose one. We don't want to lose any customers, so we're going to do everything we can to keep them. I think that's why people in the industry respect us. Retailers know that we make top-quality cigars that they can feel comfortable recommending to their customers. After nearly 27 years, I see Dad working as hard as he ever did because he has consumers' enjoyment of our products first in his mind. There's never good enough for him—he's always trying to make our cigars and our company even better."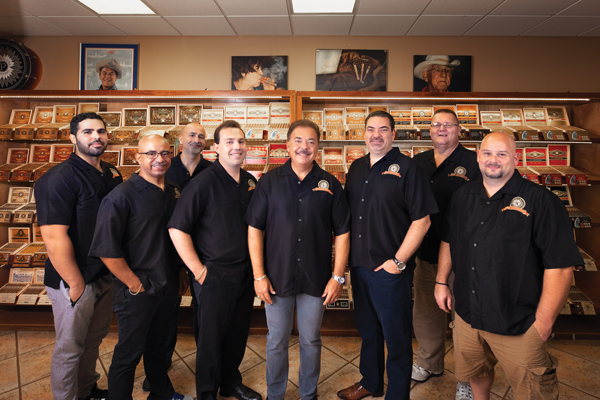 At 54 years of age, Nick Jr. is still far from retirement and enjoys being in the premium cigar industry today as much as he did when he started the company out of his home nearly 27 years ago. While Nick Jr. doesn't plan to step away from Perdomo Cigars anytime soon, he's becoming more comfortable with the idea of someday handing over the company's daily management to Kemper and his son and daughter. After all, the two youngest Perdomos have been preparing for the task of continuing the family legacy almost from the moment they were born. While they'll have to work all the harder extending the heritage, Nick Jr. feels confident that they've been given all the tools and experiences to succeed. They've had an excellent teacher.
"My goal is to maintain what my family has created," Nicholas III concludes. "I take pride in what my family has accomplished from how my father started our company in a small home in Hialeah to now being one of the largest manufacturers in the premium cigar industry. .As the fourth generation of our family to be in the cigar business, I am excited for what the future holds. We have big plans at Perdomo Cigars, and the best is yet to come."
This story first appeared in the July/August 2019 issue of Tobacco Business magazine. Members of the tobacco industry are eligible for a complimentary subscription to our magazine. Click here for details.
– Story by Stephen A. Ross, editor-in-chief of Tobacco Business Magazine. Photos by Law Ream.