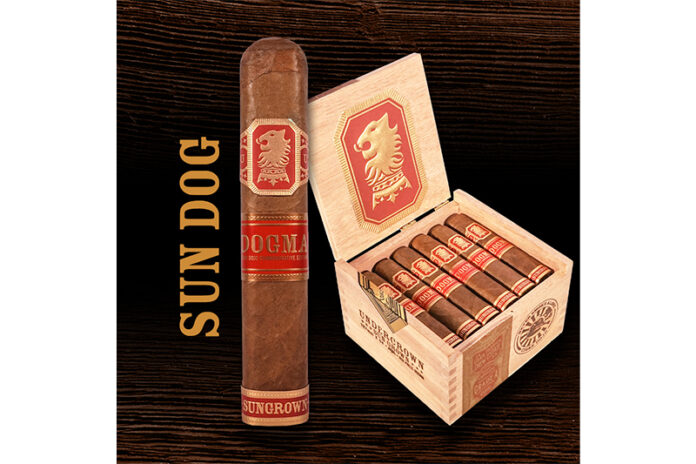 Drew Estate's Drew Diplomat Program members are getting a limited edition release during the month of December. During at Nov. 18, 2022 broadcast of Cigar Dojo's "Smoke Night Live," Drew Estate announced that it will soon begin shipping the 2022 limited edition Undercrown Dojo Dogma Sun Grown.
The Undercrown Dojo Dogma Sun Grown will be presented as a 5 x 54 box-pressed Robusto. It features a silky Ecuadorian Sumatra Sun Grown cap, a zesty Connecticut River Valley Stalk Cut and cured Sun Grown Habano binder and a blend of premium Nicaraguan filler tobaccos. To create this blend, Drew Estate's master blender Willy Herrera worked with Eric Guttormson, owner of Cigar Dojo. Together they selected one leaf of extensively aged ligero from Nicaragua's Nueva Segovia region that helped enhance the cigar's intense character.
"Three years after introducing our first collaboration with Drew Estate with the Undercrown Dojo Dogma Maduro, we sought to extend the line with an all-new Dojo Dogma expression," Guttormson shared. "That new expression was Undercrown Dojo Dogma Sun Grown, a hefty and toothy spice bomb take on the Dogma experience that smokes and tastes great from the first puff all the way to the end. It was so good that it became Cigar Dojo's Cigar of the Year in 2017 and has been a favorite among the Cigar Dojo community ever since."
"Undercrown is the 'Peoples' Champ'; a cigar created by the hardworking torcedores at La Gran Fabrica Drew Estate," added Jonathan Drew, founder and president of Drew Estate. "Undercrown Dojo Dogma Sun Grown is great right out of the box but it gets even better with age. So, snag a box now and smoke a bunch, and grab another box to throw in the humidor to age out."
Undercrown Dojo Dogma Sun Grown will come in 24-count boxes adorned with the emblems of both Drew Estate and Cigar Dojo. Each cigar will have a suggested retail price of $11. It is expected to ship to retailers beginning Dec. 12, 2022.
For all the latest from Drew Estate, visit drewestate.com.