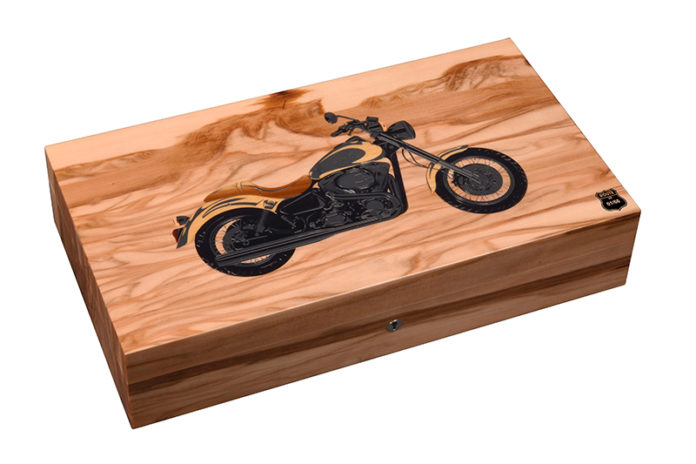 Just as the cigar industry has some well-known players, so does the humidor industry. Elie Bleu was founded in 1976 in the heart of Paris. In addition to luxury humidors, the company's workshop produces watch winders, jewelry boxes and other wooden accessories. Elie Bleu has a reputation as being one of the world's premier designers and manufacturers of fine wooden cabinets and boxes, and the company has made exclusive pieces for famous Parisian jewelers, couture houses and luxury brands. Elie Bleu's humidors and other pieces of work are unique and limited in production, making them both timeless and priceless.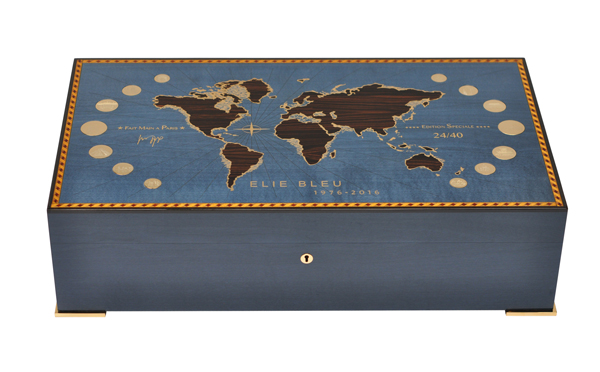 "The Elie Bleu collection is for the passionate," says Christine Collins, a director at Reyns International, the distributor of Elie Bleu in North America. "Our products enhance the experience of cigar smoking. Our humidors are considered functional art. Elie Bleu is considered a luxury brand that offers a certain level of exclusivity, excellent quality and outstanding craftmanship."
Colibri is another manufacturer of luxury goods, having spent the past 91 years manufacturing humidors, lighters and cigar cutters. Founded in 1928 by Julius Lowenthal, Colibri built its business around providing the world with luxury smoking instruments and accessories. When it comes to humidors, Colibri develops its products from the ground up, focusing on important features such as superior moisture retention and climate control above anything else. The company also focuses on the best-suited materials for its humidors, making sure that if a customer invests in one of its humidors, they can trust Colibri to give them a product that will not only make a statement but that is also built to last and keep the cigars stored within it properly humidified.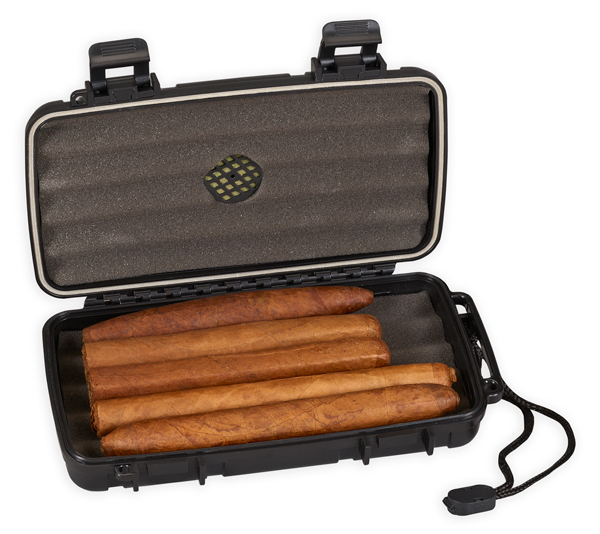 The Lotus Group has a long history of manufacturing high-quality, innovative smoking accessories. It has well over 75 different lighter assortments to choose from that range from as low as $6.99 to as much as $100. Though it started with lighters and cigar cutters, humidors were a natural extension to the company's product offerings in the smoking accessories category. The Lotus Group has built its reputation on safety, reliability and durability, three characteristics that extend to its travel and desktop humidors as well as its humidor accessories, which include humidification gel packs, humidifiers and hygrometers.
Quality Importers entered the industry and began selling humidors just as the Cigar Boom of the 1990s was ending. The company launched in February of 2000 and pre-sold 500 HUM-150G El Rey glass-top humidors. Halfway through production, the company increased its initial order of these humidors up to 1,000 units and proceeded to reorder 2,000 pieces without realizing the Cigar Boom was going bust and that they would have the daunting task of selling their inventory of humidors. This decreased Quality Importers' investment risk and assured its profitability from the first shipment. Since then, Quality Importers has grown organically and expanded its portfolio of smoking accessories with the 2018 acquisition of Xikar.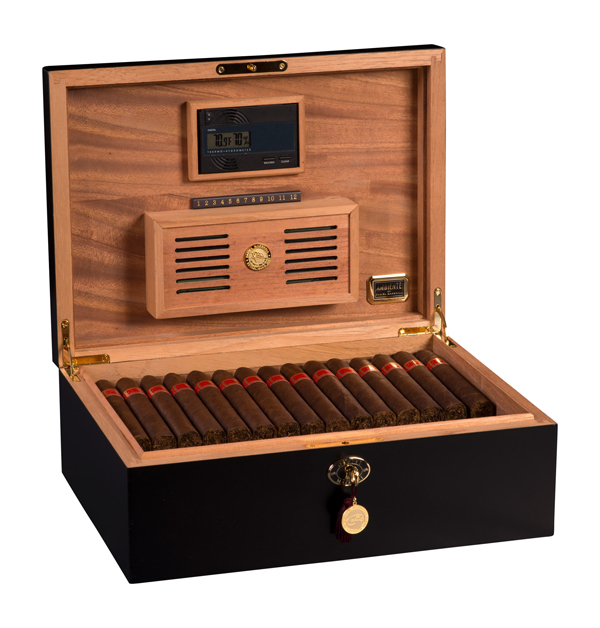 Daniel Marshall is a 37-year cigar industry veteran and humidor maker. His humidors and cigars are enjoyed by Hollywood celebrities, U.S. presidents, dignitaries, fashion designers and cigar connoisseurs from around the world. Marshall has collaborated with and designed prestigious humidors for Dunhill, Tiffany & Co., S.T. Dupont, Cartier, Hermes, Harrods, Bally of Switzerland and Garrad's of London. Marshall's humidors have become a collectors' item, with some ending up on display in museums like the Smithsonian and others in the personal collection of cigar aficionados like former California governor Arnold Schwarzenegger. In 2016, a humidor Marshall made for Schwarzenegger broke the record for the highest amount of money paid for a modern humidor during the Leonardo DiCaprio Foundation's fundraising gala, which was held in Saint-Tropez, France. Another of Marshall's humidors, one made for Prince Albert II of Monaco, raised 75,000 euros at a benefit gala to protect the planet's oceans.
Humidor Qualifications
Consumers require some guidance and help when it comes to choosing the best humidor for them. Many may avoid asking a retailer certain questions about humidors out of fear of appearing uninformed, but no question is a bad question. For most, a humidor is and always will be an investment, and the more questions that are answered upfront, the better the buying experience and the happier the consumer will be with their purchase. The best question to start with in examining the different humidor options is a simple one: What is it made out of? Humidors made out of Spanish cedar tend to provide the optimal environment for aging tobacco. Because of its absorbent quality, Spanish cedar enhances and maintains a moist environment for the cigars to age in. Spanish cedar can also help protect against the potential of tobacco beetles affecting cigars.
According to The Lotus Group's Carl Fritz, American red cedar or Honduran mahogany are also good options, but they can be more expensive. Collins reveals that Elie Bleu sources its rare and unique wood from Europe, inspiring its artisans to craft beautiful works of art that are aesthetically pleasing and functionable. When considering a humidor purchase, it's also important to check the seal on the humidor a consumer considering buying because something so simple can be a big deal.
"It is very important that a humidor is airtight to hold in the humidity and prevent your cigars from drying out," Fritz explains. "Wood that is less prone to warpage or shrinkage is very important in maintaining the seal on your humidor."
"One of the key elements in selecting a humidor is making sure it is airtight," adds Fritz. "You usually do this by opening the humidor and then 'dropping the lid.' If you hear a loud bang when the lid hits the top of the humidor, it usually means it is not airtight. Please note, if you're dealing with a glass-top or fragile humidor, it's important to use a little common sense when performing this test. You obviously cannot test how airtight the lid is with a humidor you buy online, at least not before you buy it. Also, humidors are considered home decor pieces in that they tend to sit in a place of prominence in your home. Seeing the product in person will better ensure that it will look good in your home and match your decor."
There are other factors for consumers to consider when selecting a humidor, including its size. The bigger the humidor, the more difficult it can be to achieve even humidity levels throughout the humidor. Cigars that are closest to the humidor's humidification unit can become moister than those placed farther from the humidifier. To avoid this problem, it's best to suggest that consumers turn or rotate the cigars in their humidors periodically so that the cigars are humidified more evenly. Collins points out that larger humidors, because of this problem, require additional humidifiers. For example, a 75-count humidor would typically just have one humidifier while one that holds 200 cigars should be equipped with two humidifiers. While it may be tempting, consumers also will want to avoid overfilling a humidor.
"Overfilling a humidor can lead to less breathability for some cigars, and they may not receive the proper level of humidification," warns Grabie.
When it comes to where to buy a humidor, there are both pros and cons of purchasing online or in a brick-and-mortar retail store. The advantage of buying online is competitive prices and a wider variety than a single store may have. Buying a humidor from a brick-and-mortar store, however, allows consumers to examine it and to be able to interact with a retailer in person to help facilitate the sales process.
"In our fast-paced world, many customers do not have time to visit a shop," says Marshall.
"They purchase online, relying on reputation and ratings. We live in a digital world, and many cigar shops now have online shops to offer all the options to our customers. Advantages include touch, feel and smell in person, and to have the guidance and expertise of a tobacconist in person. However, many online shops have a similar trained team to help the customer make the perfect choice."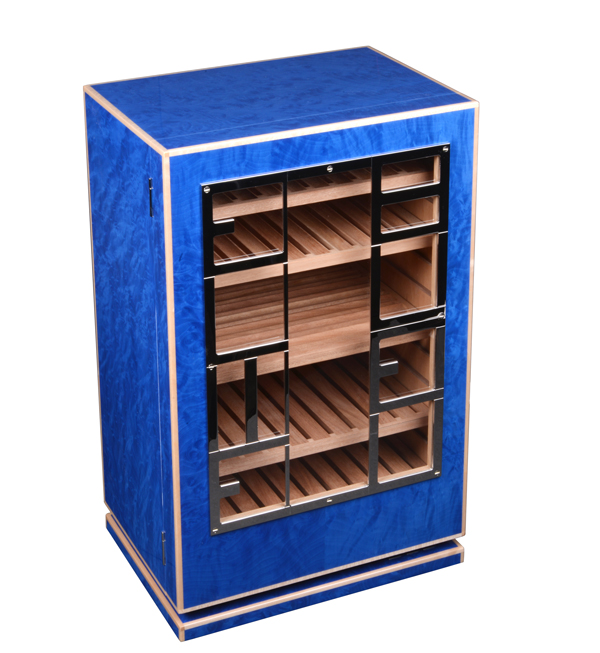 Once you find the best humidor for your customers' needs, next you should consider where they're going to place it. Humidors can be treated like statement pieces or works of art and used to liven up a room or office. There are certain environmental conditions to consider when finding a place within the home or office for your humidor. It's typically a good idea to store a humidor in a cool and dry environment. The more heat and sun that hits a humidor, the harder it will be to keep the cigars within it properly humidified. Fritz recommends avoiding placing your humidors in areas close to heating sources as these areas will dry out a humidor more quickly. Also consider keeping humidors away from track lighting, radiators, overheated display cases and direct sunlight as these can all affect the veneer of the wood.
Humidors may be an accessory, but they play an important role in the premium tobacco lifestyle. Retailers hoping to grow their profits must take advantage of big sales items like humidors and must view these items as essential for those customers purchasing premium cigars. Yes, humidors are investments, and there are many different options, but it is the job of the retailer to walk customers through the various options to find the best fit for each customer's needs. Helping customers protect their cigar purchases is the mark of a good retailer and will help build trust between retailers and customers that will build loyalty and encourage future purchases. Stock your store with a variety of humidor options, merchandise them properly, and watch your profit margins grow.
This story first appeared in the January/February 2020 issue of Tobacco Business magazine. Members of the tobacco industry are eligible for a complimentary subscription to our magazine. Click here for details.
– Story by Antoine Reid, senior editor and digital content director for Tobacco Business Magazine. You can follow him on Instagram @editor.reid.