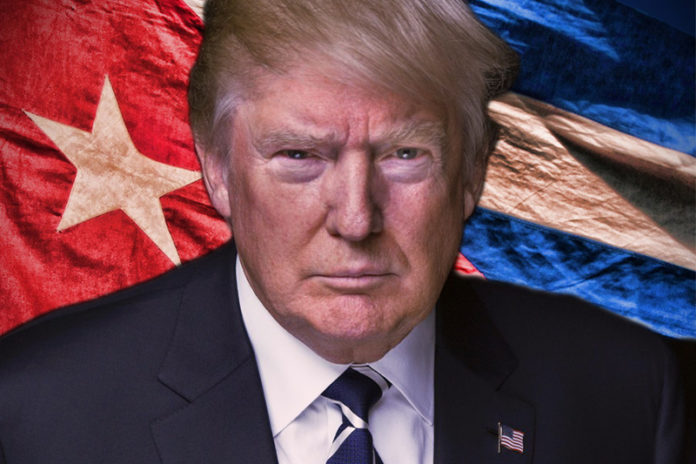 In a speech delivered in Miami, Fl., on June 16, 2017, President Donald Trump outlined his Cuba policy, rolling back parts of President Obama's policies. Trump said, "I am canceling the last administration's completely one-sided deal with Cuba" as he proceeded to criticize former President Obama's policies that opened the country up to more travel and diplomatic relations.
As part of his reasoning for new restrictions, President Trump said he wanted to "expose the crimes of the Castro regime" and accused Obama and his administration of ignoring the Castro regime's human rights violations.
"They made a deal with a government that spread violence and instability in the region and nothing they got … they fought for everything and we just didn't right hard enough but now, those days are over," said Trump. "We now hold the cards. The previous administration's easing of restrictions of travel and trade does not help the Cuban people. They only enrich the Cuban regime."
Even with the tough stance on Cuba and criticism of the Castro regime, the new policy does not completely sever relations with the island nation. The U.S. will still engage Cuba in diplomatic relations and the recently opened embassies in Havana and Washington will also remain. Americans will also still be able to bring certain Cuban goods back into the U.S. after visiting the island, including rum and sought-after cigar products.
There comes the challenge, however. Many of the restrictions introduced by the Trump Administration will make it harder from Americans to travel to Cuba. The administration will begin to strictly enforce authorized exemptions that allow U.S. citizens to travel to Cuba. U.S. commerce with Cuban businesses owned by the military and intelligence services will also be prohibited. Commerce with GAESA, Cuba's military's business and commerce wing, will be limited under Trump's policy. U.S. companies will have a difficult time starting new business within Cuba. Travel in general will also be challenging as reasons for travel that were permitted under Obama could now be subject to a Treasury Department audit under Trump.
On the positive side, Secretary of State Rex Tillerson has been tasked with expanding Internet access within Cuba. Tillerson and his department have also been asked to reiterate the U.S.'s opposition to efforts in the United Nations to lift the Cuban embargo until further human rights have been achieved within the island nation. None of the new restrictions and regulations are immediate–the White House and various agencies are expected to announce timelines and dates in the coming months.
Sen. Marco Rubio has spent months urging President Trump to take a more strict stance toward Cuba. Trump also campaigned on reversing Obama's Cuban policy, pleasing some voters and Republicans. There are, however, some criticism, from both Democrats and some Republicans.
"These policy changes by President Trump will only take us back toward a Cold War policy that was a miserable failure and held our country back for more than 50 years," commented Rep. Jim McGovern, (D-Mass.).
Republican Sen. Jerry Moran of Kansas also had issues with Trump's Cuba policy, commenting on how Cuba is a new market that would benefit farmers and ranchers who will now lose out to other nations in selling goods to the country.