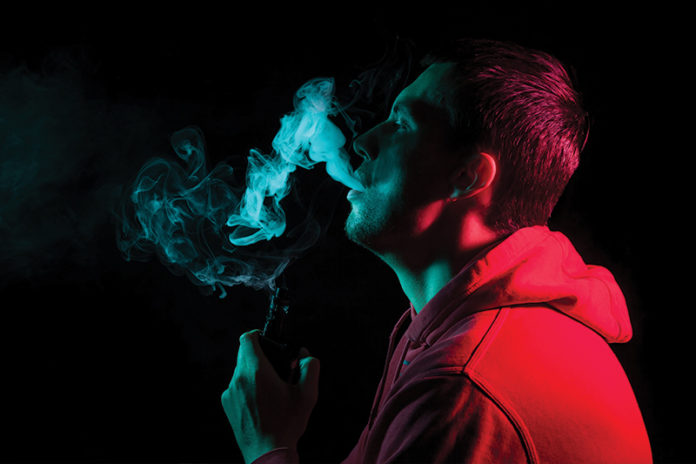 After six deaths and 450 cases of the mysterious vaping-related lung illness [read more here], the Trump Administration has announced that the U.S. Food and Drug Administration (FDA) will be finalizing compliance policies that would prioritize the agency's enforcement of the pre-market authorization requirements for non-tobacco flavored e-cigarettes. The move would remove flavored e-cigarette products from the market in an effort to prevent youth use.
"The Trump Administration is making it clear that we intend to clear the market of flavored e-cigarettes to reverse the deeply concerning epidemic of youth e-cigarette use that is impacting children, families, schools and communities," said Health and Human Services Secretary Alex Azar. "We will not stand idly by as these products become an on-ramp to combustible cigarettes or nicotine addiction for a generation of youth."
This moves comes as new data from the National Youth Tobacco Survey were released, showing a rise in youth e-cigarette use and the popularity of flavors among young users. The data showed that more than a quarter of high school students were e-cigarette users in 2019. Many of these users admitted to using popular fruit, menthol or mint flavors.
"We appreciate President Trump and Secretary Azar's continued support of the agency's efforts to prevent youth use of e-cigarettes, including the bold approach we're announcing today. Once finalized, this compliance policy will serve as a powerful tool that the FDA can use to combat the troubling trend of youth e-cigarette use. We must act swiftly against flavored e-cigarette products that are especially attractive to children. Moreover, if we see a migration to tobacco-flavored products by kids, we will take additional steps to address youth use of these products," commented Acting FDA Commissioner Ned Sharpless, M.D. "The tremendous progress we've made in reducing youth tobacco use in the U.S. is jeopardized by this onslaught of e-cigarette use. Nobody wants to see children becoming addicted to nicotine, and we will continue to use the full scope of our regulatory authority thoughtfully and thoroughly to tackle this mounting public health crisis."