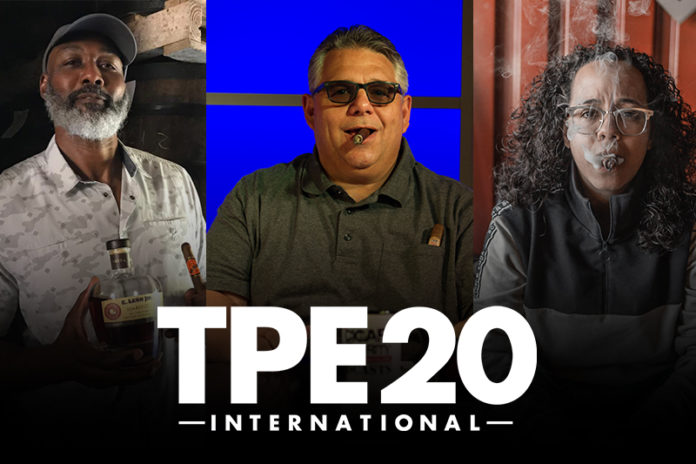 For TPE 2020, TMG set out to reinvigorate the trade show's educational conference by bringing in some of the premium tobacco industry's biggest disruptors and headliners. Each session of Ignite, TPE's educational program, has been designed to empower retailers and manufacturers and to help them to improve their businesses with insights from companies and entrepreneurs who are making a difference and challenging the status quo of their respective industries.
"TMG's mission and goal is to provide our audience with timely, useful content that will help them do business better. When it came time to plan out the educational lineup for TPE 2020, we wanted to bring the same energy and top-notch content we feature in each issue of Tobacco Business magazine into the upcoming trade show," says Antoine Reid, senior editor and digital content director at TMG. "We understand that the typical educational conference can be boring and a chore to sit through, but that's not what TPE 2020's educational sessions will be. This year's conference will be informative, engaging, and feature a diverse lineup of speakers and experts that will leave attendees feeling inspired, invigorated and ready to take on the rest of 2020 with the excitement and the knowledge needed to be successful in business."
In addition to the keynote address by Karl Malone, TMG is pleased to announce the following sessions and moderators, which will also include a panel of industry experts on each topic:
WEDNESDAY, JAN. 29, 2020
10:30 a.m. – 11:30 a.m.
Keynote Address – Karl Malone
He's an NBA hall-of-famer who also has his own premium cigar brand and a family that works in tobacco retail. We're talking about Karl "The Mailman" Malone, this year's keynote speaker at TPE 2020. Few people have impacted the sport of basketball more than Karl Malone. A dominating force on the court, Malone is respected for his performance, his leadership and his talent, all of which have influenced the sport throughout the world. Some of his accolades include:
NBA's 2nd all-time leading scorer
Two-time NBA Most Valuable Player
14-time NBA All-Star
Two-time Olympic champion with the
United States men's basketball team
Named one of the NBA's 50 greatest players
Relaxing with a cigar has been a ritual for Malone for a long time—both in his retirement and while celebrating a big win during his days on the basketball court. Malone searched long and hard for a partner with whom he could collaborate to make a high-quality cigar.
Malone and La Aurora's owner, Guillermo Leon, connected on their love of the Dominican Republic, cigars, rum and shared values. Together, they curated a special cigar for Malone using tobacco aged in rum barrels and established Barrel Aged by Karl Malone cigars. Their partnership with the cigar brand was a natural fit, and it quickly became a passion project for the NBA star in his life's next chapter.
Through the cigar development process, Malone discovered that La Aurora's E. Leon Jimenes rum was a perfect complement to his cigars and also delicious on its own. Malone was convinced that both cigar lovers and non-cigar lovers would enjoy E. Leon Jimenes rum and wanted the opportunity to bring it into the United States.
Along with Malone's commercial businesses, Legends Cigar & Vape is a family affair—his daughter, Kadee Malone, is the owner. Malone is an avid outdoorsman and enjoys fishing and hunting. He also is a community advocate, volunteer and philanthropist who enthusiastically supports America's military troops and first responders.
Malone will speak about his long career as a professional basketball player, his love of cigars, and his journey into tobacco retail and brand ownership in a can't-miss keynote speech that will kick off TPE 2020.
1:00 p.m. – 1:45 p.m.
Brave New World: Making the Jump into CBD
Category: Cannabidiol (CBD)
Panelists: Case Mandel (Moderator) with Bethany Gomez, Laura Fuentes and Jacopo D'Alessandris
Description: For many retailers and manufacturers, cannabidiol (CBD) is uncharted territory, but it's also a new market that offers new profit potential and a new, loyal customer base. So how do you know where to start? This session is for both the curious retailers who are wondering if the CBD product category is right for their store as well as the seasoned pros who are seeking industry insight on how to better sell and promote these products in their stores. Learn about this growing product category and why it should become part of your product offering.
2:30 p.m. – 3:15 p.m.
Maximizing the "Modern Oral" Pouch Wave in Convenience and Tobacco Retail
Category: Other Tobacco Products (OTP)
Panelists: Angel Abcede (Moderator) with Ray Johnson, Peter Frattarola, Thomas Ericsson and Jason Carignan
Description: While e-cigarettes have recently been drawing media attention, other tobacco products (OTP) and, in particular, nicotine pouches, have started to write a new story of profitability. This is especially true for convenience stores, where OTP has seen a general increase in consumer interest and product movement. Nicotine pouches have been a standout, providing users with a distinct alternative to combustibles and vapor products. With convenience stores being a major distribution stream for OTP, the building momentum is a strong indicator for growth across all retail channels. In this panel, convenience store operators and speakers from the scientific and marketing fields will provide insights.