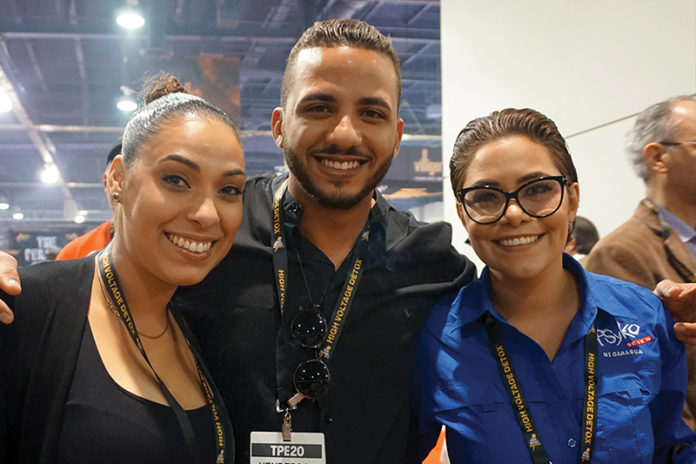 The 16th annual Tobacco Plus Expo (TPE), held Jan. 29-31, 2020, at the Las Vegas Convention Center's South Hall, was clearly the biggest and best TPE show yet. More companies from the tobacco, vapor and alternative industries exhibited at the show and filled out the show floor to its fullest extent ever. A record number of retailers came to the TPE show as well and made purchases for their shops as the busiest times of their sales year—spring and summer—approached. And the expansion didn't stop with more exhibitors and more retailers attending the show this year. TPE 2020 was bigger as well, having expanded from two and a half days to three full days, giving all attendees more time to do business, network with their peers, and learn something new that they can take back to their stores and use to build better businesses. Indeed, this year's edition proved yet again that TPE has become the world's premier total tobacco trade show and is a can't-miss event for anyone in the tobacco, vapor and alternative industries.
Last year, Tobacco Media Group (TMG), a subsidiary of Kretek International that publishes Tobacco Business and The Hemp Business magazines and hosts the TPE show, worked mightily to improve the value of the trade show for manufacturers and retailers—especially in the premium cigar category—with its hosted buyer program, which brought some of the nation's top premium cigar retailers to the TPE show. TMG used surveys after the 2019 trade show and also gathered feedback from past attendees and exhibitors throughout the year to understand where past shows delivered and also where there was room for improvement. TMG also revamped the show schedule and made a commitment to provide more content-rich educational seminars to spark new ideas and encourage innovation. Last year's TPE show was a transformative year for the show, setting the framework for TPE 2020 and raising expectations coming into the 2020 edition. From all reports, TPE 2020 continued its momentum and surpassed many of the exhibitors' expectations.
"TPE 2020 was full of energy and excitement," comments Rene Castaneda, president of Villiger Cigars North America. "The industry party, the educational sessions and the trade show floor were full of customers with positive attitudes, real interest and ready to do business. The sales exceeded our expectations, and we experienced a great response to our products. It was a great brand-building experience. The TPE show is a must-attend show because it gives us the opportunity to promote our brands to the premium tobacconist, smoke shops, cigarette tobacco stores and other retailers who promote and sell tobacco products."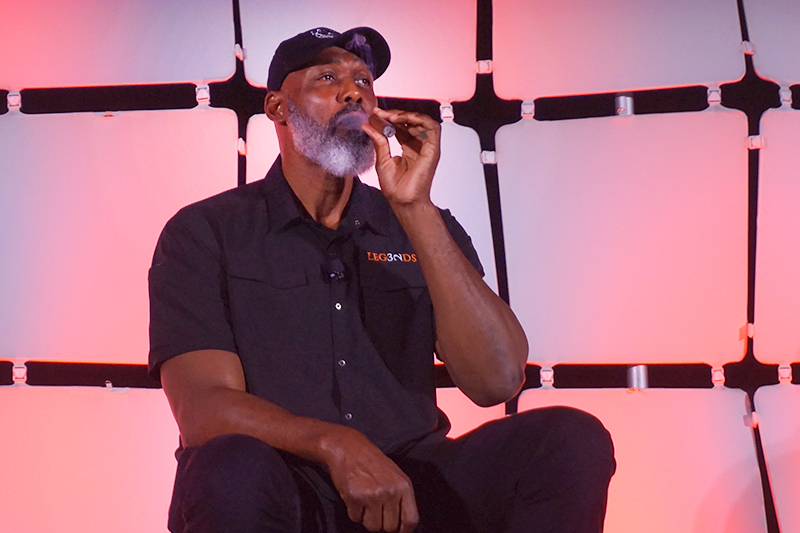 A Reignited Education Program
Education has been an important part of each year's TPE trade show, and this year was no different. There was a conscious effort to bring the same engaging, high-quality content readers are accustomed to receiving regularly from Tobacco Business magazine into TPE 2020's educational lineup. TPE 2020 began with NBA legend and cigar brand owner Karl Malone providing the keynote address. The 14-time NBA All-Star focused his talk on a highly personal discussion of the lessons he's learned in his life as a world-class athlete and as an entrepreneur. He urged the standing-room-only audience to pursue their business goals with integrity.
Three days of educational seminars followed Malone's keynote address and touched on both familiar and brand-new topics to reflect the many businesses exhibiting at the show. "Brave New World: Making the Jump Into CBD" served as an introduction for retailers looking to get into the growing cannabidiol (CBD) market and offered tips from industry experts, including Cannadips founder Case Mandel, E-Alternative Solutions' Jacopo D'Alessandris, Brightfield Group's Bethany Gomez and Green Roads' Laura Fuentes. Retailers left with a better understanding of which CBD products are currently hot sellers and how to identify good manufacturers, as well as predictions for the category's future. The first day of education wrapped with "Maximizing the 'Modern Oral Pouch' Wave in Convenience and Tobacco Retail," a special panel led by Convenience Store News & Petroleum magazine. This panel explored the world of oral nicotine pouches, focusing on their development and history in tobacco retail and how current companies like DRYFT Sciences are building on consumer demand for nicotine without the use of traditional tobacco products.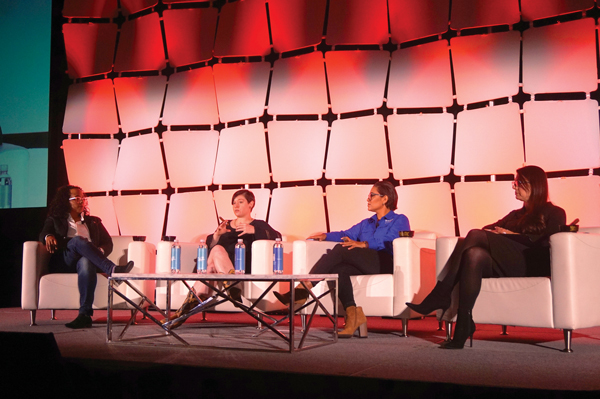 Day two of education kicked off with "Sisters of the Leaf: Selling, Marketing and Promoting Tobacco Products to Women" TPE's first-ever all-female panel focusing on women and cigars. This panel was led by Erica Arroyo of La Familia Robaina and "The Lounge Experience" podcast, and it also included Ventura Cigar Co. collaborator Indiana Ortez, retailer and store owner Rebecca Harvey, and Drew Estate's Shawna Williams. The women delved into how manufacturers and retailers alike can better serve their female customers and discussed promotional tools like social media in providing women with a voice in the male-dominated cigar industry. With the vaping epidemic dominating the headlines in 2019, it was no surprise that the vapor panel drew such a large crowd of retailers and advocates. Turning Point Brands' Brittani Cushman led a panel discussion titled, "Waiting to Exhale: Mastering Today's Vapor and E-Cigarette Market," that included Chris Howard, E-Alternative Solutions' vice president, general counsel and chief compliance officer, as well as Dimitris Agrafiotis, executive director of the Tennessee Smoke Free Association. The three vapor insiders discussed the latest legislation impacting the category, including the recently implemented ban on flavored cartridges, and the pathway forward for those manufacturers and retailers still operating within the category. Rounding out the day was an afternoon of sessions led by the National Association of Tobacco Outlets (NATO), which included two panels that featured an update on state and federal tobacco legislation from NATO executive director Thomas Briant, as well as a look into the tobacco and CBD markets, led by Don Burke.
The final day offered attendees insights into retail, cigar legislation and the emerging cannabis market. 2 Guys Smoke Shop owner Dave Garofalo moderated the Villiger Cigars-sponsored panel, "Tobacco Retail Rebooted: Jumpstart and Rejuvenate Your Retail Operation," a lively discussion on marketing, promotion, hiring practices, and ideas aimed at revitalizing and transforming a retail store. Tobacconists Wayne Anstead of Anstead's Tobacco Co., Amy Tejada of Casa de Montecristo and Paul Copeland of Shore Thing Cigars gave the audience what they coined as being "million dollar ideas" that retailers could easily replicate and adapt to use in their own stores. The "Cann-Do Attitude: Embracing Cannabis" panel followed, focusing on the cannabis market in the U.S. and predictions for how it could evolve once cannabis is legalized at the federal level. Ending the educational conference was "State of the Union," a meeting of the cigar industry's major trade organizations. Led by Cigar Rights of America's Glynn Loope, the panel included Cigar Association of America's Craig Williamson, the Premium Cigar Association's Joshua Habursky and Swisher International's Daniel Trope. Their take on the recently passed Tobacco 21 law, the ongoing lawsuit waged against the U.S. Food and Drug Administration's deeming rule and advocacy efforts left the audience ready to take the fight back home to their local legislators while supporting the efforts of the industry's leading trade organizations. Videos of each session will be made available in the coming weeks on tobaccoplusexpo.com.
On the Floor
Following Malone's keynote speech on Jan. 29, the TPE show floor officially opened to begin three days of sales action between manufacturers and retailers. Throughout the show, the floor was open for business for a total of 17 hours, and as the show opened, attendees gathered in a huge crowd waiting to get in and start buying. With companies coming from the alternative, vapor and tobacco industries, the TPE show staff organized the show floor into areas in which the different industries were concentrated, which could be easily determined by the color of carpet the exhibitors were set up on—exhibitors on the blue carpeted areas represented alternative, and vapor companies and those on the red carpeted area were tobacco companies. Furthermore, premium cigar companies were largely concentrated to the front and left section of the trade show floor.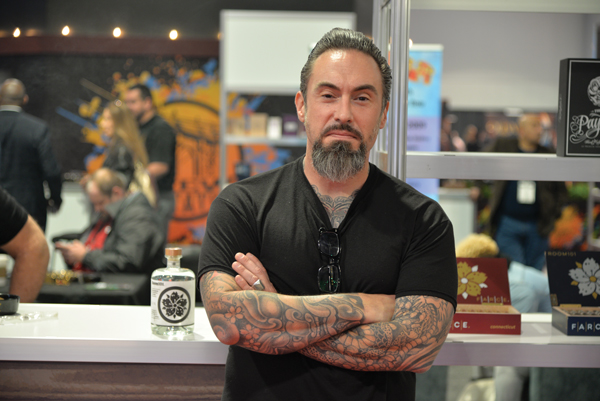 Last year, TPE unveiled a cigar pavilion exhibiting option in which several companies could share a larger booth space. The concept proved so popular that this year there were three cigar pavilions in which approximately 30 companies could do business. Some of the companies featured in the cigar pavilions were Maya Selva Cigars, Room 101, Casa Cuevas, La Familia Robaina, Fratello, Aganorsa Leaf, A.J. Fernandez, Caldwell Cigars, JRE, HVC and El Artista. According to representatives of many of these companies, TPE 2020 over-delivered regarding the opportunities for sales.
"This was our first year exhibiting at TPE, and it definitely exceeded our expectations," says Aganorsa Leaf's vice president of sales, Terence Reilly. "I wish we had planned for more people to come to help me because we were very busy. The show was very well-attended, and we have already made plans to attend next year's TPE show. The entire experience was very conducive to business, and everybody I talked to had great shows as well. Everything was really well-executed."
HVC's Reinier Lorenzo, the owner of a boutique cigar company, also reported tremendous success at TPE 2020.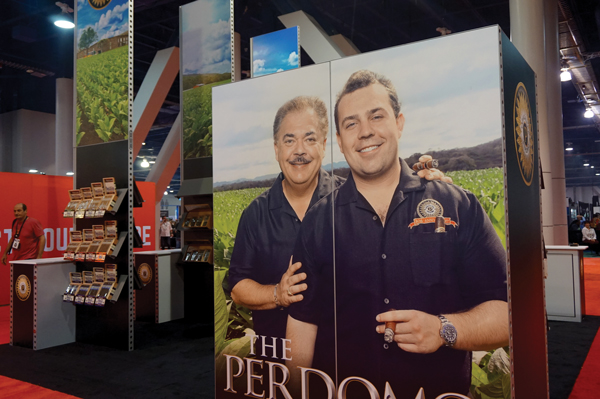 "I came to TPE without any expectations, and I had a great show," Lorenzo says. "I opened quite a few new accounts, and TPE is helping me bring my business to the next level."
Not only did many premium cigar companies attend TPE 2020, but several of them brought new products to launch at the show. One such company, Fratello Cigars, unveiled a new line of bundled cigars in three varieties at TPE 2020. The idea for the bundles came from the 2019 TPE show, according to Fratello Cigars' founder, Omar de Frias.
"Talking to retailers at last year's TPE show, some retailers told me that Fratello Cigars had a gap missing in its offerings," de Frias says. "Bundled cigars are an entirely new experience for Fratello Cigars and represent an entirely new area of the market for us. Their debut was very successful and should help us grow our business in the premium cigar industry."
Other big releases that made their debut at the show included Villiger Cigars' Do Brasil premium cigar brand; Altadis U.S.A.'s Harvester & Co. Connecticut and a new collaboration with A.J. Fernandez, the Romeo y Julieta Real Reserva Nicaragua; as well as Drew Estate's Undercrown Corona Pequena and Liga Privada Unico Year of the Rat cigars. Other companies, including Oscar Valladares, Room 101, Aganorsa Leaf, Gurkha Cigars, Espinosa, Maya Selva and Southern Draw Cigars, also made new product introductions at TPE 2020.
Networking After Hours
While the action on the trade show floor was brisk, TPE 2020's evening schedule proved to be just as busy and a lot of fun. On the evening of Jan. 29, TPE held "the Ultimate Industry Party," which was open to anyone with a TPE show badge. Sponsored by Villiger, Djarum and Drew Estate, the Ultimate Industry Party took over four areas of the Sahara Hotel and Casino—Club 101, The Theater, Bazaar Meat by Jose Andres and the Gaming Salon—
for an all-out smoke- and vapor-friendly party that featured open bars, hors d'oeuvres, an oyster bar, carving stations, dueling pianos and casino gaming—and officially lasted for three hours but unofficially went on for many hours afterward.
"The Ultimate Industry Party was a great time," says Mark Ryan of Daughters & Ryan. "I was in tears because the party was so good that it made me feel like I was back at an RTDA show 15 years ago."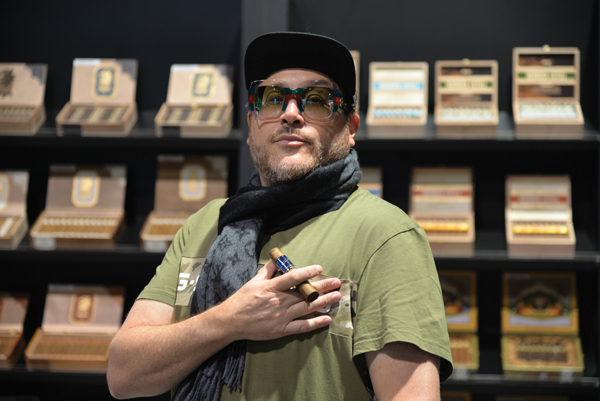 The following evening, Tobacco Business magazine and TPE hosted an invitation-only event at Club 101 to announce the winners of the coveted Tobacco Business Awards, which honor extraordinary achievements of entrepreneurship and sales each year. This year's winners included Arturo Fuente, Rocky Patel Cigars, Davidoff, Boveda, Cigars International, Oliva, Room 101, Shore Thing Cigars, Heinrich Villiger, Carlos Fuente Jr. and Janine Perdomo (see cover story on page 24 for more information on the Tobacco Business Awards winners). As a party ended each night, business business, networking and fun continued on at the Sahara Las Vegas Hotel and Casino's recently opened Casbar well into the early morning hours.
Save the Date
TPE has always been about providing value to the retailers and manufacturers who take the time to come to the show to do business. Part of the value TPE imparts to all its participants is to provide a full schedule of educational sessions to help build a stronger industry and grow businesses. TPE's educational conference program, called Ignite, sparks new ideas and lights new endeavors for everyone to take back from the show and apply to their businesses. This year, TPE hosted nine conference sessions throughout its three days, including informative panels on CBD, other tobacco products, premium cigars, vapor, alternative and cannabis, as well as political and legislative updates concerning each of these product categories.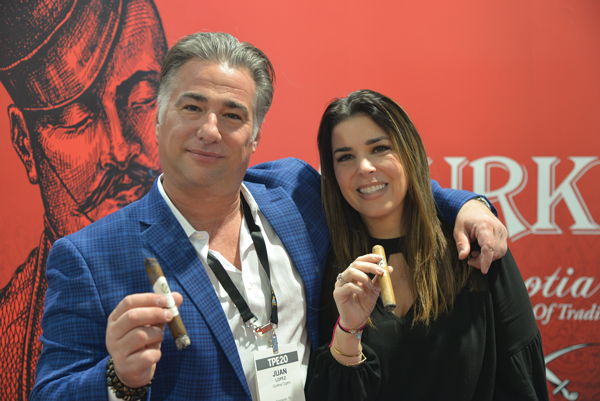 TPE 2020 was clearly a success for nearly everyone, and it seems to have capitalized on the momentum it gained from last year. TPE is now recognized as the first of the year trade show for the alternative, vapor and tobacco industries, and it is making great strides in gathering more interest from potential exhibitors who might not yet have attended a TPE show. While there might be some hardline skeptics debating whether or not to exhibit at next year's TPE show, which will be held Jan. 27-29, 2021, many of the exhibitors who attended this year's show have already reserved their booth space for next year. According to TPE officials, more than 60 percent of the 2021 show floor space has already been spoken for. For more information, visit tobaccoplusexpo.com.
This story first appeared in the March/April 2020 issue of Tobacco Business magazine. Members of the tobacco industry are eligible for a complimentary subscription to our magazine. Click here for details.