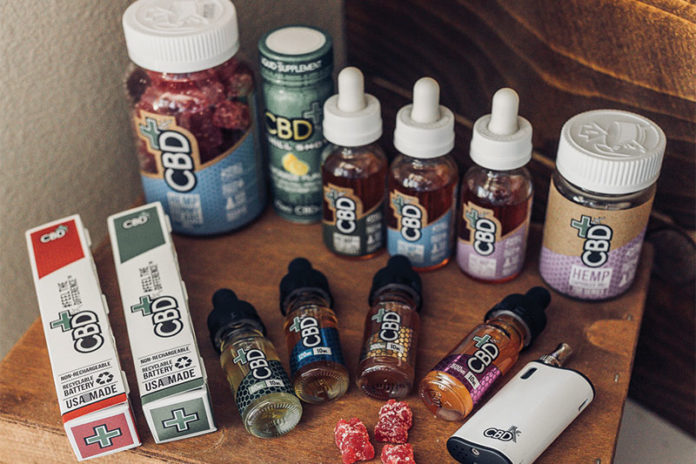 Tobacco Business: What products will your company be exhibiting at the 2019 Tobacco Plus Expo (TPE)?
Graversen: We are going to bring our full lineup, which includes tons of vapor products, CBD [cannabidiol] disposable pens, CBD additives, CBD-flavored e-liquids, CBD terpenes, CBD blends and more, as well as CBD oil tinctures, additives, balms and gummy bears. We have a pretty extensive line of products, having been in the industry for so many years and having used that first-mover advantage time to develop a wide range of cutting-edge products.
What distinguishes your products in the market?
We've been in the industry for a while, whereas a lot of people just getting started don't have the required knowledge about how to develop a good-quality product and how important it is to get quality ingredients and be transparent. We look at our products as a nutritional supplement, so we put all ingredients on the label. We have QR codes printed on each product, so there is full transparency about what is in the product and the supply chain.
A lot of the smaller companies don't even put up lab tests for the individual products, which is crazy when you think about how customers will justify paying $100 for an oil that could actually have little or no CBD in it. That is what the FDA [U.S. Food and Drug Administration] cracked down on: Companies were claiming there was a certain amount of CBD in a product, and in a lot of cases they couldn't find any or it was a third of what it said on the label. That will be one of the main issues for the industry in order to obtain legitimacy. You can't just [use a term like] "platinum strength;" you have to be able to say what is in the product.
How do you ensure product quality and consistency?
Everything we do takes place in certified facilities. Everything is buttoned up in terms of legality and compliance. We have all the certifications that we need, all the lab reports to comply with the strictest state regulations and a fully transparent supply chain that we are willing to show anyone who walks into our office at any time.
It is important to understand the supply chain. Are you sourcing from a certified grower? Or is it from a farmer who did not get a certification? I get calls from brokers offering supplies at 25 percent less than I'm paying, but they don't have any documentation. Unfortunately, people tend to jump on those kinds of deals because they can make more money.
What is your view of the market potential for CBD?
Right now, everyone is waiting for the 2018 farm bill to pass. Even without the farm bill, our company has seen double-digit growth over the past two years. So, it's been a crazy ride, and the company we are now is not remotely the company we were two years ago. We are now in 35 countries [and] in all 50 states. We have product in c-stores, gas stations and pharmacies, whereas two years ago it was mainly smoke shops and head shops that we were working with. The guesstimate is that the industry is at $750 million now, and after the farm bill passes, you will see an industry closer to $5 billion because the big retailers—Rite Aid, Walgreens, CVS—will bring it in.