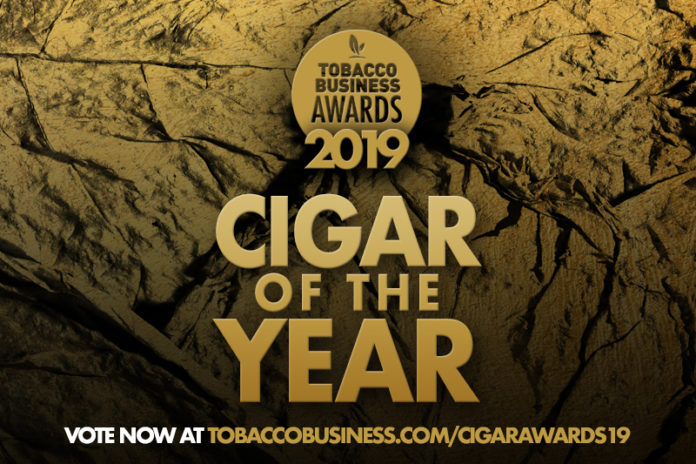 Tobacco Business Magazine, a publication of Tobacco Media Group (TMG), is excited to announce the 2019 nominees for Cigar of the Year. As part of the Tobacco Business Awards, Cigar of the Year has been one of the most competitive categories for the awards and a coveted accolade for nominated companies. This award is voted on by tobacco industry retailers, manufacturers and consumers. Last year's Cigar of the Year winner was Drew Estate for its Undercrown Sun Grown cigar.
"The industry is full of cigars worthy of awards and settling on a list of just 10 for this year's Cigar of the Year category was not easy," says Ben Stimpson, managing director of Tobacco Business Magazine. "We turned to some of the top tobacconists, cigar personalities and avid cigar smokers to help choose this year's contenders. Now we're asking the readers of our magazine to vote and choose which cigar is awarded the title of Cigar of the Year."
The nominees for the 2019 Tobacco Business Awards' Cigar of the Year are:
Alec Bradley Tempus (Alec Bradley Cigars)
Arturo Fuente Don Carlos (Arturo Fuente Cigars)
Flor de Selva Maduro (Maya Selva Cigars)
Guardian of the Farm (Warped Cigars)
Gurkha Cellar Reserve 15 Year (Gurkha Cigars)
La Flor Dominicana Ligero Cabinet (La Flor Dominicana)
My Father Le Bijou 1922 (My Father Cigars)
Oliva Serie V Melanio (Oliva Cigars)
Padrón Family Reserve 50 Years (Padrón Cigars)
Rocky Patel Sun Grown (Rocky Patel Premium Cigars)
Cigar of the Year and the other categories of the Tobacco Business Awards 2019 will be presented at an exclusive ceremony held on Feb. 11, 2019 in Las Vegas during the first day of Tobacco Plus Expo (TPE) 2019. Voting for the Tobacco Business Awards is already underway and ends on Dec. 31, 2018. Voting for the Cigar of the Year category will be extended through Jan. 6, 2019 due to the holiday season. You can vote for Cigar of the Year now at tobaccobusiness.com/cigarawards19.