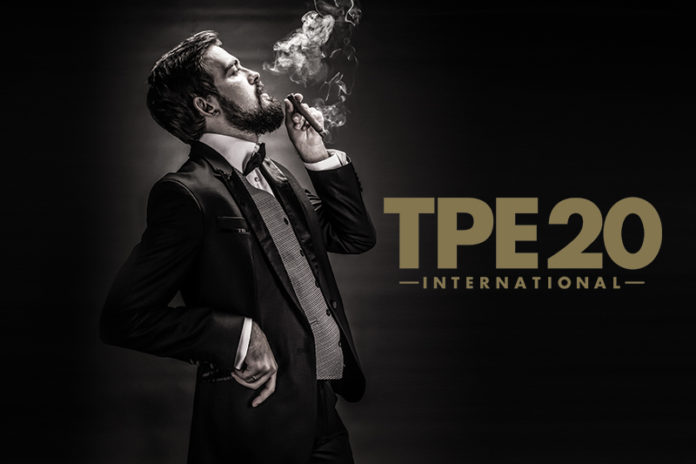 The Tobacco Media Group (TMG) announces details for the Tobacco Plus Expo 2020 (TPE 2020), scheduled to take place from Jan. 29-Jan. 31, 2020 in Las Vegas, Nevada. The first big tradeshow of the year that brings together top brands and buyers from the premium tobacco, vapor, and alternative industries, TPE 2020 is strategically timed to help exhibitors sell more products and achieve big sales numbers in the first quarter of the year, and to help retailers stock up ahead of the busy spring season. TPE is a focused B2B show that delivers value to all facets of the tobacco industry, and the 2020 show is shaping up to be one of the most memorable in the show's 15 year history.
Recognizing the need to invest in results, TPE 2020 is incentivizing exhibitors to bring their newest and best products to the show. And, as industry best practice recommends, TPE 2020 has doubled down on its Hosted Buyers program that specifically targets and brings qualified buyers to the show. Sponsors are starting to sign on as well, including Villiger Cigars North America, who has recognized the strong buying power of TPE attendees, and is shifting their company efforts toward the show, becoming a major sponsor of the all-industry party.
Just beginning to put together their conference schedule, TPE 2020 has confirmed the "Tobacco Retail Rebooted" session, to be held on Thursday, Jan. 31 from 11:30am to 12:15pm. This moderated seminar offers the opportunity to learn from leading tobacconists about tactically increasing customer traffic and profits. It will be led by Moderator, Dave Garofolo from Two Guys Smoke Shop, and Panelists Amy Tejada from Casa de Montecristo, Wayne Anstead from Anstead's Tobacco Company, and Paul Copeland from Shore Thing Cigars. The conference sessions will be very retailer-based this year, giving buyers resources to benefit their bottom line, and all facets of the industry.
"We're really excited about TPE 2020," says Ellie Hansen, TPE's trade show director. "Our 2019 show saw a 46 percent increase in overall attendance over 2018, with tobacconist attendance being up over 118 percent. We can already see the momentum continuing for 2020 with a 22 percent increase in exhibitor participation more than 5 months before the show. We're pleased that the industry is recognizing the value that we're striving for, and are confident that everyone will benefit from TPE 2020."
With 111 premium tobacco exhibitors already booked, the TPE 2020 show floor is nearly 80 percent booked in the category, with returning favorites like Room 101, Caldwell, La Barba, and Fratello, and new additions like My Father Cigars, Tatuaje, Espinosa Cigars, and Perdomo. Space is expected to sell out, so potential exhibitors are encouraged to book their booth as soon as possible to avoid missing out. Exhibitors are encouraged to reserve their booth space now at tobaccoplusexpo.com.
Attendee registration is also underway. To secure your tickets or find out more information about attending TPE 2020, please visit tobaccoplusexpo.com.