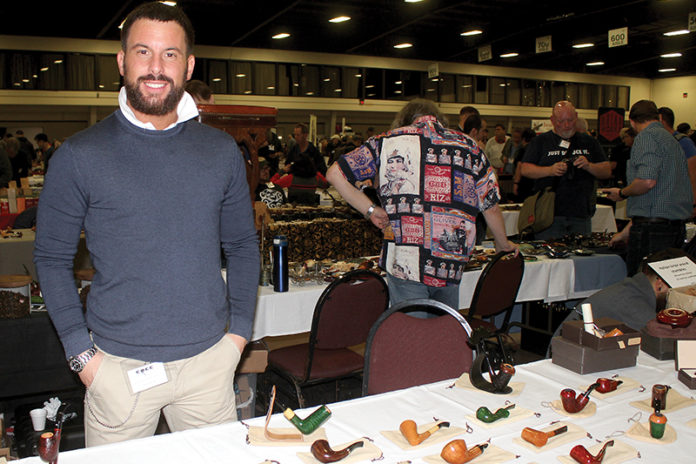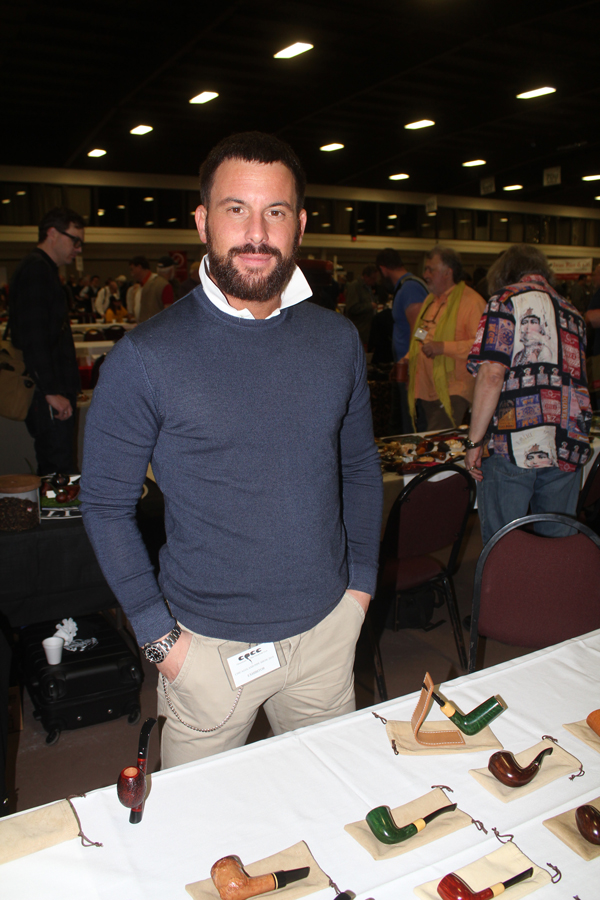 One could say that briar dust runs in the veins of the Ascorti family. Since 1959, when Guiseppe Ascorti, who was known to his friends as "Peppino," began working at the famous Castello pipe factory in northern Italy, an Ascorti has called pipemaking his profession. Guiseppe's son, Roberto, picked up pipemaking as his career in the 1970s after his mandatory service in the Italian military ended. Now, Roberto's son, Tommaso, who is known to his friends as "Tommi," is carrying on the family's pipemaking legacy. After working at Castello for nearly a decade, Peppino established Caminetto in 1968. Since then, Caminetto has drawn legions of fans throughout the years for featuring pipes that exhibit excellent smoking qualities and interesting shapes. The Caminetto line is now being made exclusively by Tommi, who is making them out of his workshop in Switzerland. The brand might have drawn special attention if only for its full name—Caminetto La Pipa del Baffo (which is Italian for "The Pipe with the Mustache") and the unique bushy mustache logo inserted on each Caminetto pipe's stem, but Tommi is also continuing the legacy of the Ascorti design aesthetic and reputation for creating fantastic smoking pipes.
"Every pipe I make, I think I make my grandfather—who I never met—proud," says Tommi. "He established the company in 1968, and then my father took over the brand after my grandfather's death in 1984. He kept it alive all those years, and since 2013 it's my turn. I'm very proud to be able to continue the family's legacy around the world with Caminetto, and I think I am very lucky to be able to be a pipemaker like my father and grandfather before me."
Building Caminetto
In 1968, Peppino started Caminetto, funding the purchase of his own machinery with the help of his wife, Paola, who had inherited a green grocer after her parents had passed away. He named the brand Caminetto for the Italian word for "little chimney" in reference to a smoking pipe being like a fireplace's chimney. After a few months of operating by himself, Peppino hired Luigi Radice, a promising young pipemaker, to become partner and help increase production.
Peppino and Luigi began making their own pipes at the beginning of 1969, and Gianni Davoli, a Milanese tobacconist, recognized the innovation that these two pipemakers were building into the Caminetto brand with the unique shapes they were creating. Davoli wanted to sell Caminetto pipes in his shop, and he also sent a few pipes to pipe merchants in the U.S. for potential distribution there.
Caminetto soon became synonymous with creativity and innovation in the pipe world throughout the 1970s. There were new shapes, and perhaps the most famous was Peppino's Egg. There were also new finishes, such as the New Dear—a carved finish that resembles wax drippings from a candle. Caminetto soon became one of the most popular Italian pipe brands in the U.S. thanks to its reputation for quality, excellence, beauty and innovation. The brand soon achieved nationwide distribution with the Tinder Box tobacco store retail chain.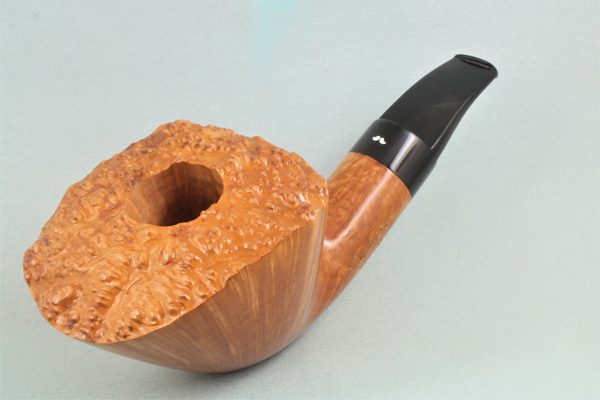 However, Caminetto's success also heralded the brand's downfall by the end of the decade. The relationship between Peppino and Luigi had soured, and Luigi left the company at the end of 1979. Davoli wanted to become an equal partner in the business with Peppino, but Peppino did not like the idea and stopped making Caminetto pipes.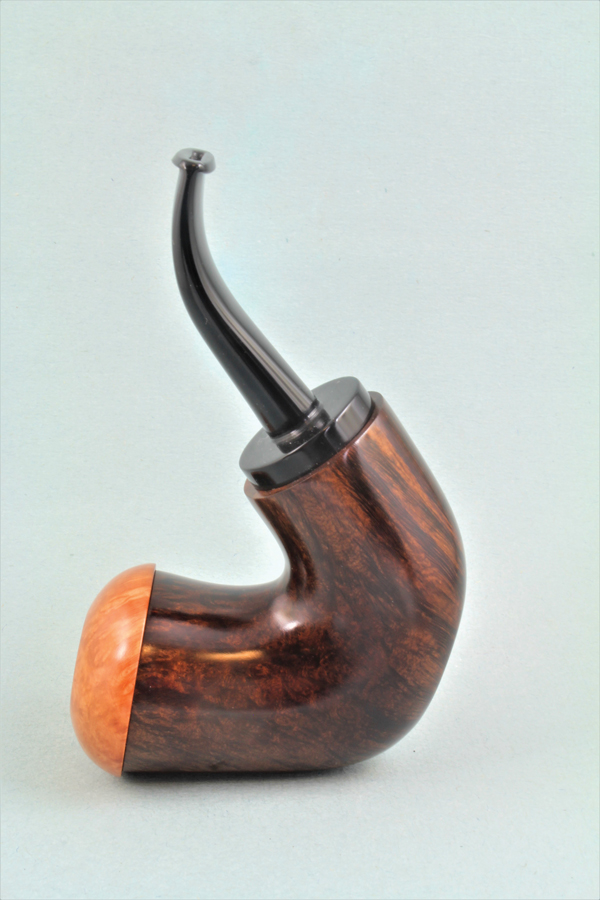 A Rising Phoenix
After Peppino's death in 1984, Roberto and his brother, Pierangelo, rescued the brand as a way of keeping their father's memory alive. They bought part of the rights to it from Davoli in 1985, and a year later the Caminetto brand returned to market—this time with Roberto; Roberto's wife, Silvana; and Pierangelo making the pipes.
Born in 1958, Roberto joined Caminetto when he was still a teenager, and he performed any little job the company needed accomplished after school each day. He stamped pipes, stained them and even cut acrylic rods to make mouthpieces. When he was 14, he traveled to the Italian region of Liguria to learn how briar was excavated and cut at the mills. In 1980, Roberto started his own brand, Ascorti, with Silvana.
Together with his continuing production of Ascorti pipes, Roberto put his own personality into the Caminetto brand. While he continued to make many of Caminetto's original classically inspired unique shapes, he made them in his own way, thus adding more variety to the line and piquing the interests of pipe smokers and collectors worldwide. He established a number of quality-control techniques that extended the making of a Caminetto pipe to nearly 100 steps and thus assured that every pipe that left his factory would deliver unparalleled smoking characteristics and be a treasured work of art that any pipe smoker would be proud to possess.
Despite the six-year hiatus of Caminetto on the worldwide market, the brand quickly regained its traction, and demand for the Italian pipes with the unique and whimsical mustache logo became as high as ever. Roberto capped production at around 1,200 per year, and Caminetto's reputation for quality rose higher than ever throughout the 1990s and into the 2000s.
Like Grandfather, Like Father, Like Son
Witnessing his parents working side by side growing both the Caminetto and Ascorti brands worldwide was Tommaso Ascorti. Born in 1989, Tommaso, known to friends as Tommi, grew up in the factory much like his father did. With the factory located just behind the Ascorti family home in Cucciago, Tommi spent a lot of time there shadowing both Roberto and Roberto's longtime assistant, Cesare Vignano. Instead of plastic or metal toys, Tommi played with toys made from briar at the factory, and unlike most children who struggled with figuring out what they wanted to do with their lives, Tommi always had a clear vision of what his future entailed.
"I always wanted to be a pipemaker," Tommi recalls. "I grew up in the company. Every day, I played in the factory with my parents and employees. I never had a computer in my room or did homework in my room. I always stayed in the office. It was normal for me. When I decided to take care of Caminetto, it was a good decision for me, though my father was a little scared. It's hard work, and it's an art business, but I am very happy to do that for my family and for myself."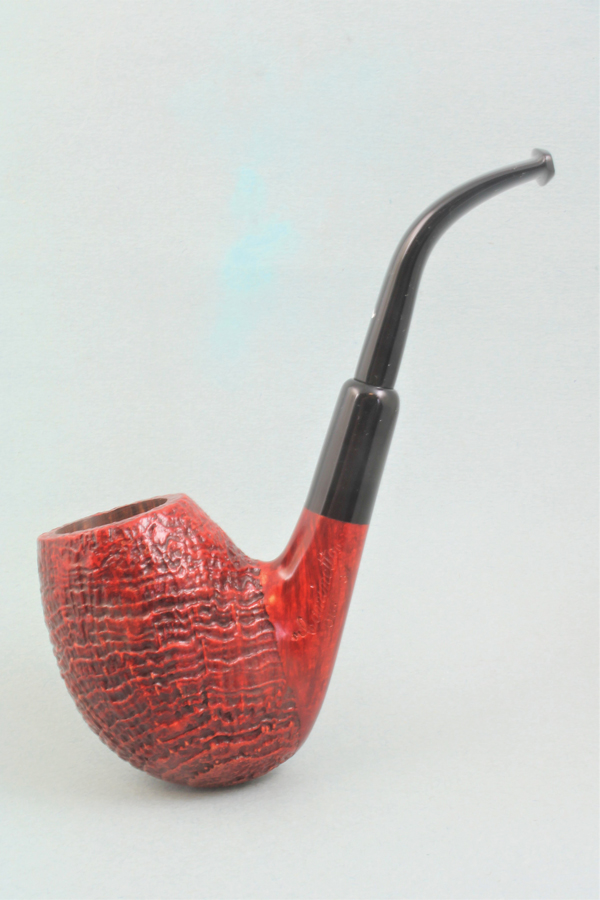 Like his father, Tommi spends almost every waking moment thinking about pipes. While in conversation, he often has a pad of paper nearby and mindlessly doodles pipe shapes onto the paper as he speaks and listens—just as Roberto does. Before allowing his son to take control of the Caminetto brand, Roberto gave Tommi an in-depth education on pipemaking—both in informal after-school sessions when Tommi was still a teenager as well as a full-time apprenticeship after Tommi had graduated. Roberto allowed his son free rein on crafting new shapes or tweaking existing models. Eventually, Roberto saw that Tommi had the skills necessary to continue Caminetto's legacy and add his own personality to the brand. With Roberto's blessing, Tommi assumed ownership of Caminetto in 2013 and moved its production just across the border into Switzerland, where he makes approximately 1,000 pipes a year and lives out his dream of being a pipemaker.
"Every morning, I wake up and start to work with briar and try to make new shapes," Tommi explains. "It's my job, my life, and I love what I do. It is difficult because I am just 30 years old, and I want to make a few innovations in this business, but my company has 50 years of history on its shoulders and is known for making classical shapes. I have to be careful and try to have respect for this brand and its traditions, but I am trying to put together innovation and tradition. I make a few lines with something new or different, and I continue to make Caminetto's normal production models."
Not only does he continue to make Caminetto's traditional pipe shapes, but he also continues the Caminetto tradition of making every pipe entirely by hand to ensure that the quality of each Caminetto pipe is nothing but the best. While respecting the traditional shapes and models and engineering specifications to create an excellent smoking instrument, Tommi also turns to Caminetto's legacy, specifically that left by the grandfather he never met, to carve Caminetto's future. Since taking over Caminetto in 2013, Tommi has introduced a new shape each year that he calls "Event."
"Event pipes are inspired by old shapes of my grandfather's," Tommi explains. "I have a catalog of all of Caminetto's old shapes, and I take an old shape and remake it in a new point of view. Each Event pipe also includes a copper ring because copper is a vintage material and it represents the direction I want to take Caminetto toward—
innovation and tradition together. It's hard to put into words, but the Event pipe shapes come to me when I am alone in my factory late at night. My mind becomes clear, and I am able to create a pipe that can impress customers and catch their eyes. Inspiration can happen at any time, but mostly it happens for me after 10 p.m. I'm lucky that I am young, and I have a lot of energy."
The pipe world is indeed lucky that someone so young and so obviously talented is continuing his family's legacy of pipemaking excellence into the third generation. With Caminetto's already rock-solid foundation set in place and the energy and enthusiasm of Tommi Ascorti at the helm, Italy's "little chimney" promises to keep on smoking for many years to come.
This story first appeared in the January/February 2020 issue of Tobacco Business magazine. Members of the tobacco industry are eligible for a complimentary subscription to our magazine. Click here for details.
– Story by Stephen A. Ross, editor-in-chief of Tobacco Business Magazine.