We are looking forward to the third cigar release for the CFW Synergy Program on Valentine's Day of this year. Oscar Valaderas, a longtime supporter of CFW, is making a showcase cigar called CFW by Oscar. These will not last very long. If you're a CFW donation center retailer, you will be able to preorder these at TPE22 in January. We have two more companies that are making showcase cigars for CFW that are also coming out 2022: Cavalier Cigar Co. and Kretek International. More information on these releases will be provided soon!
Last year, we started working with Janus Coffee Roasters as part of our partnership program. Together, we came up with two coffee blends: Loyalty and Honor. While there are absolutely tons of great coffee collaborations out there, what makes CFW's coffee very special is that not only does Janus donate 50 percent of the coffee's profits to CFW; they also donate a slightly smaller bag of the exact same blend to CFW to be given to the troops. This collaboration did so well that we decided to make a CFW donation center coffee that our retail partners could sell with the same deal: CFW gets one bag of coffee for the troops with every bag sold. At the Premium Cigar Association trade show in 2021, we started offering to any retailer that ordered 60 bags or more the chance to get their own CFW collaboration coffee. With this offer, we rebranded the bag and all. Again, we didn't think anyone would go for it, yet we walked out of that show with seven retailers that wanted to be part of it. The name of that coffee blend is Integrity.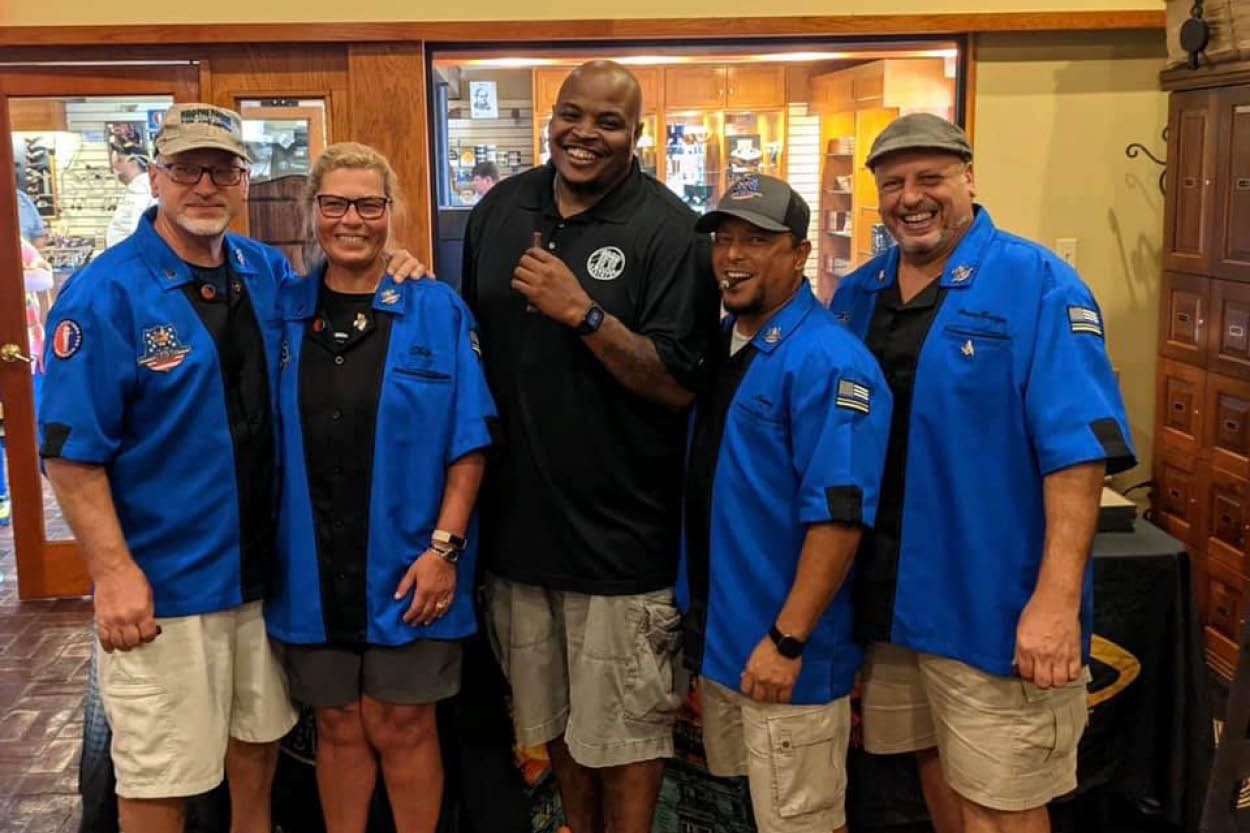 A Return to Normalcy
Slowly, cigar shop events started returning in 2021. The Rocky Mountain Cigar Festival and the new Boutique Cigar Festival had the courage to put on their festivals in this COVID-19 era as well. Both of these events were very successful, and CFW came out very well in monetary donations and cigars.
Many Veterans of Foreign Wars (VFW), Freemason Lodges and American Legion halls that support CFW in a variety of ways really came through in the past year. We started seeing many great social clubs get back to doing their annual CFW fundraisers, including the Lone Star Cigar Association, which raised over $2,600 and 140 cigars at their 2021 event. Theirs was one of the most original and coolest events I have been to in a long time. David Skelton, the president and his crew did an amazing job. The event was held in an airplane hangar with old antique airplanes and helicopters. There was even a B-17 Bomber that one of the event's attendees got to ride in the next morning!
The Houston Cigar Warehouse Club held its annual (and legendary) CFW fundraiser last year. They have been hosting the biggest club fundraiser for the last seven years. In 2021, they raised almost $2,000 in monetary donations and over 5,000 cigars. During this event, Trey Boring, the club president, killed it as always, both in the work that was done and the personal donations that were made. The club is responsible for helping with the creation of the Most Patriotic Cigar Shop in Texas competition. For three years, Larry Buhman, owner of The Smoke Ring in Webster, Texas, has won this competition and has donated thousands of cigars while doing so much for CFW in the process. We hope to expand this competition significantly in Texas this year.
Remember to thank your service members when you see them, and always remember, even if you couldn't serve in the military, there are many other ways to serve and do your part. I am looking forward to 2022 and hopefully seeing you without COVID-19 lurking around the corner!
This story first appeared in the January/February 2022 issue of Tobacco Business magazine. Members of the tobacco industry are eligible for a complimentary subscription to our magazine. Click here for details.
– Story by Contributed by Storm Boen, Chairman, Operation: Cigars for Warriors