It happened one night in 1990 in Miami—the beginning of Karl Malone's love affair with cigars. In the midst of a grueling basketball season, the 27-year-old Malone and a few of his teammates sought a break during a road trip and chose to go to an upscale lounge at which cigars were available. At the peak of his NBA playing career as power forward for the Utah Jazz, Malone had never smoked a cigar before, but for some reason that even he can't explain 30 years later, he chose to light one up. After encountering all of the usual impediments a first-time cigar smoker experiences, Malone began enjoying the cigar. It brought him an immense sense of satisfaction and relaxation. He could feel the tension in his body—wrought up to an intense degree from the pressures of being the leading player on a team vying for the championship—fade away.
"I was wound up tighter than a $2 watch," Malone recalls. "I didn't know what I was doing, but I knew the name Montecristo, so that's what I chose. As soon as I lit that cigar up, the pressure that I was feeling disappeared."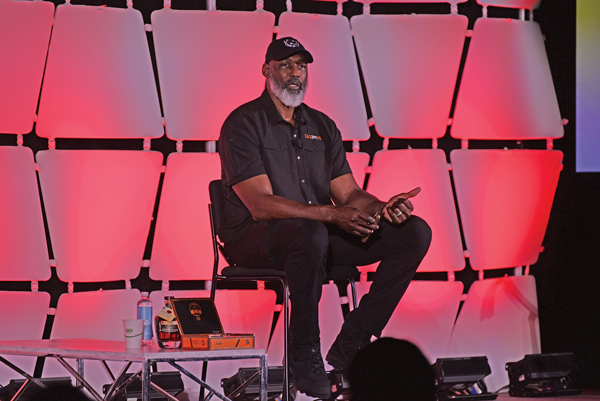 It was a feeling that Malone would seek to replicate many times after that first experience—so much so that he became an extremely knowledgeable cigar connoisseur and often thought about having his own cigar shop. After his playing career ended in Los Angeles in 2004, Malone concentrated on building a business empire with car dealerships, auto maintenance shops, restaurants and an outdoor equipment shop in Utah as well his hometown of Ruston, Louisiana, but cigars were never far from his mind. In 2018, the time was right for Malone to make his passion for cigars a business. That year, he opened Legends Cigar and Vape, a cigar lounge and vape shop in Ruston, and launched Barrel Aged by Karl Malone cigars, which are made for him by La Aurora and available nationwide.
He also became the distributor in the United States for Rum E. Leon Jimenes. Malone was also the keynote speaker who kicked off the 2020 Tobacco Plus Expo, at which he shared some insights into his business philosophy. Malone strongly believes that his foray into the cigar business will be as much of a slam dunk as his basketball playing career ever was. For the record, Malone is an NBA hall of famer; two-time league MVP; 14-time NBA All-Star who averaged 25 points, more than 10 rebounds and more than three assists per game; and he is also a two-time Olympic Gold medalist with the U.S. Men's basketball team. The same work ethic that allowed him to build such a fantastic athletic career and made him become known as "The Mailman" because he always delivered for his team in the clutch is the same ethos he brings to all of his businesses.
"It started with my mom," Malone says. "She taught me to never let another man outwork me."
Putting the Principles into Practice
Other than his intense love for cigars, perhaps this respect for others is why Malone harbored a longtime dream of opening his own cigar shop where everyone could meet as equals and enjoy cigars together. And doing a cigar business the right way meant creating a shop where everyone feels welcome.
"We wanted to make it feel like you're walking into our house," Malone says. "We wanted to make it so that people actually get to know people. In society today, people don't get to know each other because they're too busy talking on their phones. It's perfect because in our small town not everyone gets cell service so they're forced to talk to people. People are losing touch with other people and with themselves. They lose sight of the fact that each one of us is different. We have one TV in Legends, and that's in the back room for training purposes. We're wired for four more in the public area, but we haven't put them in because cigars are about a fellowship. I want to know something about you. If you're sitting there watching TV, that doesn't happen. It makes you talk to other people. Cigars are the icebreaker between people. That leads into deeper conversations. My only problem with Legends is that I lose track of time and my phone. That's the only place I want to be. It leads to another conversation. Cigars don't care how much money you make, what kind of car you drive or the type of house you live in—every one of us is equal. The only difference is what cigar you're smoking."