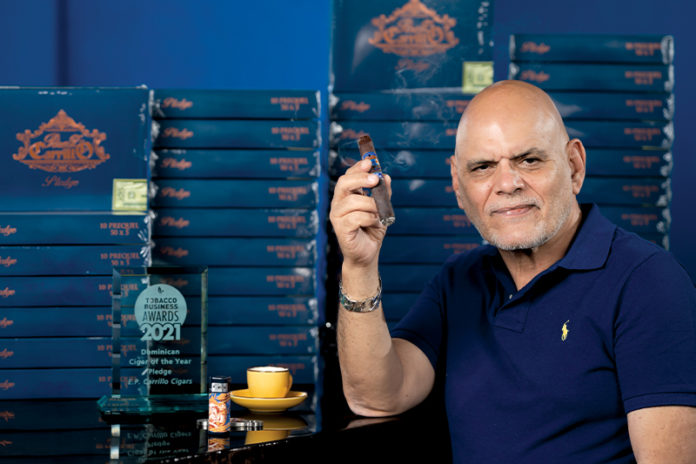 In part 2 of the latest cover story from Tobacco Business, Ernesto Perez-Carrillo takes readers through his journey in tobacco, from how he learned how to blend to the process he's taken to create blends that have resonated with cigar smokers across the world. For part 1 of this story, click here.
Mastering Tobacco
Since launching E.P. Carrillo, Perez-Carrillo has become recognized as one of the industry's leading cigar blenders. Although he traded his dreams of becoming a professional jazz drummer for a career in tobacco, music has continued to influence his relationship with cigars and tobacco. While he was growing up, Perez-Carrillo's parents encouraged him to do what he loved to do, which at the time was playing the drums. Being a musician required practice and discipline, two qualities also necessary for becoming a blender.
"We have to do things that I'm really proud of and that the people that work with me in the Dominican are also going to enjoy, because at the end of the day, it's not all about me—it's about everybody that's in the company."
Over the years, Perez-Carrillo and E.P. Carrillo have released a number of different blends that have made waves within the cigar industry. La Historia was a project that Perez-Carrillo's son proposed back in 2012. He suggested that they work on a cigar that was more traditional in its look and packaging. The suggestion sparked an idea within Perez-Carrillo, and he started working on a blend that used a Mexican San Andres wrapper, which had just started to become more available. Perez-Carrillo worked on the La Historia blend for two years, and in the meanwhile, his daughter Lissette started working on the packaging. She reached out to a friend who was a painter and had him create a label for the cigar that Perez-Carrillo didn't see until it was completely finished. That cigar went on to earn the No. 2 spot on Cigar Aficionado's Top Cigars of the Year in 2014.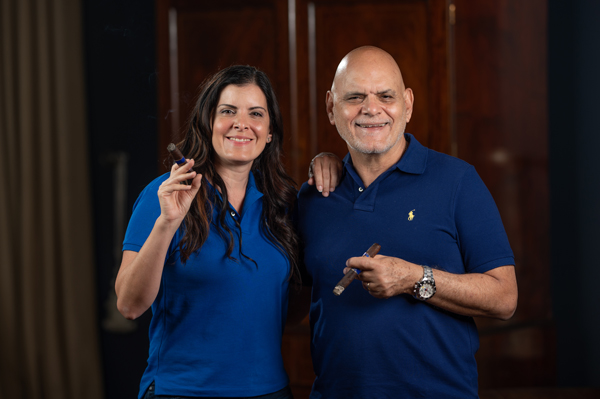 The following year, Lissette suggested to her father that they begin working on a follow-up or companion to La Historia. Perez-Carrillo took this as another opportunity to challenge himself and began seeking out tobacco that he hadn't worked with before on a regular basis. He stumbled upon a Nicaraguan wrapper grown by Nestor Plasencia from a special seed. The silkiness and texture of the wrapper jumped out at Perez-Carrillo, and he fell in love with it instantly and knew he had just discovered E.P. Carrillo's next cigar, which went on to be called Encore. E.P Carrillo's Encore Majestic went on to claim the title of Cigar of the Year in 2018 from Cigar Aficionado. Earning the distinction of Cigar of the Year from a publication such as Cigar Aficionado didn't give Perez-Carrillo or the others any time to stop and celebrate—it gave them a reason and the motivation to strive for more.
"There's always that challenge: How can we add to what we did last year? What can we do that is going to be different out there in the marketplace? It's a challenge," Perez-Carrillo admits. "You don't want to repeat yourself when making a cigar, where each of your cigars or lines are pretty similar. That's my vision of making a cigar. I want something distinct in each of the lines, and something that maybe one customer may not like it but another one will. At the end, I have to like whatever I put out there. That's what gives me the confidence that there's going to be an audience for it."
In September 2020, E.P. Carrillo Pledge was released. Originally slated for release in March 2020 and delayed by the impact of the COVID-19 pandemic, Perez-Carrillo and the team at E.P. Carrillo overcame the odds and challenges to release this cigar. Pledge stands as a testament of Perez-Carrillo's long journey within the tobacco industry and the evolution of his skills as a cigar blender. As the name also implies, this blend is also a pledge Perez-Carrillo made to cigar enthusiasts all around the world to never stop working with the best tobaccos available and to continue to introduce innovative blends. Pledge fits into a grand story and arc, serving as the third installment in a series of cigar blends that began with La Historia and Encore. Pledge also marked a milestone for Perez-Carrillo: 2020 was the 50th year Perez-Carrillo had spent working in the cigar industry.
Pledge features a Connecticut Havana wrapper, which Perez-Carrillo first started working with in the early 1980s when it was relatively unused by most cigarmakers. Before Pledge, Perez-Carrillo had only used a Connecticut Havana wrapper in two other releases from E.P.
Carrillo, both of which were limited in release. To ensure Pledge could be a regular release rather than a limited edition, Perez-Carrillo made sure he was able to secure enough tobacco to produce the cigar for several years to come. The blend for Pledge had been one he had worked on while developing samples for what eventually became E.P. Carrillo's 2018 Tobacconists' Association of America exclusive. As he and the E.P. Carrillo team began discussing what cigar would follow La Historia and Encore and complete the Perez-Carrillo series, he brought out six unused samples, and one of them in particular stood out to the group and decidedly became known as Pledge (click here for more on Pledge in the Top 24 Cigars of the Year).
Knowing when a particular blend like La Historia, Encore or Pledge is ready for a big release is what Perez-Carrillo refers to as a very special moment and takes time. "It's basically a 30-day process," Perez-Carrillo explains. "From the moment I light the cigar, it has to say something to me that is special … like it's telling a story. I think that a cigar has to tell you that story from the beginning. You don't want to wait until the end for it to be the climax—
the climax has to start from the beginning and has to go all the way through to the end."
Perez-Carrillo makes his decisions about blends while in Miami, noting that smoking a cigar in the Dominican Republic or Nicaragua is not the same as smoking a cigar in the U.S. "I'll sit on my terrace at night, and as I smoke a cigar, all of a sudden it'll just hit me. I'll say, 'This is it!' Or sometimes when I'm driving to work, I'll smoke a cigar and will say, 'We're getting there.' It's a process that I go through. I try the cigar right when it's made, and then I keep trying it for about 30 days before I make that decision that it's ready. And sometimes I have to say that I fail, which just happens. This is an art—it's not only about the blending; it's about having the right tobacco and the aging and curing of the tobacco and then also communicating to the cigarmakers who will be making the blend. Although we give them the blends, they're the ones that are going to be putting it together. They've got to be on it, because at the end of the day, they're the ones that make the cigar what it is today, or what it will be, I should say."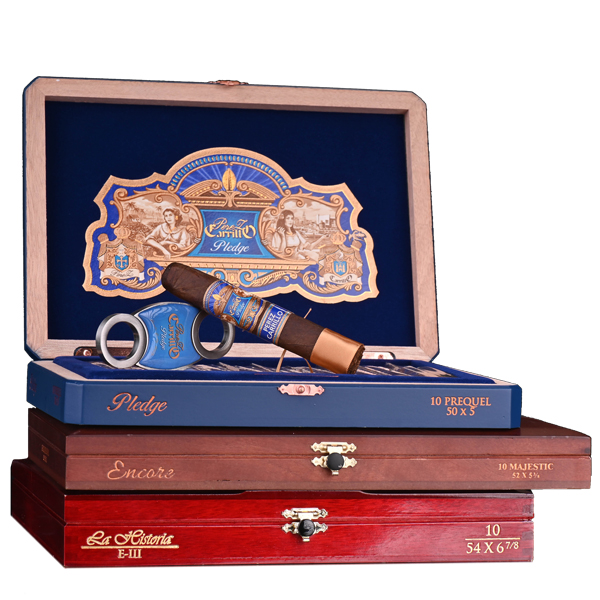 Perez-Carrillo's blend for Pledge struck a chord with many cigar smokers. In addition to being named the No. 1 Cigar of the Year for Cigar Aficionado, Pledge took the No. 1 position on Cigar Dojo's Cigar of the Year list, was named the Dominican Cigar of the Year in the 2021 Tobacco Business Awards (and No. 2 cigar of the year overall), and ranked as the 11th out of 25 cigars of 2020 in Halfwheel's The Consensus last year. Despite the many accolades and recognition, Perez-Carrillo remains modest when it comes to his blending ability and notes that even after 50 years in the cigar industry, there's much more for him to learn.
"Believe me, to really be a master blender—if there is such a thing—it takes a lot more than making a cigar. It takes knowledge of tobacco. It's like being a chef: A chef will go out and he'll know which vegetables or seasonings he needs or what fish to buy to make a particular dish that he wants to offer to his clientele. I don't think one ever gets to that level in cigars because there's always new tobaccos coming out. You're always experimenting, and you're always trying different tobaccos to see how you can make that special or distinct cigar that's going to have an impact in the marketplace. As the maker, you've got to be proud of what you do. If you're not proud or willing to give out one of your cigars to a person with pride, then don't even make it."