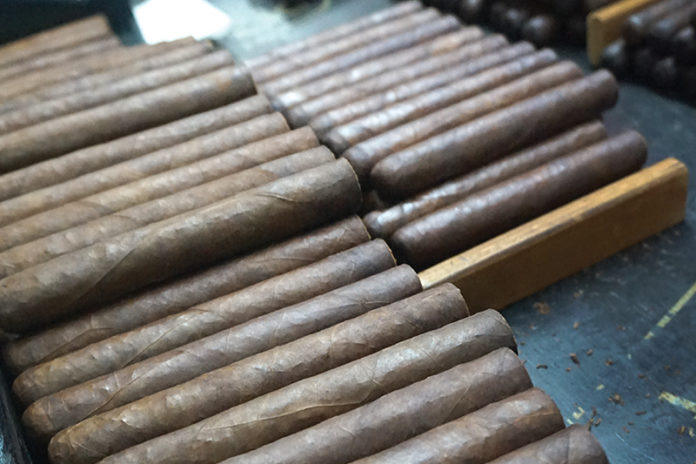 During the Cigar Boom of the 1990s and the years that followed, many retailers favored larger brands over what came to be known as "boutique" brands for various reasons. Larger brands came with more brand recognition, they were the cigars whose manufacturers were able to afford print advertising, and they got the reviews, ratings and the hype that made them far easier for retailers to sell. Today, however, that has changed as consumers now perceive just as much value from a boutique brand as they do from one that was produced by a larger manufacturer.
There are many different takes on what defines or makes any particular brand boutique or not. Boutique brands are typically those that are viewed as being smaller in size. Boutique brands can also be more specialized or can serve a particular niche market. Boutique brands, like larger brands, can also be associated with a specific person or family, and oftentimes that connection between creator and product can be a key selling point.
"I think most premium brands today would like to be perceived as boutique," says Jorge Armenteros, founder of Tobacconist University. "This adds value to handmade, artisanal and artistic products like premium cigars. Many larger cigar companies run massive factories with thousands of employees involved from seed to cigar, and marketing and branding decisions are made in offices and board rooms by executives with college degrees wearing suits while sales are handled by call centers and salespeople regurgitating words from sales pamphlets and scripts. Today, you can see some of the larger companies spinning off brands into smaller distribution networks and companies. When a larger company buys a smaller one, they go to great lengths to keep the perception that they are small, intimate and more closely connected to their product and customers. No company wants to be perceived as a large, multinational, Big Tobacco producer. Everyone wants to be boutique!"
For tobacco retailers, boutique cigars can make your store, its employees and your stock of products feel more special. Boutique cigar brands and products offer your store a unique opportunity to not only educate and introduce your customers to something new and out of the ordinary, but they also give you another chance to engage customers by educating them about an important product category within the industry.
Retailers who are looking to build a successful business today are not intimidated by boutique tobacco products. They are up for the challenge of educating their customers about brands that may not have as much brand recognition, and they understand that their store's humidor should reflect the industry as it is—meaning that it should contain both legacy brands as well as more niche "boutique" products. Tobacconist University provides retailers with the fundamentals that will help them be a success within the tobacco retail space. This educational foundation is essential when it comes to understanding boutique cigars and communicating their value to customers. In the interview that follows, Armenteros offers his take on the value of boutique cigars and shares some tips for how retailers can turn this subset of cigars into a big source of profit.
Tobacco Business: Since you've been a retailer, how have you seen the boutique category evolve and change over the years?
Jorge Armenteros: When I began creating my retail tobacconist shop in the early 1990s, I started with a strong focus on boutique, super-premium and Cuban expatriate cigars, and that continues to this day. At the time, the emergence of Cigar Aficionado magazine showed me the sophisticated side of cigars, and I thought that was a niche I wanted to serve. I wanted to focus on quality over quantity, education over information and substance over hype. I think these are values that apply today and create better service and product pairings for our customers. I know that people have been talking about boutique cigars for the last 10-20 years, but quality, education and substance have always been my focus.
What are some of the pain points you've heard retailers express about bringing in boutique products?
As a retailer who has always specialized in boutique cigars, I can tell you the biggest challenge is the massive market share possessed by big legacy brands like Macanudo, Cohiba, Partagas, H. Upmann and Romeo y Julieta. Every day, customers come in and ask for these popular names, and they can be disappointed when we say we don't have them. Ironically, many of these customers smoke a handful or less cigars a year, yet they feel comfortable asking for names they know and recognize.
It is never fun seeing the look of disappointment—or occasional disdain—when you tell a customer you don't have that product. Converting that customer is the ultimate opportunity for a retail tobacconist. If you can introduce that customer to a cigar they might like better, then you can get a customer for life. The key to building that relationship and making the sale will be educating the customer about the products you do carry. Teach them about the factory, the cigarmaker, the process and the story behind the cigar you are selling. Retailers who sell boutique cigars must educate themselves and then their customers. We need to build trust and project credibility. Did I mention that being a [Tobacconist University] Certified Tobacconist helps with this process?
When properly informed, a customer will want to try a boutique product over one that is mass produced and potentially massively discounted through mail order. There are friction points when selling boutique and lesser-known products, but they can be converted into opportunities to succeed. Furthermore, let me emphasize that retailers must make this effort because the alternative is devastating. Your customers will eventually find the larger brands at cheaper prices at competing stores and chains and at much, much lower prices online.
When evaluating whether or not to bring in a boutique brand, what factors should retailers take into consideration?
Price, quality and distinctiveness are the most important factors when evaluating a cigar for your inventory. You must pay special attention to the "big picture" of your humidor as well. Ask yourself, "Where does this fit in?" Or, "Do we already have too many $5 Connecticut Shade Dominicans?" A retail humidor should be comprehensive and have something to satisfy every customer. Different stores and regions have different preferences as well, so you must know your clientele. Many stores have panatela lovers while others don't. Some stores stock mostly fuller-bodied and stronger cigars while others won't. Every new product must be evaluated with your specific market or company vision in mind, but price, quality and distinctiveness are the fundamental issues.