With this new opportunity, Estades knew that he wanted to leave what he refers to as a modest mark on this new extension of Altadis' premium cigar business, and with Estades at the helm, Altadis' U.S. business grew significantly. Understanding the unique preferences of U.S. consumers, Estades and his team saw new opportunities that would help expand the company's footprint. Estades put together a new team to transform JR Cigars from being a catalog company into a major online platform. Tabacalera USA was then created to oversee Imperial Brands' operations in the U.S. Finally, Estades and his team created Casa de Montecristo, a premium cigar lounge and retail operation aimed at providing adult consumers in the U.S. a place to enjoy a good cigar in addition to premium spirits. In just a decade, the opportunity that brought Estades to the U.S. has evolved into a sprawling business operation that goes well beyond product and also touches on retail, e-commerce and consumer experiences.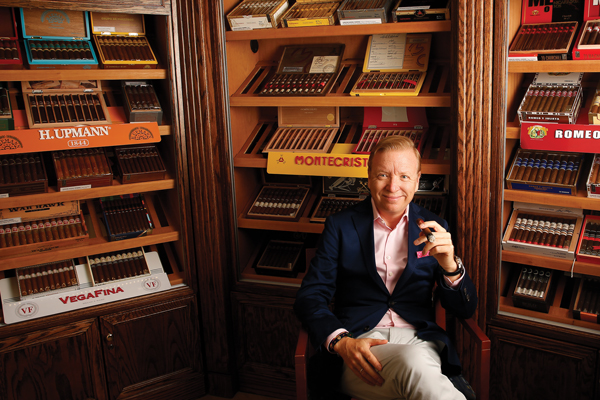 "I do not think you will find many companies that have experienced such a transformation," Estades proclaims. "We have three different businesses under Tabacalera USA. Our goal is very clear: to provide the most amazing premium cigar experience to the U.S. market. We all have to be attuned to adult consumers' desires at every point of contact, yet at the same time, each company has its independence and its own teams."
Teamwork is at the core of Tabacalera USA and all of the different businesses within it. Estades' focus on teamwork can be seen in all areas of Tabacalera USA's business, and it drives its innovation, including the creation of the Grupo de Maestros, a group of experts responsible for creating the company's cigars. The company's sprawling network of professionals ranges from the manufacturing side of the business in cigar factories to the marketing and branding experts in Altadis U.S.A.'s office in Fort Lauderdale, Florida, who are responsible for promoting the well-known brands from the company's portfolio to consumers in the U.S. and beyond. There are not many references to individuals or the use of "I" when Estades talks about the inner-workings of Tabacalera USA. It's all about the team; either everyone succeeds or everyone fails together.
"We are fortunate to have a fantastic team not only in the U.S. but also in our factories, and we have a number of strategic partnerships with some very important cigar manufacturers," says Estades. We are constantly identifying opportunities in the market and work with our Grupo de Maestros to develop attractive and solid concepts that result in outstanding cigars. We have a significant number of years working in the industry, and with our financial capabilities we are able to access the best tobaccos in the world without having to rush the aging process."
When it comes to the cigars that serve as the foundation of Tabacalera USA's business, Estades says that, in his opinion, Altadis U.S.A. has one of the most attractive and comprehensive portfolios in the market.
"I would highlight brands like Romeo y Julieta or Montecristo, both of which have among the highest awareness and trust with American adult consumers," he says. "Our H. Upmann [brand] has been very active with significant collaborations, and Henry Clay and Onyx play important roles for adult consumers who want to experience new things. Also, consider Aging Room, a brand we distribute in the U.S. market that has experienced exponential growth."
All three of the companies are independent in terms of customer base and in nurturing those customer relationships, but they all work together under the Tabacalera USA banner to achieve success in today's overall competitive cigar market. Altadis U.S.A. focuses on the manufacturing side of the business and is responsible for bringing the company's well-known and iconic brands to the U.S. JR Cigars offers consumers a way to get those products through its online retail business, while Casa de Montecristo has a retail presence with luxury premium cigar lounges and stores, partnering with interested local tobacconists to extend the luxury premium cigar experience across the country. Together, these businesses extend the reach of Tabacalera, an international tobacco company based in Spain and one of the world's top makers of handmade premium cigars worldwide.
This story first appeared in the November/December 2020 issue of Tobacco Business magazine. Members of the tobacco industry are eligible for a complimentary subscription to our magazine. Click here for details.
– Photos by Eliot Schechter. Story by Antoine Reid, senior editor and digital director for Tobacco Business Magazine. You can follow him on Instagram @editor.reid.