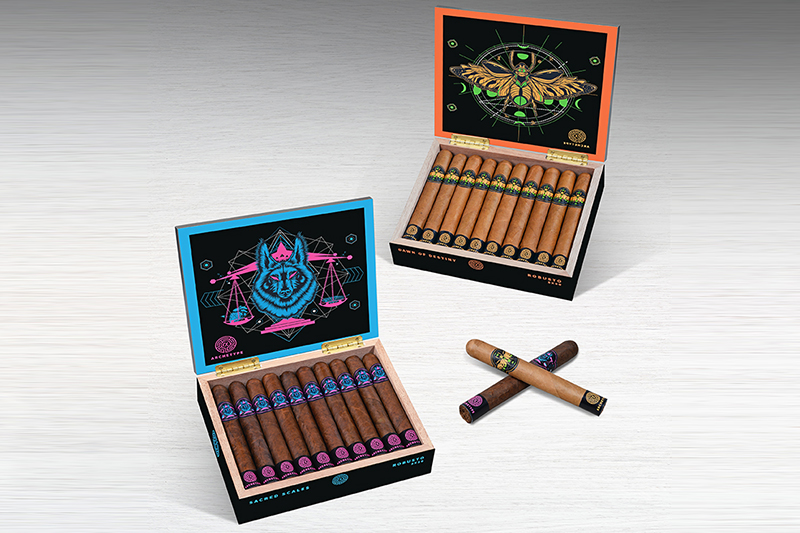 "This is the third time that Ernesto and I have worked together, and I'm really excited about it," Giannini explains. "We did Reunited in 2014, and now we're teaming up again. Everything has been in threes about this project—this is the third Archetype cigar, and it is the third time that Ernesto and I have worked together. He's been one of my mentors in the cigar industry. I thought I knew a lot about cigars until I met him, and then I realized that I knew nothing compared to him. Every time I visit his factory, I learn something new. We have a great friendship, and I love the fact that we have a great working relationship that has grown from that relationship. Having Ernesto make Archetype Chapter Three is a natural extension of the heroic journey that the Archetype brand tells."
It's been a great year for Perez-Carrillo and his company. Tobacco Business magazine honored Perez-Carrillo with the Hugo Chairman Award during the Tobacco Plus Expo in February of this year for his contributions to the premium tobacco industry. A few months earlier, Cigar Aficionado named EPC Cigar Company's E.P. Carrillo Encore Majestic as the magazine's Cigar of the Year for 2018. Perez-Carrillo is just as excited for the opportunity to work with Giannini again in developing Archetype Chapter Three.
"It's always great to work with Michael," Perez-Carrillo explains. "I love the branding of Archetype and that different manufacturers are making it for Ventura. Archetype tells a story, and I think it's very important for a cigar to have a reason to exist. Archetype Chapter Three tells a story about two men who love and respect each other and who are reuniting on a new project after years apart. For me, it's exciting to be doing something with him again. It's a rebirth of our friendship and our working relationship."
Conversations conceptualizing the cigars began roughly a year ago. While the pair are keeping most of the details about the cigar's construction and blend a secret, they do promise that it will have a unique Perez-Carrillo flavor profile.
"This is going to be a very boutique take on the Archetype concept, and the Archetype Chapter Three cigars will be very different from the ones that are made by Occidental, Drew Estate and Oliva," Perez-Carrillo concludes. "These will have more spice and complexity. We're working on a Maduro blend and a Sumatra blend, which are two of my favorite tobaccos. It brings an EPC stamp to the brand that's going to have a different spin. I think Archetype Chapter Three is a story worth telling."
This story first appeared in the May/June 2019 issue of Tobacco Business magazine. Members of the tobacco industry are eligible for a complimentary subscription to our magazine. Click here for details.
– By Stephen A. Ross, senior editor of Tobacco Business Magazine.