Just as he had matured as a brand owner, Booth wanted the same thing to happen with the cigars that carried the Room101 name. For this reason, he collaborated with many different individuals and factories to help him rebuild his cigar brands. He worked with blender Henderson Ventura, who forced Booth to step outside of his comfort zone to create Farce. In recent years, he also worked closely with A.J. Fernandez on several releases, including the highly demanded Room101 10th Anniversary cigar. Booth is currently preparing to release his 11th Anniversary cigar this year, one that he's marketing and promoting through social media with few details, calling on his brand's
fanbase to request it from their retailers ahead of its official debut.
After 11 years of working in the cigar industry, Booth still views himself as a junior to those he works with in the factories. It is because of his junior status that he continues to place a significant emphasis on partnerships and collaborating with others from whom he can learn.
"I didn't grow up as a farmer of tobacco," he says. "I am a devout appreciator or an enthusiast, and I'm madly in love with this craft and this world. When I walk into someone's factory, I bow my head with respect, period, because it's as if I'm walking into their dojo. I know I'm about to participate in a creative process with someone that is a lifetime beyond me in connection to this craft, and I'm going to learn from them and build something beautiful."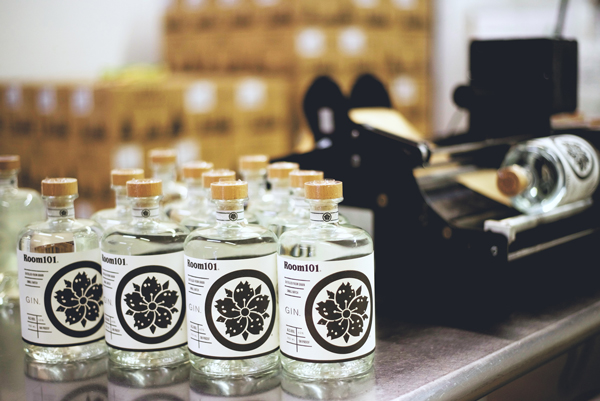 That's one thing Booth has learned over the years while building his brand—true entrepreneurs always want more. Creative professionals like Booth are hardly ever satisfied, but that's what fuels their desire to continually work on perfecting their business and brands. Booth shares that he measures success as it pertains to quality of life. His life today is unlike anything he could have imagined it evolving into when he was a child. He never thought he'd live past the age of 30, let alone have a business that has been expanded over the years to touch several different categories, from jewelry to premium cigars and even his own branded gin. All that Booth has accomplished so far and the growth Room101 has experienced over the years hasn't come easy. He has fought hard for the life he has today and takes nothing for granted.
"I can't imagine having to leave the house at five in the morning to drop my son off at a daycare so I could go work to make somebody else way more money than I'm making—only to spend half of what I made on the daycare that provided me the opportunity to go make someone else money. I lived that life for years, and I just said, 'You know what? I'm gonna break this cycle or I'm gonna die trying.'"
After 11 years in the tobacco industry, Booth has gone from being the new kid on the block to now being one of its most established and recognizable brand owners. The cigar industry has changed since he entered into it, and there are far more hurdles and obstacles to overcome, including business-crippling regulations and the looming threat posed by the U.S. Food and Drug Administration's deeming rule, which could make it harder—and more expensive—for cigar manufacturers to do business. For Booth, he's in it for the long haul, and he has no intention of letting anything, or anyone, stop him and Room101 from continuing its ascent to the top.
"I think that surely, without contest, this is not the same cigar industry that I launched my brand into. I guess that it's like any real long-term relationship because you have love at first sight when it's hot, sweaty and passionate, but things change as well. You both change. It's just like any relationship—you must continue to love your partner as you both change and continue to evolve. In the truest form of the entrepreneurial spirit and as a fighter, there's a lot of fight left in this dog. There is no boogeyman strong enough to keep me away from this industry and from the ability to continue to build our brand to provide for my family in the best way that I can. I am here to stay."
This story first appeared in the September/October 2020 issue of Tobacco Business magazine. Members of the tobacco industry are eligible for a complimentary subscription to our magazine. Click here for details.
– Photography by Stolen Images Photography. Story by Antoine Reid, senior editor and digital director for Tobacco Business Magazine. You can follow him on Instagram @editor.reid.