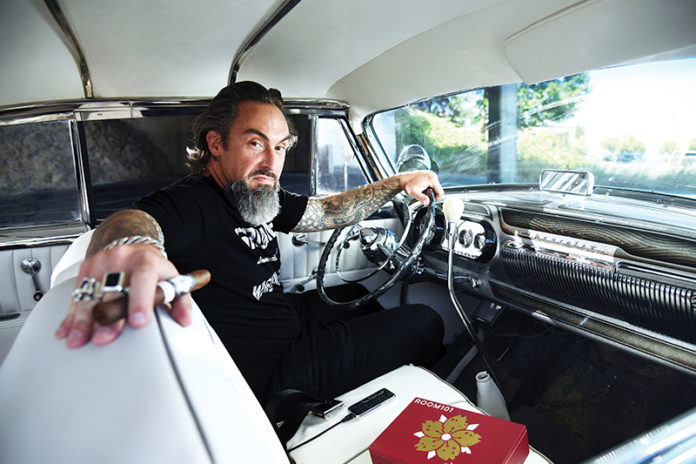 This is a story of resilience, tenacity and perseverance. It has all of the ingredients of a binge-worthy Netflix drama, but it's not at all a work of fiction—it's all reality and based on the true life events and experiences of entrepreneur Matt Booth, owner and founder of Room101 Brands. Booth has been in the cigar industry for more than 11 years, but his business and entrepreneurial roots go back decades and are filled with highs, lows, angst, love, passion and virtually every emotion in between. Even though Booth and Room101 have become synonymous with the boutique cigar industry, there are still many questions surrounding both. Who exactly is Matt Booth? How did his business begin? Did Room101 fire Matt Booth at some point in his career, and, if so, how has he been able to continue to put out his unique cigar lines like Big Payback? Or, wait, isn't Matt Booth retired from the cigar industry?
As wild and random as these questions may sound, those are questions that have been asked—and still are being asked—even after 11 years of accolades, press, interviews and events across the United States. There are a lot of people who may not know the real Matt Booth and an even larger percentage of the industry that doesn't understand the type of businessman he is. Booth's early years were ones of strife and angst, but from the struggles emerged a creative marketing guru who came to understand the secret behind creating a scalable business with a brand that could port itself into different categories with ease. Booth is a fighter and relentless in his pursuit of creative freedom. Like many small-business owners, he's had to fight for his success and the shelf space that his cigars and other products now occupy. After 11 years in the industry, Booth is going on the record about his life, the origin story of Room101 and his experiences as one of the boutique cigar industry's trailblazing figures.
Breaking Free
Booth was the product of a 1980s divorced household. His mother and father separated while Booth was still in the womb, and he bounced back and forth between his parents' homes in Washington state and California from early childhood through his teenage years.
"They blame a lot on teenage angst and adolescence," Booth says of his early years. "I was not in the healthiest place in terms of my mental attitude, and I was definitely living my life in a manner that was not built to the stuff of longevity. I never dreamed that I would see 30. That is the fate I had assigned myself to. I was inspired to kind of break from that cycle. I needed to find a way to essentially eject and be able to pick up the pieces and have an attempt at a better life."
When Booth reached the age of 19, he found a way to break from his turbulent teenage years—he enlisted in the Marine Corps. Within a week of enlisting, he abruptly left his turbulent adolescence behind for a completely different life. In the Marine Corps, Booth was able to recalibrate his outlook on life. There, he forged new friendships, built relationships and absorbed lessons that still play a big part in his life today.
"The attitude and influence from my time in the Marine Corps is still leveraged to this day as it relates to my business efforts and the different lines of work that I found myself in following my enlistment," he explains.
Booth spent four years in the Marine Corps, leaving it on Valentine's Day in 2000. After leaving the service, Booth moved to Hollywood and took up residence in a small apartment space that he describes as a storage closet that had somehow been converted into a living space. He shared this space with a cousin he went to junior high school with and began working as a sound engineer at West Hollywood's Whisky a Go Go, but it was his job at an executive protection firm that hired many Marine Corps veterans that gave him an up close and personal look at how many successful businessmen and businesswomen operated.
"I worked for an executive protection firm on and off for several years, providing personal security for some of the most powerful people in Los Angeles. I worked directly with those people, observing and monitoring their safety. I was also observing their work ethic and their personal schedule. To say that they worked hard would be like a slap in the face and an insult to how very hard that they worked on a daily basis," Booth explains. "Unbeknownst to me, the Marine Corps coupled with this work experience armed me phenomenally for what was going to be very abruptly around the corner for me in the world of entrepreneurship. A great deal of the lessons that I learned in both of those environments help me to pilot my business efforts, even to this day."
In 2003, Booth had an idea for his own business. He had a knack for design, specifically a love for jewelry design, wax carving and sculpting. Booth decided to build a business around his creative passion, and he set out to create a small collection of jewelry that would bear his own twist and aesthetic. With each piece sold, he knew he'd be closer to financial and entrepreneurial independence. He'd use his profits to help fund his music career as a bass player. Having his own business, he figured, would allow him to set his own schedule so that he wouldn't miss out on any opportunities and could claim a bigger share of the profits for himself. As with many professional careers and pursuits, Room101 would end up being much more than a side hustle; it would be the launchpad that led to new opportunities and industries unknown to Booth at that time.
Cult Origins
A lot of Booth's previous work experience and personal interests helped prepare him to build the Room101 brand. It was his love of music that drove him. While in the Marine Corps, Booth decided he wanted to learn to play the guitar after returning to the U.S. That led to him taking up the bass once he moved to Hollywood. Booth played the bass with several groups, but his role within these groups went far beyond music; he took on the role of creative director and was tasked with building a loyal audience for the groups he played with. This was the beginning of Booth's fascination with marketing and building a loyal customer base for a brand.