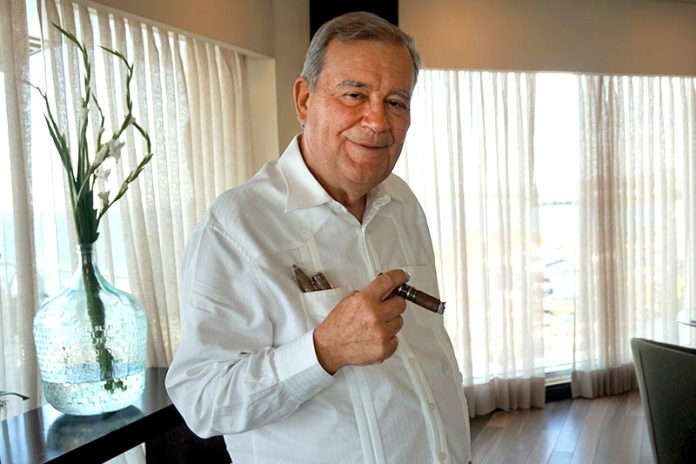 It's a sunny January day in Puerto Plata, Dominican Republic. The ascent to the top-floor cigar lounge at the restaurant and nightclub The Dome seems to take an exceptionally long time to complete. Perhaps it's the speed of the elevator or the anticipation of what lies ahead—a meeting with an iconic, well-known figure in the cigar industry. As the doors of the elevator open to reveal the sunlit cigar lounge, there he is: Hendrik "Henke" Kelner, wrapping up another interview. Kelner is in his element—talking about his favorite subjects: blending tobaccos and creating Davidoff cigars. As he talks, his hands cut through the air much like a conductor directing a symphony, a cigar delicately balanced in between his fingers.
Kelner has spent almost 50 years in the tobacco industry, much of it behind the scenes of his Dominican-based company, Tabadom. Tobacco runs through the Kelner bloodline, with his father and brothers all having some experience in the tobacco industry. His father pleaded with him not to work in tobacco, fearing that yet another Kelner in the industry would do nothing but cause problems because they were all beginning to compete for the same business. At first, Kelner obliged and pursed an education in engineering. Despite his efforts, however, tobacco pulled him into its orbit, and he found himself working in the industry as the general manager of a company in the Dominican Republic that made cigarettes. He found his footing and his passion for tobacco in this position and discovered his sense of entrepreneurship when he launched Tabadom in February of 1984. At the time, Tabadom was a small factory with only six rollers. The only cigar brand it produced was Griffins, a cigar brand he was asked to help make for a well-known club by the same name that was located in Geneva, Switzerland. As that cigar found its way to the United States market through Davidoff's Madison Avenue retail store, Kelner's reputation for producing highly sought-after brands like Ashton and Avo began to grow, as did his relationship with Oettinger Davidoff.
Anyone who has had the opportunity to be in Kelner's presence can't help but to feel in awe of him. His passion for tobacco, his love of cigars and his business acumen are unprecedented. Not only is he a man who has lived through the tobacco industry's definitive moments; he is also a man who has made history during the course of his nearly five decades in the business. In an intimate interview with Kelner and his son, Klaas, the cigar industry icon divulges the secrets to his success, reveals his favorite cigars and shares what he calls "the Eleventh Commandment."
Tobacco Business: Is there a particular cigar line or project that stands out in your mind that you've worked on?
Hendrik "Henke" Kelner: For me, Puro D'Oro. We make Puro D'Oro 100 percent from Dominican tobaccos. It's a special cigar for me. Any place that I go to worldwide, there's at least one guy that will say, "Henke, you've broken my heart because my favorite cigar was the Puro D'Oro." Now, my favorite cigar is Yamasa No. 2 [and my second favorite is] Winston Churchill Late Hour. It's close because I like both, but Yamasa is special because I sent a message to the world with how much work I did to make the best wrapper in the world. It's sentimental.
Yamasa was different. Before Yamasa, I was growing tobacco for wrapper close to the factory. I feel it's less work, less problems. But something happened. A strong wind destroyed a curing barn, and I felt God said to me, "Henke, move. This is not the place. Look for another place." First, I looked for conditions. I looked at Yamasa [because it was] out of the normal traditional area of tobacco in the Dominican Republic. The soil is completely different. The soil has a lot of minerals that give Yamasa a special taste. But that's a problem, too, because the pH is too low. We had many difficult years in the beginning, and many people have tried to grow one or two crops in Yamasa and have stopped because they say it's too difficult, but nothing is impossible when you decide you have passion; you find a way. For me, it's another step for success. The more mistakes, the more you learn. The soil was difficult, but finally we found a way.
How do you keep delivering the same quality and consistency year after year with so many variables and obstacles to overcome?
Hendrik Kelner: First, you need to take a position and make a declaration. The concept is the blend; it's not a formula. Crop to crop is different—[it] depends on rain, depends on how much sun you've had, and you need to rebalance the blend to maintain the same graphic of taste and stimulation. You can't control the weather. Year after year, the composition of the leaf is different, and you need to realize that. It looks difficult and complex, but it's not that complex.
There are no genius master blenders. The genius is [in] the inventory. As long as you have enough inventory of tobacco, you can maintain consistency. If you don't have inventory, you don't have options to maintain the same blends. Of course, you need to make different prototypes. The most important thing is to maintain the level of strength. Every smoker knows his level of strength. If there's a small difference in the acid area or the sweet area, they don't know that, but the level of strength—everybody knows what the level of strength is.
Do you consider yourself a master of tobacco?
Hendrik Kelner: I prefer to say that I am a blender. "Master" is a big name. When you say "master," you need to know everything. You need to know soil, you need to know agricultural practice, you need to know what happens in the curing process, what happens in the fermentation process. There are many, many, many things. I know that I have something, but "master" is a big name.
Klaas Kelner: 49 years and he's still not a master! He's always learning. We're always learning, always improving, always changing and always adapting, so it's very humbling and refreshing to hear my dad say things like that.
Are you used to hearing him say things like that?
Klaas Kelner: Yes, I'm used to it. I can imagine 50 years from now, I'm going to say, 'My dad was 49 years into the industry, and he wasn't saying 'master,' so I don't think I'll ever be able to say I'm a master. But I aspire to be half the man he is.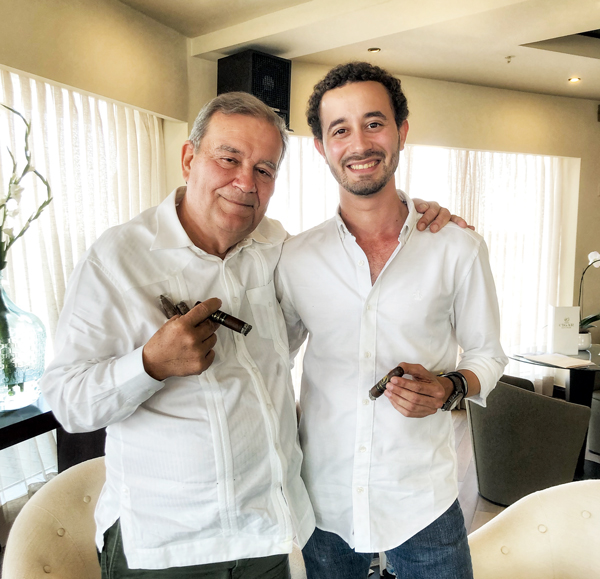 How does it feel to have Klaas so heavily involved in the industry now?
Hendrik Kelner: I am very proud of Klaas. He has too much knowledge for only 28 years [of age]. This is part of the family. Klaas has tobacco in his blood. For you to understand tobacco, you must love tobacco. Most importantly, Klaas started from the bottom. He went away to the U.S. for university and came back to the company to work for a minimum salary. The only way that you will understand the business is when you start from the bottom, and Klaas did that. And now he's in the market in the U.S. Klaas has the answer for any question because he spent that time [at the bottom]. [He's] my fifth child, an industrial engineer from Georgia Tech, and his minimum salary is [supposed to be] $60,000, and now he works in tobacco, selecting leaf, for less than $10,000, and he doesn't understand what's happening! 'I went to Georgia Tech and was supposed to be an engineer!'
That's the way you need to start—from the bottom—to understand the process, to understand the people. You need to understand the people. We have 1,500 people in the company. You need to know the mentality—what is the passion of the people, why they work here and are proud to make that. I'm very proud of Klaas; he knows everything. I don't know what his future is but in any business of tobacco that he works in, I'm sure he'll have success. He has the personality, too, and that's very important.
What does it take in order to be successful in the tobacco business today?
Hendrik Kelner: When you talk to entrepreneurs, the most important thing is the passion for the product. There are two types of entrepreneurs: people who sacrifice quality for money and those who focus on quality. Frankly, these people don't have success. You need to concentrate on the product.
You need to have passion—it's your life! When you concentrate on your product and you make quality the focus, you'll make money. Concentrate on quality and you'll get the money. With cigars, that's more important because they make you more happy. You can taste your product, your effort, your passion. The more passion you have, the happier you'll feel. If you aren't happy with your work, change your work or your employer. Enjoy it—that's the only way.
What makes a good cigar?
Hendrik Kelner: As I say, a good cigar is your friend. What is a good friend? How do you select a friend? A good friend is loyal, consistent, balanced, positive and enjoyable. And this is also a cigar. A good cigar is loyal, all the way through. To get to the pleasure, [it has to be] balanced and consistent like a friend.
We know that we have more than one friend. We have a friend for playing golf, a friend for dinners; you have a friend to talk about politics—[you have] different types of friends, and you have different types of cigars. They are always balanced, consistent and positive. You have a cigar for after dinner, you have a cigar for late hours, you have your cigar for the first thing in the day. Before you light a cigar, you know what place you have for that cigar. Of course, quality in the cigars and in your friends has some conditions for maintaining your friendships. You need to take care of the cigars, and you need to maintain a good condition. That's why I say maintain your cigars at home in good conditions in a humidor. You don't need to have an expensive humidor because a cigar is like a friend—it's a relationship.
What advice do you have for other entrepreneurs in the tobacco business who want to experience the type of success that you've had?
Hendrik Kelner: The only way you'll have success is if you have passion for the product. It's your life. Your dream. If you make mistakes, no problem. I've said this before: If you start a business to make money, maybe you'll have success. If you start a business to make a good product, you'll have success. You have to have passion—that's the only way.
There are many other things. You need to know about new products. Take care of your partners. At the very least, have a financial partner. A partner in the same business and in the same industry—you'll make more progress.
What do you hope your legacy will be?
Hendrik Kelner: My legacy is to make millions of happy people. You have the Ten Commandments, but I think there's an eleventh: Be happy and make people happy. I say I don't make cigars; I make friends to send worldwide because my goal is to make happy people.
You need to have happiness in your life to have success. Any project or any work where you're not happy, you won't have success. You need to make millions of people happy. The same with cigars. When I make a cigar, I don't think, 'This cigar is going to make me lots of money.' I think, 'This cigar will make people happy.' That's my legacy.
This story first appeared in the May/June 2019 issue of Tobacco Business magazine. Members of the tobacco industry are eligible for a complimentary subscription to our magazine. Click here for details.
– Story and photos by Antoine Reid, an editor and digital content director for Tobacco Business Magazine. You can follow him on Instagram @editor.reid.