In general, what do you hope to accomplish with an acquisition?
Dan: Increase store count in both current markets and new markets, increase profitability for the company, grow our team and create more opportunity for our workforce.
Terry: We expect to get an immediate return on investment with each acquisition. During due diligence we create several different pro formas that show the level of how accretive the stores will be to our existing business based on valuation and other factors. This strategy is not one like organically opening stores or buying stores that are reclamation projects. We expect and we know we will get an immediate return when we get them integrated into Smoker Friendly based on all the work on the front end.
What is the process like integrating each new store that's been acquired into the Smoker Friendly network?
Dan: A huge part of the integration is pre-closing and preparing our systems, our staff and the staff of the company we are acquiring. A big pre-close effort goes into IT integration, price book and vendor setup, lease assignments and HR.
Terry: We are in the stores prior to closing. Operations, HR and IT are in the field meeting with store managers and other personnel and reviewing what is coming up and how the process will work and preparing for what will happen after closing. We really use those initial meetings to introduce our culture and start that process. We generally transfer all the stores into our system on the day of closing. We have internal auditors, and we will count and reconcile all inventory with the owner. We spend a significant amount of time and money after closing on training. We use field management and existing top store managers from other regions to train the new team members at their stores and ensure we start them off on the right foot.
How do you typically finance an acquisition?
Dan: Through our partnership with our private equity partner, Main Street Capital (MSC), on larger ones or through cash flow on smaller ones.
Terry: Before our transaction with MSC, we used our own money. After the transaction, we use other people's money. Not only did we get a minority business partner with MSC, but we also acquired the ability to activate access to a significant amount of capital through MSC that has allowed us to finance the last three acquisitions and replace debt that existed previous to that relationship, which freed up other assets we owned.
Do you encounter any issues when it comes to financing an acquisition that involves a tobacco retail business?
Dan: Not since we have partnered with MSC.
Terry: The large majority of banks and private equity firms will take a pass when it comes to retail tobacco. It is either prevented within their charter, ESG [environmental, social and governance], or frankly the personal biases and attitudes of the banker toward retail, tobacco or the combination.
How do you scale your business's operations and team to handle the growing number of stores that are part of your network?
Dan: Most of the scale comes from within the company that is being acquired, and we always work to find opportunities for employees of the company being acquired.
Terry: We have a template that Dan crafted with input from Ben Chaney, our CFO, that we use for acquisitions that tell us how many people we need, from field personnel to corporate staff, based on stores we add. It's basically "plug and play." As Dan mentioned, one of the wonderful things we get with each purchase is great people! Every acquisition has added depth to our bench. These operations and owners we acquired were successful because they have great store managers and store associates and have had long-term field and management folks who know their stores and markets and are generally very experienced in the tobacco store world. These people join our Smoker Friendly team and adapt quickly to our procedures and policies and become very valuable team members in our organization. Every acquisition gives us more talent and depth in management and more experience in not only store operations but acquisition expertise. These team members are invaluable, and without them working with our legacy team we could not acquire and operate the stores we have.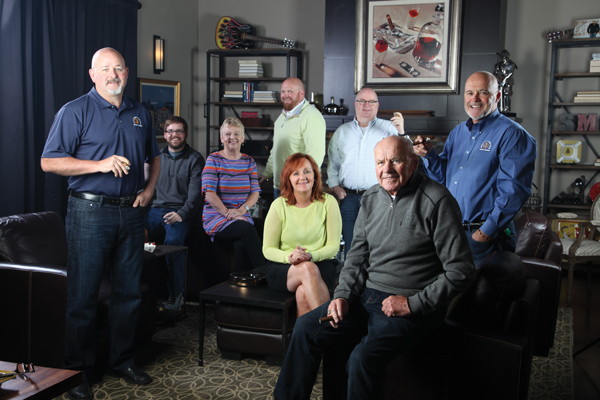 How do you spread or maintain the Smoker Friendly company culture with all of these new locations you bring into your network through an acquisition?
Dan: A big part is that we do not have a separate acquisition team, rather we utilize our employees to make it happen, from the pre-closing preparation to the post-close training that occurs. Post-closing, we send in teams of area managers, supervisors and store managers to work with the staff in the acquired stores. They work with them on both the X's and O's of operating a Smoker Friendly store, but just as importantly they work with them on the Smoker Friendly way and culture. We are very fortunate that these team members traveling to help with the integration are Smoker Friendly's biggest cheerleaders.
What have you learned about acquisitions over the years?
Dan: That no two acquisitions are the same, and every company is unique in culture and operational procedures and strategies. At the end of the day, probably the single most important part of an acquisition is getting the employees of the company being acquired onboard and comfortable with Smoker Friendly and our team and culture. In fact, what may be our biggest success in the acquisition journey thus far is that we have had minimal turnover and great buy-in from our new team members.
This story first appeared in the November/December 2022 issue of Tobacco Business magazine. You can view the entire issue online for free by clicking here.