The adage "a picture is worth a thousand words" is often interpreted to mean that a complex idea can easily be conveyed in a single image, but in today's society, that couldn't be further from the truth. Take Michael Herklots, for example. Herklots is the vice president of Nat Sherman International. He's a savvy, charismatic professional who, based on his immaculately curated personal Instagram feed, loves a good suit and has a certain appreciation for fashion. He's constantly on the road—or in the air—and he knows how to work a crowd. While Herklots is active on social media, the pictures and videos he posts tell only a part of his story.
"I grew up in northeast Connecticut, in the town of Killingly," he says. "My mom was an elementary school art teacher who stayed home with us until we were 10, and my dad was a pediatrician. Killingly was my was father's hometown, so we had quite a bit of family history there. My father opened a family practice in our home when we moved back there in the early 1980s. He later joined the pediatric center of our local hospital. I have a twin sister, Sarah. Music and arts were always areas of interest for us from the time we were very small."
His father played the drums, guitar and piano, and he was also a singer, while his mother was an accomplished artist. As children, Herklots and his sister would put on shows in the waiting room of his father's office to entertain other kids who were awaiting their appointments. Though Herklots had other interests while growing up, including martial arts, it was his love for music, particularly drumming, that took center stage in his life and led to his eventual love for cigars.
"I didn't grow up exposed to premium cigars at all," Herklots says. "It wasn't until I attended Berklee College of Music in Boston that I was introduced to premium cigars. One of my roommates enjoyed premium cigars, and one evening while walking through the Back Bay we passed a cigar bar, and he wanted to go in. I reluctantly followed but was quickly intrigued and enamored by the hobby. My first cigar was an Ashton Classic. I remember enjoying similarly mild cigars, including Baccarat, Don Diego, Avo and Leon Jimenes."
Gloucester Street Cigar Co., a store located within Boston's Back Bay neighborhood, hosted free Wednesday night tasting events, giving Herklots the opportunity to not only taste sample cigars but also to meet manufacturers and representatives from different companies who would later become his peers.
"I met Rocky Patel and Jonathan Drew in those early days," he says. "I ended up landing a job at a [cigar] kiosk in the Prudential Center Mall, called The Humidor, in the summer of 1999. I worked there until it closed in 2001."
During the last year he spent in Boston before graduating and moving to New York City, Herklots got a job at Gloucester Street Cigar Co. It was there that Herklots worked for David Kitchens, who was the general manager for the store through 2000. Kitchens went on to run Davidoff's Madison Avenue store and hired Herklots to work in the Davidoff store after he moved to New York City at the age of 22 in 2002.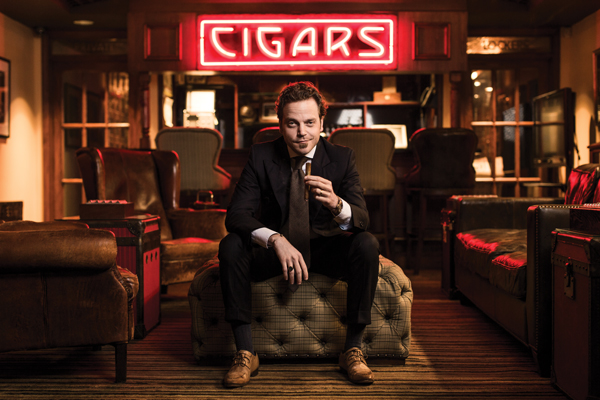 Learning on the Job
Herklots began working at Davidoff's Madison Avenue store in June 2002 as a retail sales associate. From 2002 to 2006 he was also the store's top sales associate. During his time at Davidoff's Madison Avenue store, he helped develop the store's events program, which he describes as being extremely innovative for the time because of its focus on in-store dinners and consumer education. In 2006, Davidoff opened a second store in the Time Warner Center and named Herklots the store's general manager. Two years later, Herklots was promoted to general manager of both Davidoff locations in New York City. Working in retail taught him many lessons about both consumer behavior as well as the cigar industry in general that would prove useful to him later in his career.