The adage "a picture is worth a thousand words" is often interpreted to mean that a complex idea can easily be conveyed in a single image, but in today's society, that couldn't be further from the truth. Take Michael Herklots, for example. Herklots is the vice president of Nat Sherman International. He's a savvy, charismatic professional who, based on his immaculately curated personal Instagram feed, loves a good suit and has a certain appreciation for fashion. He's constantly on the road—or in the air—and he knows how to work a crowd. While Herklots is active on social media, the pictures and videos he posts tell only a part of his story.
"I grew up in northeast Connecticut, in the town of Killingly," he says. "My mom was an elementary school art teacher who stayed home with us until we were 10, and my dad was a pediatrician. Killingly was my was father's hometown, so we had quite a bit of family history there. My father opened a family practice in our home when we moved back there in the early 1980s. He later joined the pediatric center of our local hospital. I have a twin sister, Sarah. Music and arts were always areas of interest for us from the time we were very small."
His father played the drums, guitar and piano, and he was also a singer, while his mother was an accomplished artist. As children, Herklots and his sister would put on shows in the waiting room of his father's office to entertain other kids who were awaiting their appointments. Though Herklots had other interests while growing up, including martial arts, it was his love for music, particularly drumming, that took center stage in his life and led to his eventual love for cigars.
"I didn't grow up exposed to premium cigars at all," Herklots says. "It wasn't until I attended Berklee College of Music in Boston that I was introduced to premium cigars. One of my roommates enjoyed premium cigars, and one evening while walking through the Back Bay we passed a cigar bar, and he wanted to go in. I reluctantly followed but was quickly intrigued and enamored by the hobby. My first cigar was an Ashton Classic. I remember enjoying similarly mild cigars, including Baccarat, Don Diego, Avo and Leon Jimenes."
Gloucester Street Cigar Co., a store located within Boston's Back Bay neighborhood, hosted free Wednesday night tasting events, giving Herklots the opportunity to not only taste sample cigars but also to meet manufacturers and representatives from different companies who would later become his peers.
"I met Rocky Patel and Jonathan Drew in those early days," he says. "I ended up landing a job at a [cigar] kiosk in the Prudential Center Mall, called The Humidor, in the summer of 1999. I worked there until it closed in 2001."
During the last year he spent in Boston before graduating and moving to New York City, Herklots got a job at Gloucester Street Cigar Co. It was there that Herklots worked for David Kitchens, who was the general manager for the store through 2000. Kitchens went on to run Davidoff's Madison Avenue store and hired Herklots to work in the Davidoff store after he moved to New York City at the age of 22 in 2002.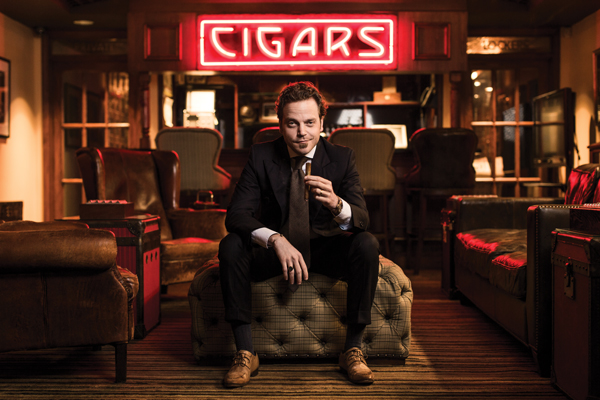 Learning on the Job
Herklots began working at Davidoff's Madison Avenue store in June 2002 as a retail sales associate. From 2002 to 2006 he was also the store's top sales associate. During his time at Davidoff's Madison Avenue store, he helped develop the store's events program, which he describes as being extremely innovative for the time because of its focus on in-store dinners and consumer education. In 2006, Davidoff opened a second store in the Time Warner Center and named Herklots the store's general manager. Two years later, Herklots was promoted to general manager of both Davidoff locations in New York City. Working in retail taught him many lessons about both consumer behavior as well as the cigar industry in general that would prove useful to him later in his career.
"I learned a lot, but a few things stand out—like the importance of credibility and authenticity. In the early 2000s there were a lot of brands that were dying quickly, and a few brands that were launching and trying to grow. However, consumers—and for that matter, retailers­—learned the hard way at the conclusion of the boom that brands can go as quickly as they come, and the stories that make brands unique are often just that: stories. Consumers want brands that are credible and authentic, and they rely on tobacconists—and trust tobacconists—to make recommendations that are appropriate and long-term, ensuring [a product is] something they can rely on."
As a tobacconist, Herklots also learned the value of patience with customers and being willing to start the sales and education experience at the beginner's level to help a customer have the best experience possible. Having spent so many years working with customers, he recognizes how intimidating premium cigars can be to many and that the growing presence of social media influencers and an abundance of online sources only complicate matters.
"When I was coming up in the industry, the internet was still in its infancy, especially the idea of social media or even bulletin boards and chat rooms. That meant in order to learn, you learned from experts. Today, we're bombarded with self-proclaimed experts who have not had the same benefit of learning from genuine industry experts, and as a result misinformation is shared as fact and perpetuates the idea that anyone can be an expert," says Herklots. "After 20 years in the business, I still have more to learn than I already know, and the experts I defer to would never consider themselves experts."
Each mentor and business relationship Herklots has forged over the years has contributed to who he is. He has found a common thread in each of his mentors: decency in business. His earliest mentors were his father and grandfather, both of whom Herklots recalls being entrepreneurial while also constantly striving for personal growth and helping others. Both men were very active and involved in their communities, and Herklots refers to them as "champions of helping and serving others" while also being personally successful. Another important figure in Herklots' life was his band director, Paul Smith, who not only had a great impact on him as a musician and educator but also when it came to being a leader and a good man. Herklots' college educators also played important roles in his overall development. Once he moved to New York City, his mentors helped him become acclimated with the cigar industry. In addition to Kitchens, George Brightman, formerly of Cigar Aficionado magazine, introduced him to other manufacturers and industry leaders. In particular, the Quesada and the Sherman families had a profound impact on Herklots' life and professional career.
"Manolo Quesada has been an 'industry dad' to me for nearly 20 years," Herklots explains. "The word 'family' gets used a lot in our industry, and appropriately so. I became pretty close with Manolo rather quickly. He had a close relationship with David Kitchens, and when I would visit the Dominican Republic on vacations I would spend time in the Quesadas' factory, learning as much as I could. During that time, I also became much closer with 'the young ones' [Manolo's daughters, niece and nephews], as we were closer in age. That relationship became stronger in 2008 as we developed the Quesada 35th Anniversary together. That was a huge moment not only for their company, but for their roles in the company at that time, and I was very fortunate to be part of that process. Since then, we've had an extremely special bond. In 2011, they were there for me and believed in the strategy I presented for Nat Sherman International's development, and it has just continued since."
Herklots knew the Sherman family socially before he began working with them professionally. In 2011, the Sherman family was looking for someone to help them run their store in New York City. At the time, Herklots was content working at Davidoff and wasn't sure if moving to Nat Sherman was a good fit. As conversations continued, it became clearer that there was a bigger need for the Shermans than just someone to manage the store for them, which interested Herklots. In the spring of 2011, Herklots accepted the offer from the Sherman family and began a new chapter in his career.
This story first appeared in the May/June 2020 issue of Tobacco Business magazine. Members of the tobacco industry are eligible for a complimentary subscription to our magazine. Click here for details.
– Photos by Dustin Cohen. Story by Antoine Reid, senior editor and digital content director for Tobacco Business Magazine. You can follow him on Instagram @editor.reid.