Because the Condor cigar cutter could be viewed as costly by some, education is key in the marketing and selling of it to retailers. As a way to support those retailers that take the Condor into their stores, Red Horse Knife Works supports its partners with in-store events that include co-sponsor branding to expand its audience and event appeal, co-marketing to its online customer base to help drive in-store traffic, branding opportunities on its website and through social media, and other advertising mediums. Red Horse's limited-time warranty as well as the in-house servicing of its products give retailers and consumers an incentive to give its luxury cigar cutter a try.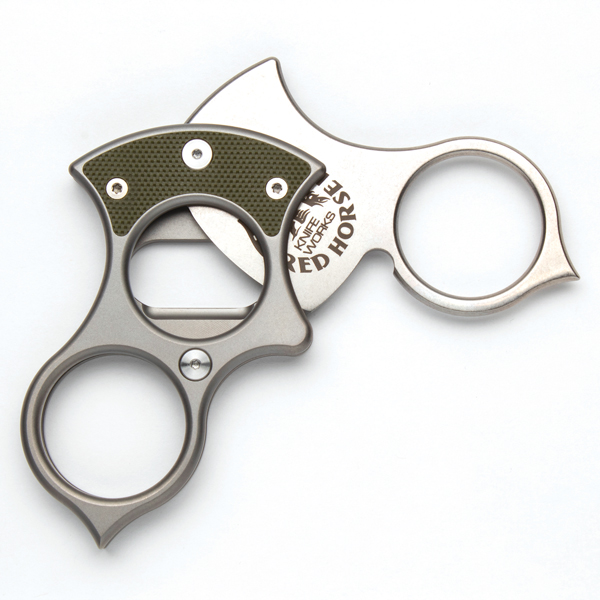 High Price and Value
The price tag associated with Red Horse Knife Works' Condor could be viewed as a challenge, but it's not one that can't be overcome. The overall cost and availability of cheap cutters on the market may outweigh the initial investment required for the Condor, but Kim is banking on cigar smokers wanting only the best cutter that won't ruin their expensive premium cigars when cut. Lower-end cutters could become dull quickly due to cheap, soft steel, whereas the Condor cutter features M390 stainless steel that has been heat-treated to a precise 60 rockwell hardness, meaning it will stay sharp for thousands of cuts.
"We have yet to find a brand at any price point which competes on quality, reliability and affordability," says Kim. "Plain and simple, our value is imbedded in the materials: a titanium frame structure that is nearly indestructible in the day-to-day use of a cigar cutter; German M390 super steel for the blade sharpness and durability, allowing for over 15,000 cuts without sharpening; corrosive-resistant ceramic ball bearings with a lifetime limited warranty; and an unparalleled look and feel all merge here to create the Condor cigar cutter."
One of Red Horse Knife Works' customers described the Condor cutter as "an absolute heirloom piece that I will be able to hand down to my son," Testimonials like this are important to Kim because his aim for Red Horse since its launch has been to build functional art.
"When a customer purchases one of our products, they can instantly recognize the value in the feel, look and design," he explains.
To help draw attention to the Condor cutter in a store, Kim recommends merchandising it in a high-traffic area positioned within the customer's line of sight. Kim also points out the value of having something new in stock to showcase to customers, and the Condor could definitely be a conversation starter and potential upsell. As a way to support retailers and promote the Condor to potential new customers, Red Horse Knife Works is always looking for co-marketing opportunities to help grow brand awareness for both Red Horse Knife Works' products and the retailer.
Building on its Reputation
As a cigar smoker, Kim understands the enjoyment that comes from savoring a cigar while surrounded by good company and fine spirits. It was in this type of setting that the idea was born to create a cigar cutter with an incredible blade surrounded by quality material that was built to perform over an extended period of time. The goal was to design a cigar cutter that he would be proud to carry and enjoy using. Kim has plans for the Condor brand that include expanding it further into the luxury lifestyle category by way of developing a lighter and even a line of chef's knives. By raising the quality of cigar cutters to exceed consumer expectations, Kim hopes they will in turn begin to demand the same quality from their kitchen knives as they do their lighters and cutters used for cigars.
Expanding Red Horse Knife Works' product portfolio is Kim's focus right now. For anyone seeking an extraordinary piece made of the highest-quality material that is available at an affordable price point, Kim hopes to be able to provide a product for them. The company has plans to scale through retail stores, online distributors and channel sale opportunities. As Red Horse continues to provide unique pieces made to meet high standards and expectations, it expects its reputation as a superior house brand to continue to grow as well. Kim and his team at Red Horse Knife Works continue to work on making their products affordable to the general public but also hope to continue to educate the company's customers on the importance and value of investing in excellence.
This story first appeared in the May/June 2020 issue of Tobacco Business magazine. Members of the tobacco industry are eligible for a complimentary subscription to our magazine. Click here for details.
– Story by Antoine Reid, senior editor and digital content director for Tobacco Business Magazine. You can follow him on Instagram @editor.reid.