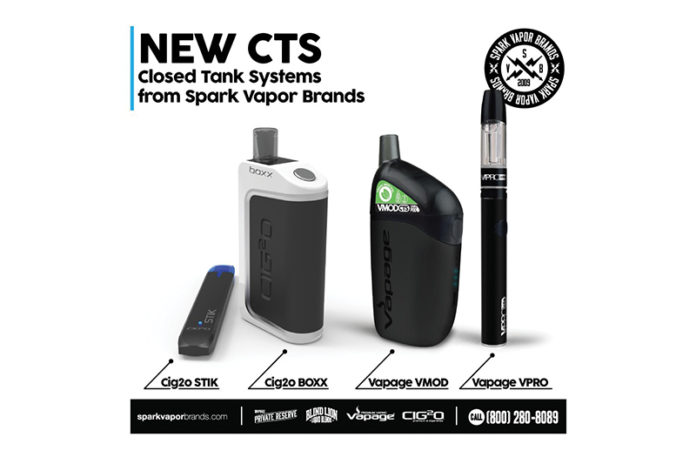 The new CTS line of e-vaping systems from Spark Vapor Brands offers four new closed-tanks system devices from Vapage and Cig2o that deliver a premium e-liquid sub-ohm vaping experience. Each Vapage and Cig2o CTS vaping system is equipped with a long-lasting, rechargeable 30-watt power supply along with a pre-filled, disposable, sub-ohm, premium e-liquid cartridge. Vapers simply pop in the convenient, pre-filled refill and enjoy the flavor and vapor only previously available in larger, more complicated and expensive sub-ohm systems. When the tank is empty, customers than discard the tank and replace it.
The entire Spark Vapor Brands e-liquids lineup including Cig2o, Vapage Original, Vapage Premium, Vapage Private Reserve, and Blind Lion, as well as other popular showcase e-liquids from Space Jam, Cosmic Fog, Beard Vape, Charlie's Chalk Dust, Holdfast and others provide the variety and selection of popular tobacco and fusion e-liquids that even the most discriminating customers expect.
For the latest news from Spark Vapor Brands, visit sparkvaporbrands.com.