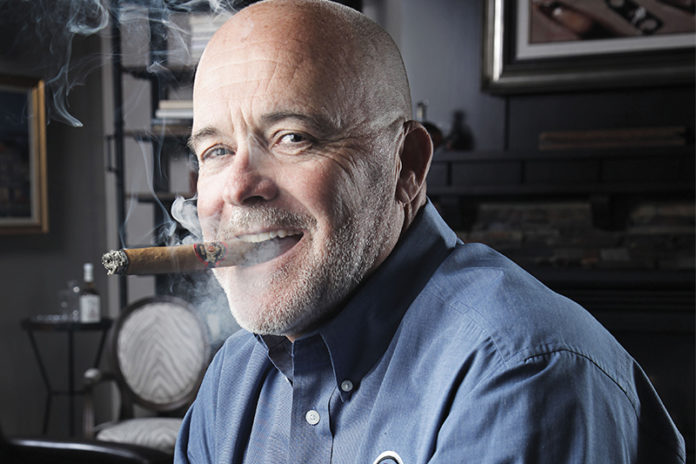 For Terry Gallagher, the president of cigar and tobacco retailer Smoker Friendly International, restless nights aren't a new phenomenon.
Operating more than 150 retail locations in seven states in an industry that is under constantly evolving regulatory and legal scrutiny isn't good for anyone's beauty sleep—and those are just a few of the items on the list of what kept Gallagher awake before the COVID-19 pandemic even began.
Despite the challenges caused by the coronavirus outbreak, Gallagher says he is still bullish on future growth and that his stores are seeing a quicker-than-expected bounce-back as they have begun to reopen.
Evolution and adaptation have been part of Smoker Friendly's identity since the company began as a chain of fueling stations in the late 1980s and early 1990s.
"We originally were transforming our Gasamat's into c-stores/snack shops," says Gallagher. "We recognized an opportunity to provide a much friendlier buying environment for the cigarette consumer who was beginning to be treated as a second-class citizen in many retail locations. We always described our outlets as 'smoker friendly,' and in 1994 we trademarked the name and started branding our stores as Smoker Friendly."
Even as Smoker Friendly moved more decidedly into the tobacco space, the changes continued.
"The first couple of years the retail locations truly were cigarette-only," Gallagher recalls.
"We began to offer moist snuff and machine-made cigars, and then through the '90s and early 2000s our evolution continued with all other tobacco products, including premium cigars, roll-your-own and e-cigarettes, vape and nicotine products.
Today, Smoker Friendly's stores continue to offer all categories of tobacco and nicotine brands, and they also have a section for alternative products. Those 157 stores span seven states with five distinct retail footprints: tobacco only; tobacco with cigar lounges; tobacco and fuel; tobacco and alcohol; and tobacco, fuel and alcohol. Smoker Friendly has even entered the e-commerce world and operates the website PaylessCigarsAndPipes.com, in New Port Richey, Florida.
The scale, experience, quality product offering, and the company's long personal relationships with everyone from large companies to small boutique manufacturers are just a few of the things that set Smoker Friendly apart from the competition.
Those same qualities helped Smoker Friendly navigate the COVID-19 outbreak and subsequent economic fallout.
"We most definitely were impacted," says Gallagher. "We believe we are and should be considered an essential business, and for the most part throughout our geography we were. However, in some jurisdictions, we were forced to shut down by very arbitrary decisions, from health departments, sheriff departments and even a building inspector. Due process was just tossed out the window, and the constitutionality of these arbitrary and capricious decisions was frustrating and costly."
Smoker Friendly was forced to close 25 stores across four states in April and quickly adapted to the unique challenges of the outbreak.