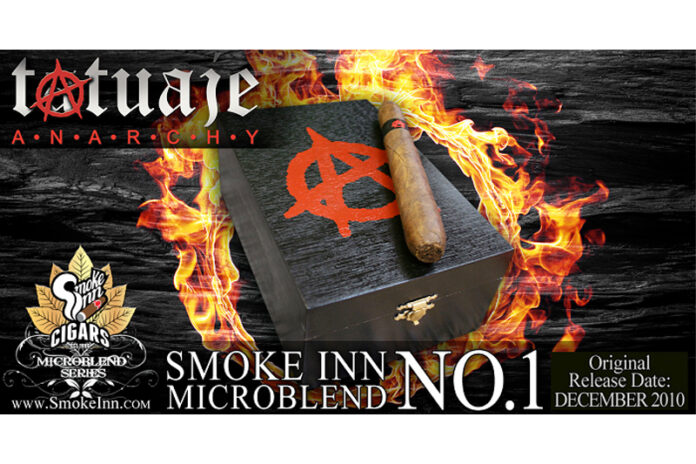 Abe Dababneh of Smoke Inn Cigars and Pete Johnson of Tatuaje Cigars are teaming up on a new NFT offering involving the Tatuaje Anarchy. Seven numbered and unique original art NFTs will be released; six NFTS (numbered 1-6) will be sold through six separate live auctions planned for early 2023. The seventh NFT will be issued to Dababneh, Smoke Inn owner and Anarchy brand creator.
Here's what Dababneh had to say about this special release:
"It seems hard to deny the depth of consumer interest these days in specialty NFTs, especially if it is tied to a highly sought-after product. In my personal opinion, there has been no single store cigar release in the history of the premium cigar business greater than the original Tatuaje Anarchy. Anarchy was the first installment of our MicroBlend Series released in December of 2010. Production was 1,500 – 15 count boxes, which at the time, and maybe still, is the largest run ever of a single store limited release. Amazingly, only 3 months later, and after the 2011 March issue of Playboy Magazine wrote about this cigar, an additional run of 1,500 boxes were ordered. The original Anarchy was released again in 2015 in a very special offering of only 666 boxes that sold out almost instantly. The cigar has a proven track record and huge following amongst cigar lovers and collectors alike. This very special NFT offering will put this cigar to rest forever, only ever being made available to the lucky people who are fortunate enough to purchase one of the Tatuaje Anarchy NFTs. I can't wait to see what happens.
"I could not imagine not owning one of these NFTs for myself and the company, it is where it all started. For obvious reasons of conflict, we cannot be part of the bidding process. Our issued NFT will give us the exact same privileges and offerings as each other NFT owner."