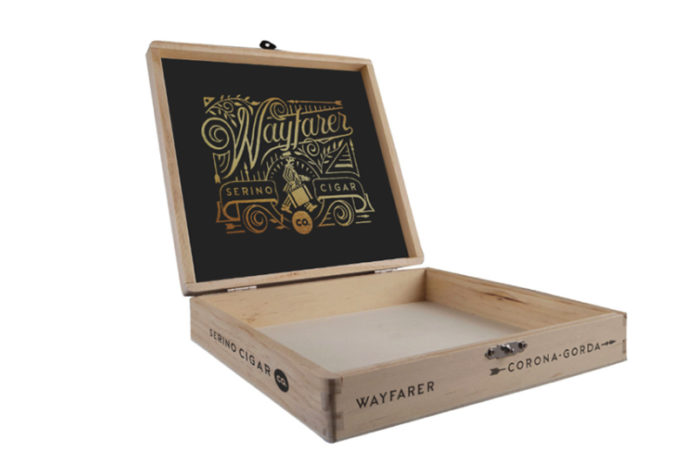 Just in time for this year's International Premium Cigar & Pipe Retailer (IPCPR) show, Serino Cigar Co. has announced its latest cigar, Wayfarer. This cigar was previously sold naked as 'The Wayfarer' to select retailers.
In addition to being an event exclusive cigar, Wayfarer was also known as Carson Serino's "personal" cigar.
"I'm very thankful to have grown up around this beautiful industry," Carson Serino commented. "I've met some great people lover the years that have shown me what it takes to produce an exceptional blend. For my first cigar, I wanted to create something timeless and classic, a cigar that cane be enjoyed at any hour of the day and one that is accessible to all the palettes. Medium-bodied, complex yet balanced. The Wayfarer blend is a culmination of everything I have learned from this industry. This is a story of growth–this is my journey."
Also collaborating with Serino on this cigar was Luis Omar González, the son of well-known Cuban Master Blender Omar González-Alemán.
"For this project we wanted to create a traditional Cuban-styled cigar with new era branding. We implemented traditional Cuban rolling methods and used original Cuban molds, including the very 109 mold that has crafted some of Cuba's most memorable cigars."
Wayfarer details:
Wrapper: Ecuadorian Corojo '99
Binder: Jalapa, Nicaragua
Filler: Nicaragua
Factory: La Corona Cigars, S.A.
Vitals: Wayfarer Corona Gorda (6 x 46), Wayfarer Robusto (5 x 52), Wayfarer "The 109" Cap Toro (6 1/4 x 50), Wayfarer Corona (5 1/8 x 44), Wayfarer Dalia (6 3/4 x 43)
Both Wayfarer Corona and Dalia will be future releases. For all the latest news from Serino Cigars, visit serinocigars.com.