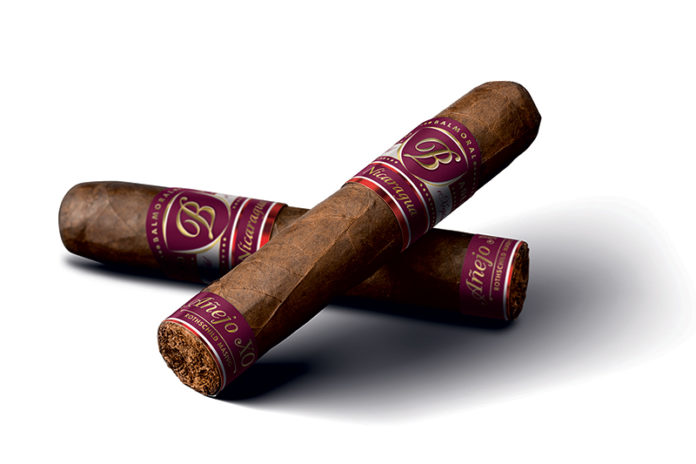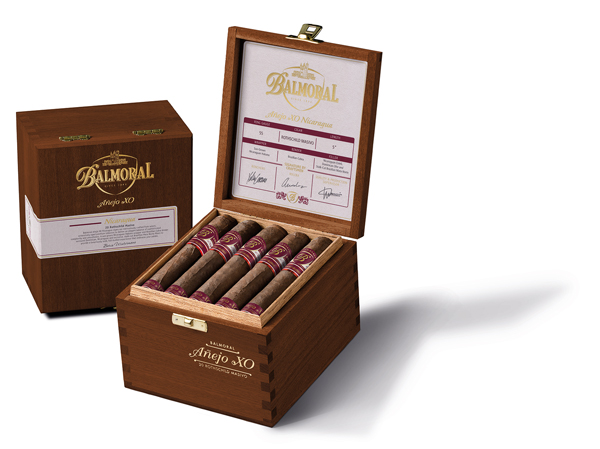 Royal Agio Cigars has begun shipping Balmoral Añejo XO Nicaragua to retailers. The company introduced the cigar at this year's International Premium Cigar & Pipe Retailers (IPCPR) trade show and convention.
Balmoral Añejo XO Nicaragua is the fourth release in the Balmoral XO Anejo series, which includes Añejo XO with a Brazilian Arapiraca wrapper, Añejo XO Connecticut and the Añejo XO Oscuro with a Mexican San Andres wrapper.
Like all the other cigars in the Balmoral Añejo XO series, the Balmoral Añejo XO Nicaragua balances sophisticated complexity and smoothness. Royal Agio sources the top 5 percent of premium tobaccos available globally, including Balmoral Añejo XO's signature Brazilian Mata Norte, to accentuate flavor notes in blends that have a natural sweetness. Balmoral Añejo XO Nicaragua is made at Royal Agio's boutique premium cigar factory in San Pedro de Macoris, Dominican Republic, using a sun-grown Nicaraguan Habano wrapper and the blend offers complex notes of rich oak, espresso, hazelnut and peppery spices with a smooth underlying natural sweetness.
Balmoral Añejo XO Nicaragua is available in five sizes: Torpedo Mk52 (6 1/4 x 52), Gran Toro (6 x 52), Rothschild Masivo (5 x 55), Corona (5 7/8 x 42) and Petit Robusto FT (4 1/4 x 48, Flagtail).
"The new Añejo XO Nicaragua is a special blend that has been in development for quite some time because, as usual, we wanted to ensure that we had the perfect combination of unique and exclusive, aged premium tobaccos that would make this Nicaragua blend truly stand out," Boris Wintermans, the 4th generation CEO of Royal Agio Cigars says in a press release announcing that his company is now shipping the cigars. "Our curious approach to blending has once again led us to an exceptional, one-of-akind discovery sure to delight cigar lovers everywhere."
For all the latest news from Balmoral Cigars, visit balmoralcigars.com.