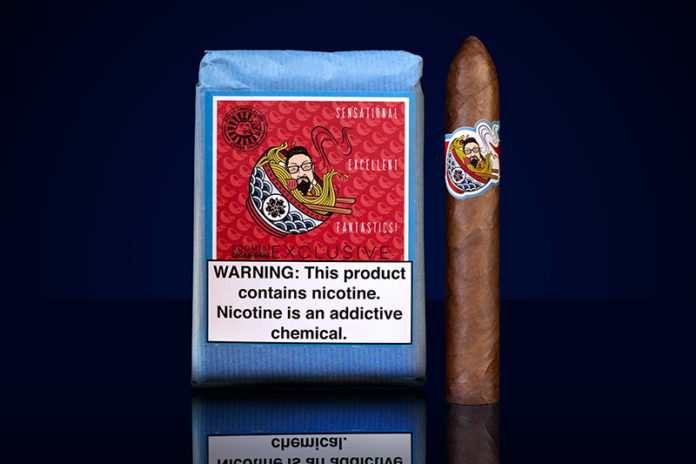 Room101 Cigars' Matt Booth is teaming up with Cigar Dojo's Eric Guttormson for a special collaboration. Named [untitled], this cigar's origin dates back to February 2016 when Booth came up with the idea for a peculiar contest–he wanted members of Cigar Dojo to post pictures of their feet in ramen noodles. Seriously. What started out as a running joke eventually led to the creation of this exclusive cigar.
"Everyone knows that Matt Booth marches to the beat of his own drummer, but we're also aware that Matt knows how to put together an amazing cigar, which has been proven many times over," Guttormson commented. "The 'limp noodle' will most certainly remind you of some of the best Room101 blends from the past, with its dark and juicy flavor profile."
Booth added: "I am overwhelmed with delight to finally participate in a collaborative effort with the 'Cigar Dojonites.' This is a phenomenal cigar to smoke while Jay Walking or waiting on your car during an oil change or any other minor procedure. I am eager to have this product pollinate the Dojo community and to see people enjoying something that was such a pleasure to make."
The [untitled] cigar is made at the Tabacalera William Ventura factory in the Dominican Republic, the same factory used by Robert Caldwell and Booth during his recent return to the cigar industry. The cigar harkens back to Booth's early maduro-heavy cigars with some the nuanced style of his latest cigars. The cigar features a Mexican San Andrés wrapper, Sumatra binder, and 100 percent Cuban-seed fillers consisting of Criollo '98, Corojo '99, and HVA. The cigar will be made available in one vitola–a 5 1/2 x 52 belicoso that's been aged for 6 months. The resulting cigar is a flavorful blend of red and black pepper, molasses, rich hardwoods and has notes of vanilla and stone. It's a medium-plus bodied cigar with Booth's unique spin, down to the brand's design which features bright colors and fun, cartoon-style graphics.
Only 5,000 of these cigars have been produced. They will be packaged in 10-count bundles through JR Cigar and sold at $10 ($99.95 per bundle). Cigar Dojo members will be able to purchase this cigar at a special price of $9 ($89.95 per bundle). It will be available to purchase on Sept. 21, 2018 at 12 p.m. CST.
For all the latest news from Room101, visit room101cigars.com.