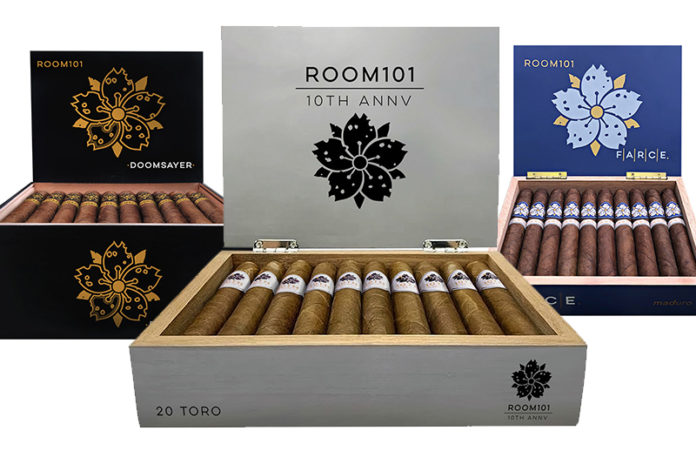 Room101 has steadily been building its portfolio of premium cigar products and becoming a boutique company to watch in the industry. For this year's International Premium Cigar & Pipe Retailers Association (IPCPR) trade show and convention, Booth has several new releases planned to mark his decade in the industry and Room 101's place in it.
Booth has announced the release of the Room101 10th Anniversary Cigar, a release that commemorates his 10th anniversary in the cigar industry. It was back in 2009 when Booth first launched his own cigar brand under the Room 101 name with the help of Camacho Cigars. 10 years later, Booth has since left Camacho [read more here] and branched out more on his own, working closely with Robert Caldwell and La Barba Cigars' Tony Bellatto to form Down and Back, LLC, a company that distributes today's Room 101 cigar brand.
The Room101 10th Anniversary Cigar is being rolled at AJ Fernandez's cigar factory in Estelí, Nicaragua. Booth revealed to Cigar Aficionado that the cigar would be made with a Nicaraguan Rosado wrapper. It will be available in one size–Toro, 6 x 52. It will come in 20-count boxes with a MSRP of $10 per cigar. This will be a limited release with only 500 boxes being released.
In addition to this special cigar, Booth has two additional cigars that will make their debut at IPCPR 2019. Booth is releasing a new Farce, but this time around it will be a Maduro. Farce Maduro is the third release within the Farce collection. The new Farce Maduro is wrapped in a Mexican San Andrés leaf, has an Ecuadoran Sumatra binder and filler from Nicaragua and the U.S. Farce Maduro will come in four vitolas: Papi Chulo (4 x 42), Robusto (5 1/2 x 50), Toro (6 x 52), and Magnum (6 x 60). MSRP will range from $6.90 to $12.90 per cigar. Farce Maduro will come packaged in 20-count boxes and will be rolled at Tabacalera William Ventura in the Dominican Republic.
The third release from Room101 will be a new line for the company–Doomsayer. Available as a Habano and a Maduro, both varieties will come in one vitola–a Super Toro (6 x 55) and will have an MSRP of $7.50 per cigar. The Room101 Doomsayer Habano will feature an Ecuadoran Habano wrapper, Indonesian binder, and will contain Nicaraguan, Honduran and Pennsylvania broadleaf filler. The Room101 Doomsayer Maduro will have the same internal tobaccos as its Habano counterpart. It will be rolled at Tabacalera William Ventura.
For all the latest news from Room101, visit room101cigars.com.