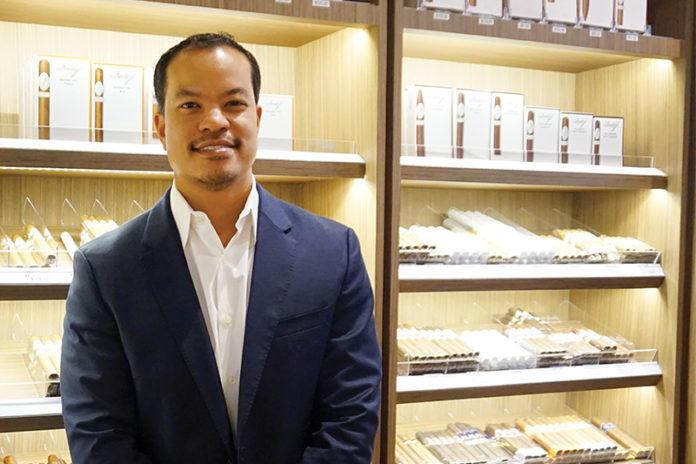 Rather than wait to announce the new releases coming for its Avo and Camacho brands, Oettinger Davidoff opted to hold a product showcase to make a splash. To help celebrate the company's new launches, it chose a venue that would match the excitement and innovation seen in the company's new products: the new Davidoff of Geneva­­—Since 1911 within the Seminole Hard Rock Hotel and Casino in Hollywood, Florida. Davidoff's latest retail store and lounge opened within the hotel's retail promenade in January 2020 and consists of a 1,924-square-foot presence that includes a retail space, walk-in humidor, cigar lounge and full-service bar.
Since its first store, Davidoff of Geneva­—Since 1911's mission has been to provide cigar aficionados around the world with extraordinary stores and lounges where they ca enjoy premium cigars. The new boutique store within the Seminole Hard Rock Hotel and Casino is no exception to this rule and has been brought to life with the help of Eric Douglas and the team behind Seminole Cigar Landing. Both Seminole Hard Rock and Oettinger Davidoff have focused on building memorable experiences for their consumers, and with the opening of this new boutique, aficionados now have a new space in which they can enjoy high-quality premium tobacco products while filling their time with both memorable and exceptional experiences.
Tobacco Business recently spoke with Douglas, who shared how his partnership with Oettinger Davidoff began and explained the work that went into bringing this unique retail store to one of Florida's most iconic hotels.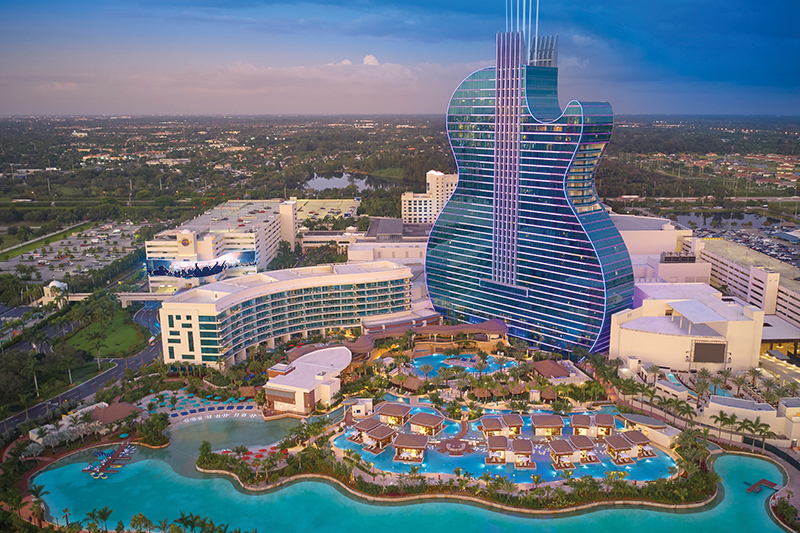 Tobacco Business: How did you come to work with Davidoff and bring their brand to the Seminole Hard Rock Hotel and Casino?
Eric Douglas: We started the cigar business here at the Hard Rock in 2006, as we felt that there was a need for a tobacco service in the casino. So, with one of our partners, we opened up Seminole Cigar Landing at the Hard Rock. Seminole Cigar Landing was an 18-foot-wide retail space inside the food court, where we offered a small selection of cigars. It quickly became a busy operation, and we soon realized that we needed not only to expand our cigar selection but to also introduce a floor service, as a lot of the players didn't want to leave the tables. In order to cater to this need and offer the best service possible, we then decided to institute a floor attendant service for cigars provided by service girls with a traditional cigar tray. The business blew up quickly and soon represented about two-thirds of our revenue. In 2012, upon request, we opened another Seminole Cigar Landing at Coconut Creek Casino with a similar type of operation, including a floor service as well as retail space, which still today performs phenomenally.
In 2010, while the cigar business was booming, we had the idea to open a lounge at the Hard Rock. It made sense for us to create a space where cigar smokers feel comfortable and relaxed. We tried to pitch the CEO of the casino for a cigar lounge concept. However, he was unsure about it, as they had already considered the transition into this Guitar Hotel. At the time, we didn't know about their plans, but it was one of the reasons I believe they were being hesitant. A couple of years later we found out that this expansion was on the way and that we would get the opportunity to lease this space. When this news came to us, I started to talk to several cigar companies, including Oettinger Davidoff. The biggest consideration I had to make was to decide which brand would work best with this new property and cater to its global exposure. I felt that Davidoff was a better fit: They were selective with the locations they went into, and they're very specific about the demographic they want to cater to. I felt that Davidoff was going to align more with the clientele the hotel was going to be marketing to and the clientele that I wanted to have in our lounge. So, that is how I brought Davidoff to the Seminole Hard Rock. We've been open for four weeks now, and we're very happy with the reception so far.
Do you only carry Davidoff products?
Our humidor is around 70 percent of Oettinger Davidoff's portfolio, including Davidoff, Avo, Camacho and Zino Platinum. In addition, we are also offering Fuente, Montecristo, Romeo y Julieta, Rocky Patel, and I just brought in Erik Espinosa, A.J. Fernandez and Ashton. So, there is some diversity within that other 30 percent.
When it came to designing the store, what were some of your considerations?
I felt that it was really important to control our audience. What I thought through with both our architects and our designers was how do we make this sort of a speakeasy where we can have a retail shop and a humidor that are exposed to everyone but a lounge that we can sort of be selective about who we invite in? That's what geared us toward today's particular design: You can walk into this store, purchase a cigar and maybe an accessory, and you'd never know there's a lounge here.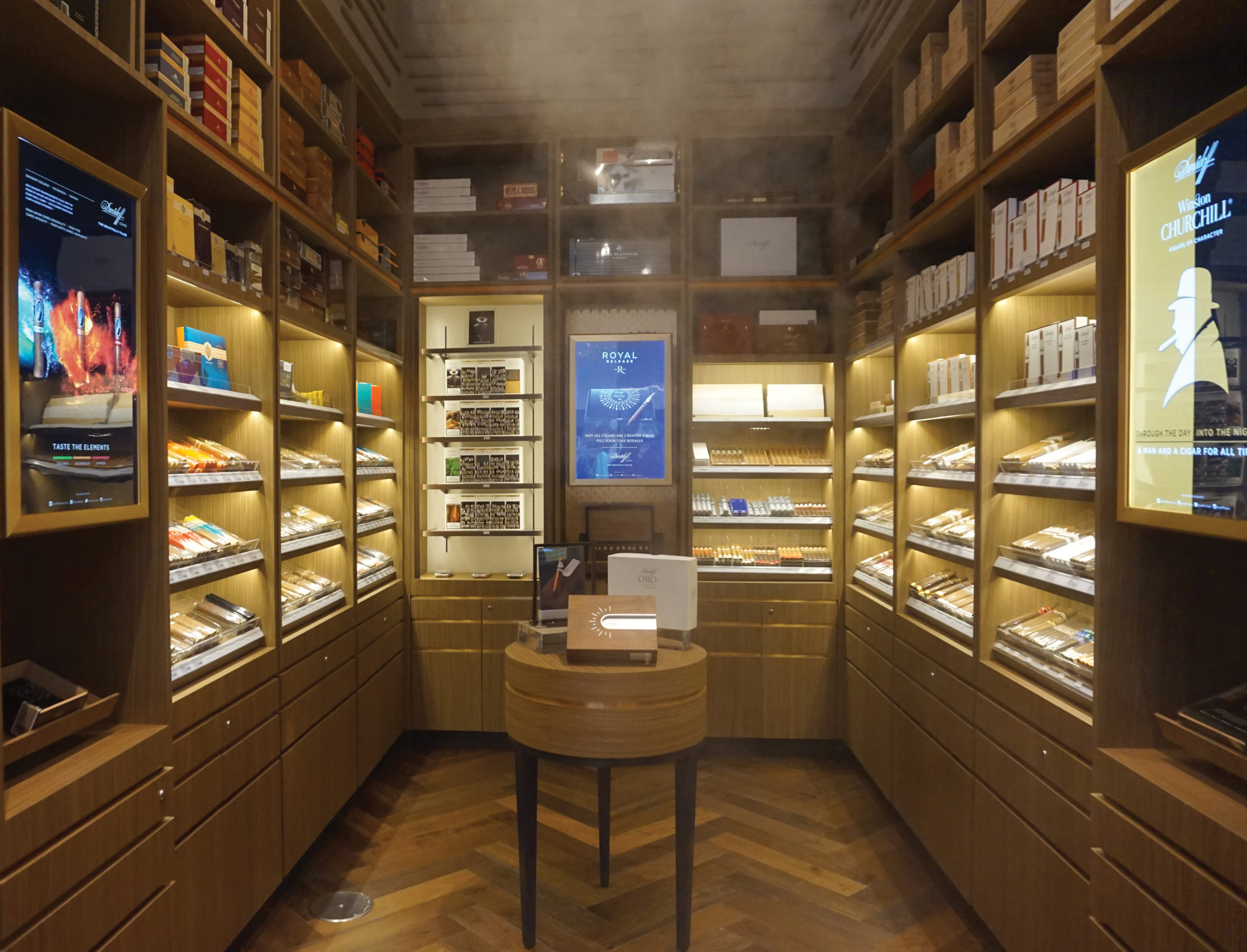 In terms of your customers, do you deal with many locals or do you have more tourists?
We have been open for only four weeks, but we are happy to see that we attracted a lot of tourists. Thanks to the Super Bowl and that big Super Bowl commercial featuring the Hard Rock guitar with J-Lo [Jennifer Lopez] and A-Rod [Alex Rodriguez], we saw a huge influx of even more tourists who came to see the hotel. Right now, I would say we accommodate around 30 percent locals and 70 percent tourists. For me, this is a good ratio, as in the past this hotel typically catered to 80 percent locals and 20 percent tourists. Also, I think that this massive shift is based on the magnitude of this hotel and its global design presence. It's the first of its kind.
What are some of your hopes and plans for this store?
I don't want to be a traditional brick-and-mortar geared toward locals. I want to cater more toward a global audience. What I've seen is with some of the customers who've come in here, especially from England, is that they know the Davidoff name and brand, and they are excited that it's here. They love to come in here and visit our walk-in humidor, and eventually they realize that there is a lounge as well. They normally spend an hour to 90 minutes in here, feeling very comfortable. The design lends itself to that.
Can anyone come into this lounge area?
It is open to the public, but we typically only invite those who walk into our humidor and buy a premium cigar. The flow is the following—Our guests are greeted when they walk in, they're invited into our humidor, and once they purchase a cigar we invite them to enjoy the cigar in our lounge.
What do you see as your biggest challenge now that the store is open?
The biggest hurdle I see so far is convenience. In a traditional brick-and-mortar—like a store on Main Street: customers can park, walk into a store, smoke a cigar, purchase a box, get back in their cars and head off to the next appointment. Coming here is more of a destination experience that requires more time.
Another challenge we're seeing is to attract people in the daytime. We open at noon, but having a lunchtime crowd is not what a casino typically sees from the community. So, while we currently cater to the casino's hotel guests and potential tourists who visit for the day, most of our traffic is at night. I'd like to generate revenue over that 12-14 hour opening time.
What advice do you have for others who want to get into this type of business?
Like any sort of business, you have to do your due diligence. If cigars are hot, you can't just open a cigar lounge or cigar store at any corner. Due diligence is a big part of what we do in all of our businesses—this includes checking numbers, making sure the demographics are there, knowing what the break-evens are, and understanding what the return of capital is going to be. And above all, make sure you have a passion for what you're doing, because if you don't have a passion for it, it's going to feel like work.
We're in a very entrepreneurial generation. Instagram is a massive opportunity for people to market their businesses for relatively low costs. [There's] Facebook and now TikTok apparently is blowing up—that's a really big app. So I think it used to be super expensive for folks to open up businesses from a marketing standpoint. It's not as much of a budgeting item as it used to be but certainly something you have to consider. If you're going to get into a business, do all of your research, but do something that you have a passion for. If you have a passion for something, you could be hugely successful. And be present, because this is a people business, and your cigar guests want to meet the owner, and they want to share a story or two.
Davidoff of Geneva – Since 1911 is located at the Seminole Hard Rock Hotel and Casino, 5711 Seminole Way, Hollywood, FL 33314.
This story first appeared in the March/April 2020 issue of Tobacco Business magazine. Members of the tobacco industry are eligible for a complimentary subscription to our magazine. Click here for details.
– Story by Antoine Reid, senior editor and digital content director for Tobacco Business Magazine. You can follow him on Instagram @editor.reid.