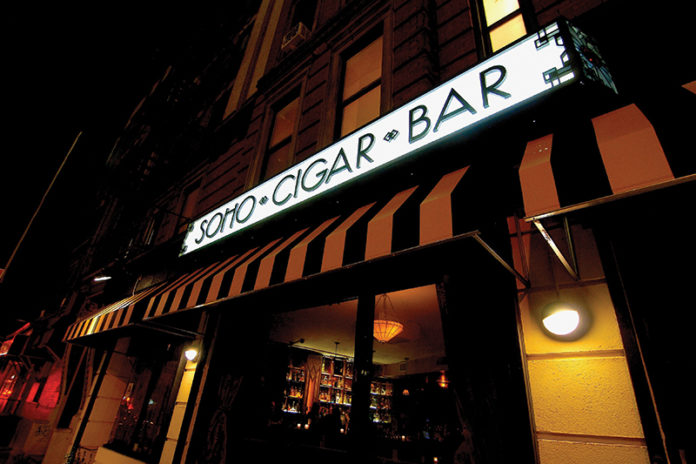 Soho Cigar Bar, formerly known as Circa Tabac, first opened its doors in 1998. Owner Lee Ringelheim wanted to create a haven for smokers in New York City that embraced cigarettes. As with any business, however, the business evolved, as did the clientele. From the beginning, Soho Cigar Bar has always featured a full bar with a selection that includes classic cocktails, a list of hand-selected wines, and an extensive collection of rum, tequila, cognac, whiskey and port. Customers have also been able to order food from an appetizer menu, something that remains a popular part of the business today. Though it began as a cigarette lounge in the late 1990s, today it is one of the premiere cigar bars in New York City.
Soho Cigar Bar has changed enormously in the past two decades. The concept has evolved from focusing on cigarettes to cigars, the interior has been updated, and even the name has changed, but a focus on customer experience has remained constant. The increase in smoking regulations has been the most challenging change to deal with, but it hasn't been enough to stop Soho Cigar Bar's growing business. Despite the challenges over the years, Soho Cigar Bar is among the last remaining cigar bars in New York City that's still thriving because of the unique experience it offers cigar smokers.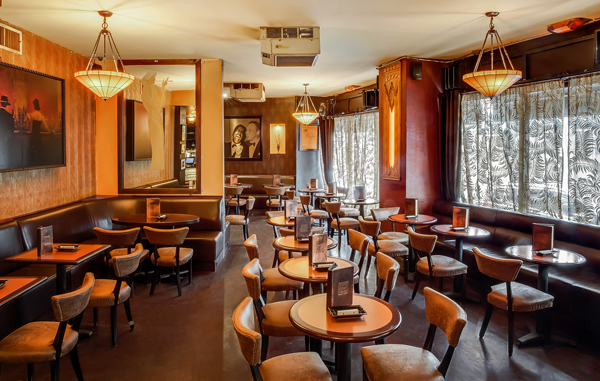 Total Bar Makeover
Soho Cigar Bar has found success through a focus on customer service and design. The New York Times once described Soho Cigar Bar as "Evocative of the never-never land of Manhattan glamour and a refuge in a climate reminiscent of the Prohibition era …. It combines the sophistication of New York nightlife with the friendliness and familiarity of the Soho neighborhood, drawing smokers and nonsmokers alike." The bar's state-of-the-art smoke filtration system neutralizes the smoke in the air and other compounds that create odors, making the bar comfortable both for smokers and their nonsmoking guests.
The design of the bar is also key to its appeal and popularity among its clientele. The bar's decor is described by Ringelheim as being an art deco interpretation of a smoking lounge with "Casablanca elegance." Over the course of the two decades Soho Cigar Bar has been in business, Ringelheim has worked on maintaining this vibe while updating the bar's design. He names the Orient Express and Chrysler Building as just some of the inspirations he borrowed from when redesigning the bar to give it its current speak-easy design.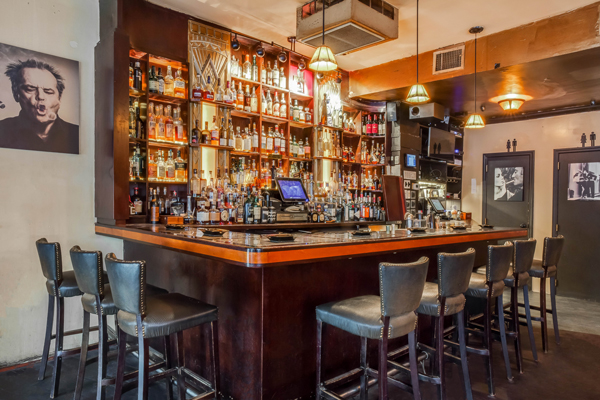 "As times changed and cigarette smoking was on the decline, I made the decision to keep the same feel but do a total remodel and change the entire concept," he explains. "I changed the name to Soho Cigar Bar. I did a complete renovation, trying to keep the space I originally built, that kept people feeling like they were stepping back in time and having a true New York City experience. I want people to feel welcome and comfortable while enjoying the finest cigars, cocktails and food."
The bar's selection of tobacco products was important in helping it stand out against other cigar lounges and tobacco retailers in the city. In the beginning, when cigarettes were the main focus of the bar, it had over 200 brands of cigarettes from around the world to offer its patrons. Today, it's premium cigars that are front and center. Soho Cigar Bar has added more than 100 new cigars, including a house brand and more than 50 rotating scotches, bourbons and ryes to appeal to its cigar smoking customer base. From the start of the business, Soho Cigar Bar has had a house blend, but with the U.S. Food and Drug Administration's deeming regulations, it is limited to these early blends because anything newer isn't covered by the substantial equivalence rule. Currently, 60 percent of the bar's sales come from alcohol, 35 percent from cigars and 5 percent from food. As part of its menu, there's a pairing page, a flight page and a simple description of the cigars it has to offer to help customers easily navigate Soho Cigar Bar's product selection.
"Our goal is to make cigars and whiskey much more approachable to everyone," says Ringelheim. "We want to eliminate the pretention and intimidation many associate them with."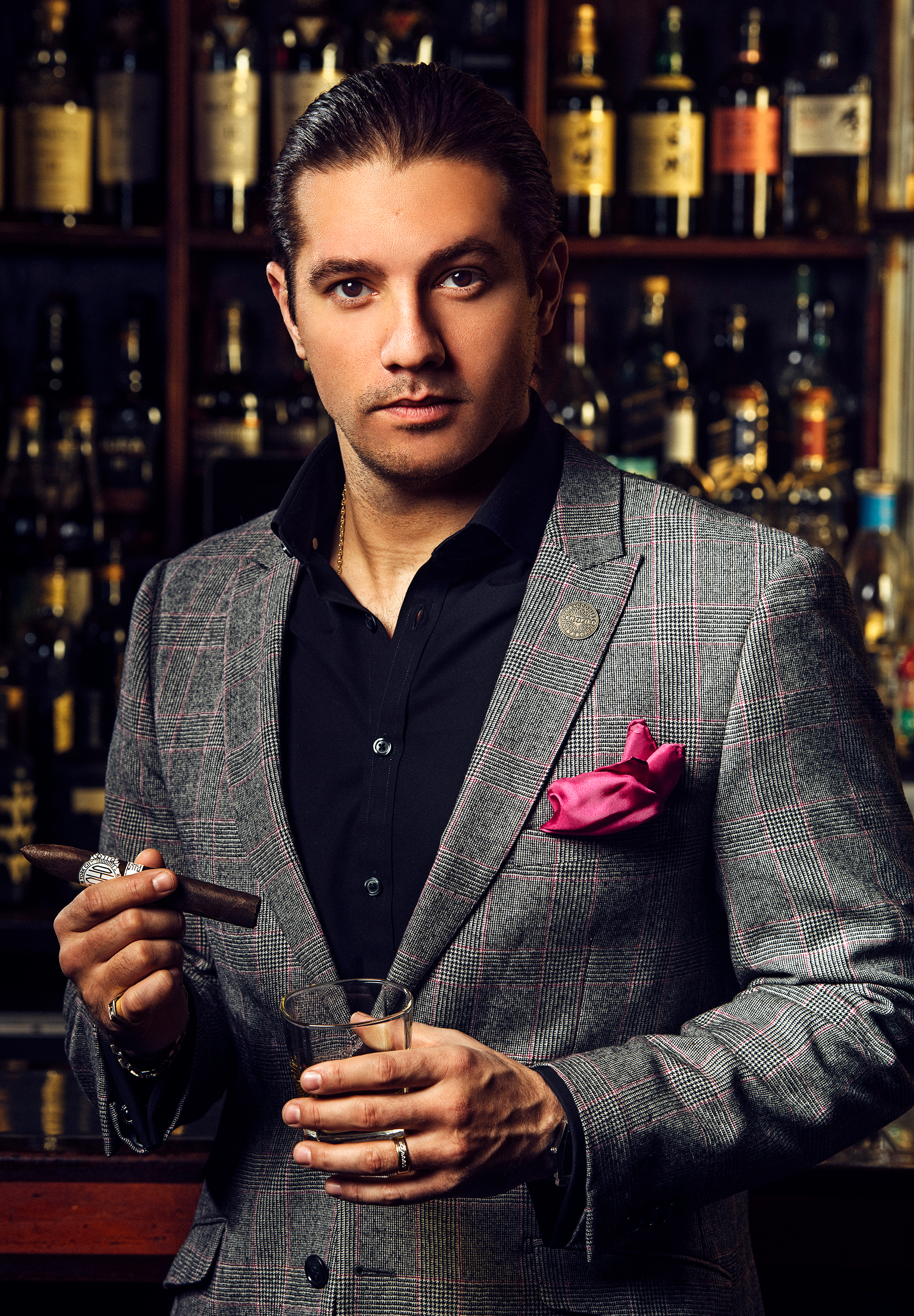 Building the Staff
Another important part of the business is its staff. Ringelheim spent five years searching for a general manager for Soho Cigar Bar. He had trouble finding one who understood the business model and who could work well with the bar's unique patrons until he met Michael Dounoulis, a customer who eventually became a friend. Ringelheim hired Dounoulis to take on the general manager role more than a year ago. The fact that Dounoulis had been a customer before formally joining the business gave him a unique perspective and understanding of Ringelheim's business.
In the year since Dounoulis has joined Soho Cigar Bar, he has passed Tobacconist University's certification program and earned the distinction of becoming New York's only cigar sommelier by completing the Certified Cigar Sommelier course also offered by Tobacconist University. This certification has provided Dounoulis the knowledge and education that enables him to not only enhance his own career in tobacco retail but also improve the overall experience of the bar's customers.
"The education I've acquired through Tobacconist University has helped me tremendously with customer interactions," says Dounoulis. "Through this education, I'm able to help clients pick cigars based on what they are drinking that night. If they are enjoying a smooth, woody scotch with sweeter notes, I can pair that up with a couple different cigars from our selection. This helps us remove some of the intimidating factors of our luxury products. My knowledge also helps when selecting new cigars for the menu or for our "Sommelier Monthly Selection," which we are launching soon. This is an exclusive off-menu selection which will offer liquor and cigar pairings geared towards a wide variety of palates," Dounoulis explains.
Hospitality has been Soho Cigar Bar's first priority and a major focus for Dounoulis since he has become general manager. One of Dounoulis' talents that Ringelheim has come to appreciate is his ability to network and use social media for the business. Dounoulis has branched out and met with many local hotels and businesses to coordinate referrals to bring more business to Soho Cigar Bar. He also spearheads events with local businesses and looks for ways to support neighboring businesses to increase brand awareness for the bar.
Dounoulis also manages the company's social media pages, using them as new platforms through which reservations can be booked. When the bar is open at night, Dounoulis works the room, greeting customers, having conversations with them and walking them through the bar's extensive cigar offering.
"The friendly atmosphere keeps people coming back and helps get new faces in. Michael and the whole staff maintain the relaxed atmosphere that makes cigars and whiskey approachable," says Ringelheim.
At Your Service
Having a tobacco business that has the longevity that Soho Cigar Bar has achieved requires one to be willing to adapt and to change with the times. Due to being grandfathered in, Ringelheim's bar was spared from New York City's Smoke Free Air Act that makes it illegal to smoke inside most places of business. Even though this makes it one of the few places in the city where people can smoke indoors, Ringelheim does not take Soho Cigar Bar's status or amenities for granted. There are still challenges to overcome, including corporations overlooking the bar as a viable venue for their events due to the smoking that takes place within it.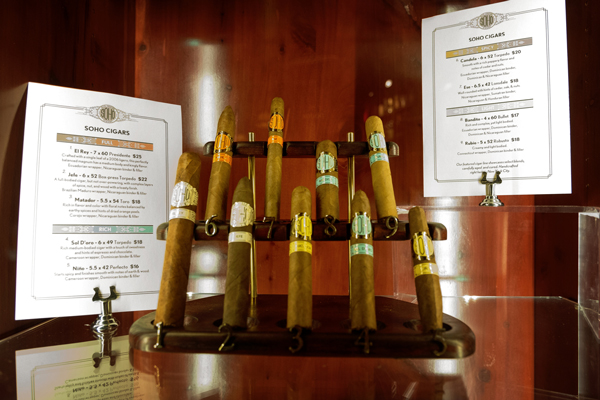 This is a challenge, but it's also motivation for Ringelheim and his staff to look for creative ways to acquire new customers. They have created packages for different occasions like birthdays, bachelor/bachelorette events, and other private parties to gain new customers and build relationships. Having such a large selection of cigars can present inventory management issues, but it's also an amenity that makes Soho Cigar Bar the choice of so many in the city looking for a place where they can gather and enjoy a cigar. Most of the focus has been on making Soho Cigar Bar as welcoming as possible, from investing in the right staff to implementing new technologies to try to remove as much smoke as possible through air purification and ventilation.
As many retailers with years of success can attest to, Ringelheim says the key to his success with Soho Cigar Bar comes down to its great service.
"Great service is something that never goes out of style," he explains. "The friendly atmosphere keeps people coming back and helps get new faces in. Michael and the whole staff maintain the relaxed atmosphere that makes our cigars and whiskey approachable."
To experience success in tobacco retail, you must interact with your customers and provide them with a memorable, enjoyable experience within your store or lounge. Retailers in the tobacco category must learn to adapt to the changing conditions to stay ahead of the game, whether it means taking on a new product as Ringelheim did when he began to focus more on cigar products or when he chose to update the bar's design to fit its new clientele. Twenty years in the tobacco retail business is no small feat. The next time you're in New York City, head down to Soho Cigar Bar at 32 Watts Street to see what success looks like firsthand.
This story first appeared in the May/June 2019 issue of Tobacco Business magazine. Members of the tobacco industry are eligible for a complimentary subscription to our magazine. Click here for details.
– Story by Antoine Reid, an editor and digital content director for Tobacco Business Magazine. You can follow him on Instagram @editor.reid.