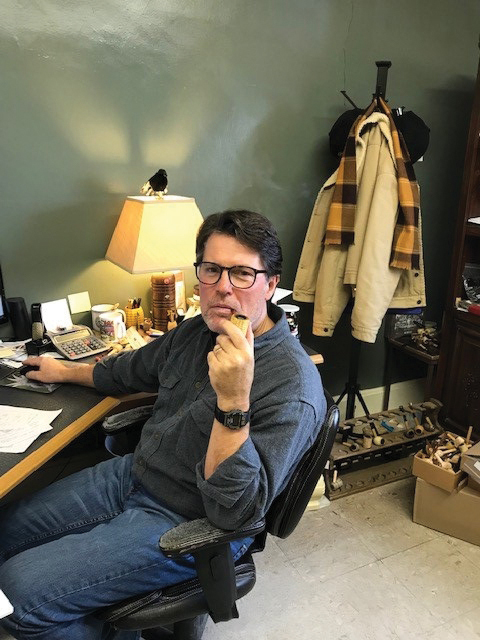 Smashing Misconceptions
Perhaps because of a corncob pipe's inexpensive price or its association with rural lifestyles, corncob pipes and the people who enjoy them are often considered unsophisticated and inferior. Thankfully, those outdated perceptions are rapidly changing as younger pipe smokers, beginners and experienced pipe people are all discovering what that unknown farmer or trapper knew 151 years ago—that corncobs provide a sweeter and cooler smoking experience than the more popular meerschaum or briar pipes.
"Beginners, experienced pipe smokers and hipsters are all Missouri Meerschaum smokers," Morgan says. "A lot of the tobacco shop owners I've talked to have told me that they carry our pipes so that a person who has never smoked a pipe before can find out if they will enjoy it or not and not spend a lot of money on it. They can buy two or three different tobaccos to try by saving on the pipe purchase. A lot of beginners who start with a corncob and enjoy pipe smoking will continue to smoke a corncob pipe while they also buy briar and meerschaum pipes too. We go all the way to the other end of the spectrum to the very experienced pipe smoker who has very expensive briar pipes in their collection and scoffs at corncob pipes until somebody gets them to try a corncob pipe and they find out they love it."
Not only is there the better smoking quality to consider, but there is also that nostalgic connection to Middle America and a simpler and slower lifestyle that many people in the hurly-burly 21st century long to return to. Missouri Meerschaum Co. corncob pipes help them connect with that earlier time while also supporting a unique American product.
"People enjoy the connection to Americana that the corncob pipe evokes," Morgan explains. "I talk to them at pipe shows or when they come to our factory and visit the museum for the history of the corncob pipe and how authentically American it is. Corn and tobacco—you can't get more American than that because they are both plants that are uniquely from the Americas. A certain group of people love it for its American heritage. Even nonsmokers who visit the museum buy a corncob pipe for a decoration piece."
For retailers looking to pump up their pipe and pipe tobacco sales, Missouri Meerschaum corncob pipes offer a perfect entry level for beginning pipe smokers. As Morgan alludes, the lower-costing pipe allows a beginner to spend more money trying different tobaccos or purchasing all of the accoutrements he or she needs to successfully smoke a pipe. To be sure, the profit margin on the sale of any individual Missouri Meerschaum corncob pipe isn't huge, but if a retailer successfully gets a customer started on purchasing and enjoying pipes and pipe tobaccos, it's virtually a limitless value that loyal customer represents.
"Some retailers don't want to steer people to a corncob because it only costs $15 while they can sell a $50 briar pipe and make a larger margin," Morgan says. "I get it because retailers won't stay in business selling corncob pipes. If they take the time with the beginning pipe smoker and explain how to smoke a pipe and get them to try a corncob pipe, they're likely making a long-term pipe customer who will start buying expensive briar pipes later. Pipe smoking is an affordable hobby if you have corncob pipes to offer customers. Otherwise, the cost of a briar pipe might scare them away from smoking a pipe."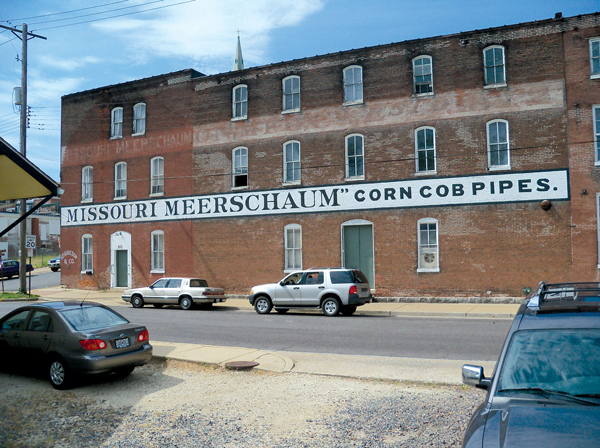 In recent years, Missouri Meerschaum Co. has concentrated on making more unique and specialized pipe series for sale at specialist tobacco shops instead of its traditional pharmacy and grocery store outlets. While the Missouri Meerschaum Co. has 151 years of history behind it, it is adapting to changing times to continue to provide its customers only the very best corncob pipes available and make itself an indispensable ally to retail tobacconists everywhere. Pipes such as Emerald, Dagnar, MacArthur, Charlestowne Cobbler, Pot O' Gold and Carolina Gent are just a couple of examples of great smoking pipes in a variety of shapes and with different color acrylic stems that a retailer can proudly sell to his or her customers and make about the same profit margin as he or she would make off the sale of a premium cigar.
"Our mission is to make pipes that anybody can afford—retired people with fixed incomes to multi-millionaires," Morgan concludes. "Corncob pipes have their place in anyone's pipe collection."
Missouri Meerschaum corncob pipes have always and will continue to always represent true value to all of its customers, and what could get more quintessentially American than that?
This story first appeared in the September/October 2020 issue of Tobacco Business magazine. Members of the tobacco industry are eligible for a complimentary subscription to our magazine. Click here for details.
– Story by Stephen A. Ross