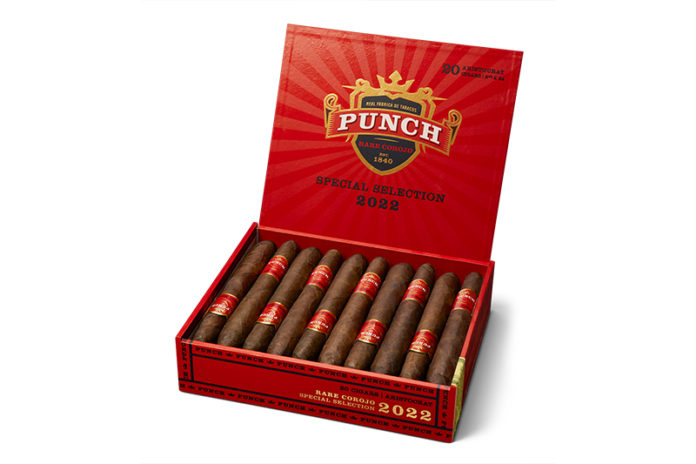 Not only has the Punch Rare Corojo making its seasonal return to retail but it's come back in the form of a once discontinued size.
Punch Rare Corojo was reintroduced to tobacconists in 2001. This cigar had left the market due to a shortage of wrapper leaves and hadn't been seen for several years due to this. Punch Rare Corojo is crafted with a glowing Sumatra wrapper grown in the mountains of Ecuador in very limited amounts. These reddish and rare tobacco leaves gives the Punch Rare Corojo its uniquely smooth taste. Holding this tobaccos together is the cigar's Connecticut Broadleaf binder. The blend is brought to life with a mix of filler tobaccos that were grown in Nicaragua, Honduras and the Dominican Republic.
Smokers of this cigar can expect an experience highlighted by notes of spice, chocolate, wood and earth. The Punch Rare Corojo's returned this year in a once discontinued size–the Aristocrat–measuring 6.125 x 40/45.
"The 'Aristocrat' size was almost forgotten. Lucky for us, as we were looking back in the archives of Punch, we learned that this size hadn't been made in decades. Further digging in the factory turned up 80 molds for this special size which is just what we needed for a limited edition smoke. This is our way of giving a nod to Punch Rare Corojo's 20 year reign as the original seasonal cigar and paying tribute to the roots of the brand," says Ed Lahmann, senior brand manager for Punch.
The cigar is handmade at HATSA in Honduras.
General Cigar lists this cigar as having a suggested retail price of $9.99.
For all the latest news from Punch Cigars, visit punchcigars.com.