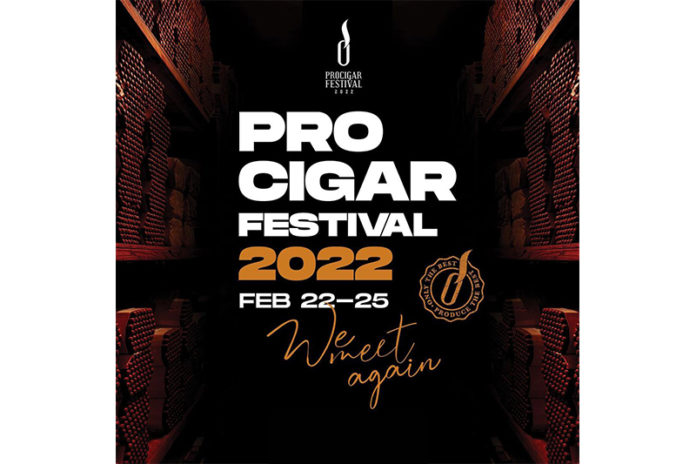 The Association of Dominican Cigar Manufacturers (Procigar) has announced the 2022 return of the Procigar Festival, a multi-day celebration of the Dominican Republic culture and the cigars produced by those with factories and tobacco fields located on the island.
Procigar is comprised of several well-known cigar manufacturers including: General Cigar Dominicana, La Flor Dominicana, La Aurora, Quesada, Tabacalera de Garcia, Tabadom Holding, De Los Reyes, Tabacalera A. Fuente, Tabacalera La Alianza, Tabacalera Palma, and PDR Cigars, among others. Through the Procigar Festival, attendees will get to see how cigars are made and how tobacco is grown first hand through a series of guided cigar field and factory tours centered around the association's various members. Registration for the festival will include lunch with some of the leading cigar makers and brand owners, insightful seminars and workshops, admission to all the dinner parties, transportation to all tours and dinners and plenty of cigars, including some that are new and unreleased.
Procigar 2022 will be held Feb. 22-25, 2022. This year, the festival begins in Santiago de los Caballeros with registration and a welcome cocktail reception. Feb. 23-24, 2022 will be comprised of different options of factory and field tours that registrants can choose from and each day will end with a different dinner party; a welcome dinner will be held at Parque Central de Santiago on Feb. 23, and a white dinner party will be held on Feb. 24. The final day of the festival, Feb. 25, Procigar is bringing back the 2020 festival's members field day, which will feature all of the association members in one place for socializing, food, drinks and cigars. The festival ends that night with a formal gala dinner party at Centro Español that will include an auction benefiting the Voluntariado Jesús con los Niños (non-profit organization for ill children), the Hospicio San Vicente de Paúl (retirement home for low-income elders) and A Home for my Family (Procigar's charitable initiative).