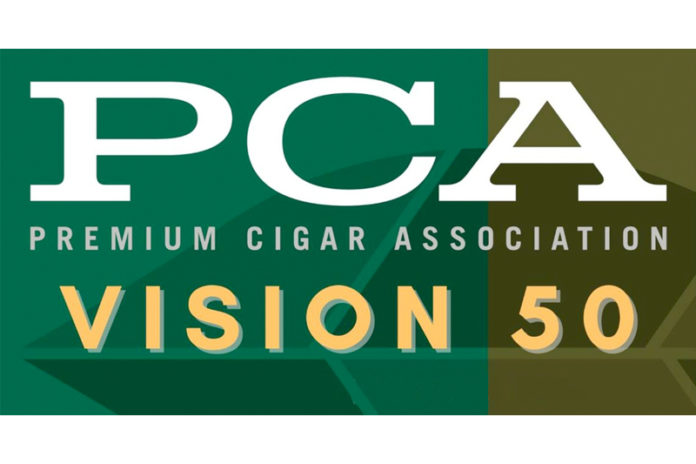 In an effort to focus on policy and legislative advocacy to benefit specialty tobacco retail and bolster state associations and retail membership, the Premium Cigar Association (PCA) has unveiled its new strategic advocacy plan.
Known as Vision 50: A Decade of Action, this new advocacy plan's main goal is improve the political landscape for premium tobacconists across the U.S. by advancing positive legislation and policy. This new policy came as a response to the trade association's continued efforts to pushback against the regulatory efforts of the U.S. Food and Drug Administration (FDA) and policies that negatively impact retailers, manufacturers and others within the premium tobacco industry.
Here's how the PCA described Vision 50 and its advocacy plans going forward:
"Our Vision 50 implementation and execution will include coalition building with stakeholders across the industry as well as building strong relationships with external industries that impact retailing. PCA will continue to protect and defend the industry from the onslaught of attacks by legislators and regulators wishing to restrict the ability for small specialty retail businesses and manufacturers from selling legal products to legal adults. This unwavering advocacy on behalf of the industry will continue and these efforts will remain constant. However, PCA intends to move forward and advance the interests of the industry through this bold new strategy.
"The association will embark on a three-month fact-finding mission to identify the priorities of its membership, state associations, and allies seeking to coalesce around a common set of goals that are achievable over the next decade. Throughout this process PCA staff and board members will seek input from cross-sections of the industry through surveys, in-person store visits, town halls, focus groups, and one on one conversations. Vision 50 is not only a present-day battle plan, but a strategic vision for the future of the industry that is sustainable and can be implemented in evolving political environments. This process will be candid, and members are encouraged to give honest opinions and feedback on the most pressing public policy initiatives facing their businesses at both the state and federal levels."
To help carry out Vision 50, the PCA has reorganized its staff in an effort to maximize resources and streamline the association's processes in hopes of facilitating better staff collaboration. Joshua Habursky has been promoted to the position of deputy executive director. In this new position he will have the added responsibilities relating to external affairs, corporate relations, fundraising, coalition/stakeholder outreach, and research. Haburksy will also continue to serve as the PCA's chief lobbyist. Glynn Loope, who serves as the PCA's director of state affairs, will now oversee retail membership relations and development. He will work closely with Erin Holland, the PCA's director of membership, marketing and communications.