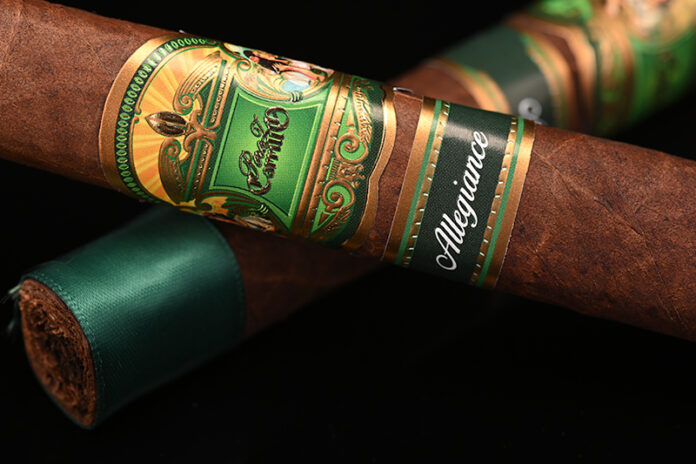 E.P. Carrillo Cigar Co. has announced the fourth release in its Perez-Carrillo Series: the E.P. Carrillo Allegiance. This release follows the release of La Historia, Encore and Pledge. This new cigar is being produced in Nicaragua by Oliva Cigar Co.
Allegiance was blended by Ernesto Perez-Carrillo who used Oliva's world-famous tobaccos in the blend. E.P. Carrillo Allegiance features a Sumatra-seed wrapper, Nicaraguan binder and filler tobacco. It will come in four sizes: Sidekick (Robusto, 5 x 50), Confidant (Toro, 6 x 52), Wingman (6 7/8 xx 54), and Chaperone (6 1/4 xx 58). Each size will come in 20-count boxes. Suggested retail price per cigar will range from $12 to $14. Allegiance is the second cigar line of E.P. Carrillo to be produced outside of Tabacalera La Alianza in the Dominican Republic.
"From the very beginning of E.P. Carrillo, we understood the importance of working with like-minded tobacco producers from across the globe. That is why we have partnered with Oliva Cigars, a well trusted legacy cigar company located in Nicaragua, known for great blends and consistent performance," says Ernesto Perez-Carrillo.
Allegiance has a green and gold color scheme that was inspired by its association with nature and tobacco leaves. "We even tried to get the green as close as we could to the tone of tobacco leaves in the fields," stated Perez-Carrillo.
For more information on this release, visit carrillocigars.com/allegiance.