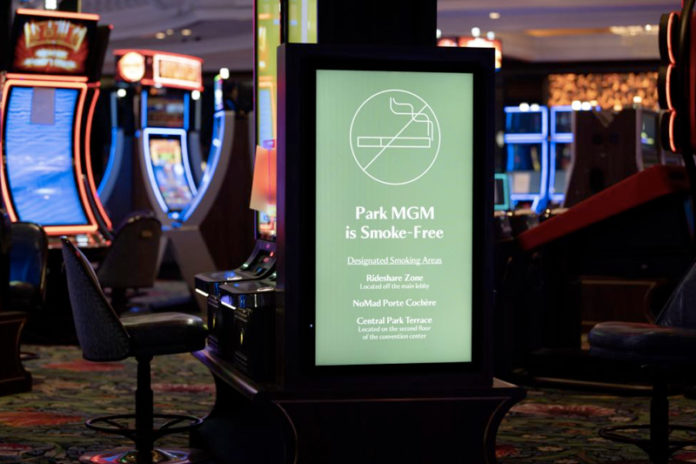 The push for Las Vegas to go smoke-free has been simmering for some time and now the well-known Vegas Strip will see its first smoke-free casino: the Park MGM.
The Park MGM is among the last casinos to reopen after the city faced closures due to the COVID-19 pandemic. When it reopens on Sept. 30, 2020, the 3,000-room property will be the first casinos on the famous Las Vegas Strip to be smoke-free. According to Anton Nikodemus, president of MGM Resorts' Las Vegas portfolio, the change that will make Park MGM completely non-smoking comes after "a level of pent-up demand to have a non-smoking casino, especially here in Las Vegas."
"Opening Park MGM and NoMad represent significant milestones, as they are the last of our properties to welcome back employees and guests alike," added Bill Hornbuckle, MGM Resorts CEO and president. "The last six months have presented extraordinary challenges and I could not be prouder of the MGM Resorts team for the tireless effort required to get us here. There is much work ahead as we remain focused on the health and safety of our employees and guests, but this is an important moment for us."
Though many smokers may feel this statement is false, there is evidence that there is growing support for more of Vegas to go smoke-free. Previously, anti-tobacco advocates called for a smoking ban across Vegas to be implemented as part of the city's COVID-19 reopening plans. According to reporting and polling done by the Las Vegas Advisor, there were more than 150 casinos in Vegas that used to allow smoking before the COVID-19 shutdown that had reopened and introduced some form of a smoking ban. The Las Vegas Advisor conducted a poll between Aug. 5-18 and had 1,523 responders. The poll, which was published on Aug. 20, 2020, asked the question "Should smoking be prohibited in casinos around the country where it's still permitted?" At the end of the poll, 72 percent of responders voted for smoke-free venues. One-fourth of the total responders supported smoking in casinos [read more here].
Nikodemus revealed that with the smoking ban, there will be smoking areas outside of Park MGM. Also, smoking will still be permitted at other nearby MGM Resorts in Vegas including the Aria and New York-New York. Back in June, Glynn Loope of Cigars Rights of America (CRA) wrote the article "One Crisis Breeds Another in Las Vegas, Nevada," detailing the potential for increased smoking bans in the city known for its embrace of activity and vices typically frowned upon in other cities, including smoking [read more here].
For additional news from MGM Resorts, visit mgmresorts.com.