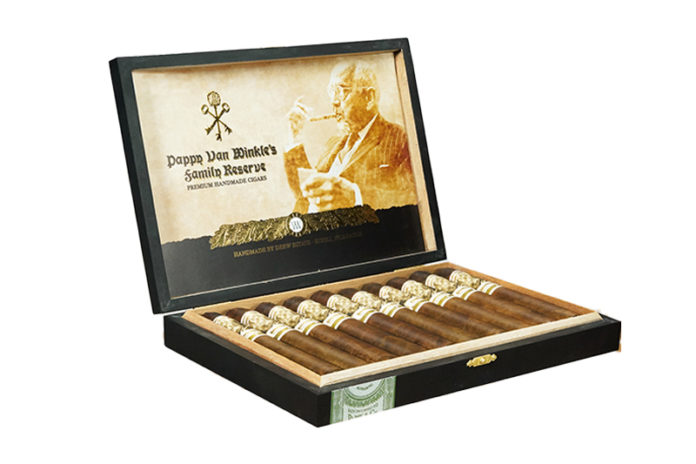 Drew Estate and Pappy & Company are teaming up again for the release of a new 6 x 60 Gordo vitola of the Pappy Van Winkle Family Reserve Barrel Fermented premium cigar line. This cigar was made for those cigar consumers that like large ring gauge cigars. This cigar will be available exclusively on Pappy & Company's website, pappyco.com, before being available to Drew Diplomat Program participants nationwide in 2023.
These cigars are the result of a close collaboration between Jonathan Drew, founder and president of Drew Estate, and the Van Winkle family. It pays homage to Julian "Pappy" Van Winkle and the bourbon legacy he began creating more than a century ago.
The Pappy Van Winkle Family Reserve Barrel Fermented Gordo feature a Tapa Negra-style Kentucky Fire-Cured and barrel-aged wrapper over a Mexican San Andres base wrapper, in addition to an aged Nicaraguan binder and Nicaraguan and Kentucky Fire-cured filler tobaccos. This medium- to full-bodied smoke offers cigar consumers an ultra-premium smoking experience with notes of coffee, cedar and charred wood and an overall smoky sweetness that pairs perfectly with bourbon, whisky or scotch.
Carrie Van Winkle Greener, co-founder of Pappy & Company, commented: "Pappy Van Winkle Family Reserve Barrel Fermented cigars are a symbol of quality, distinction and rarity, just like our family's bourbon. We are proud of our collaboration with Jonathan and the rest of the Drew Estate team to produce a completely one-of-a-kind cigar that deepens our family's legacy for producing authentic handcrafted high-quality products and expands our already widely popular collection of Barrel Fermented cigars."