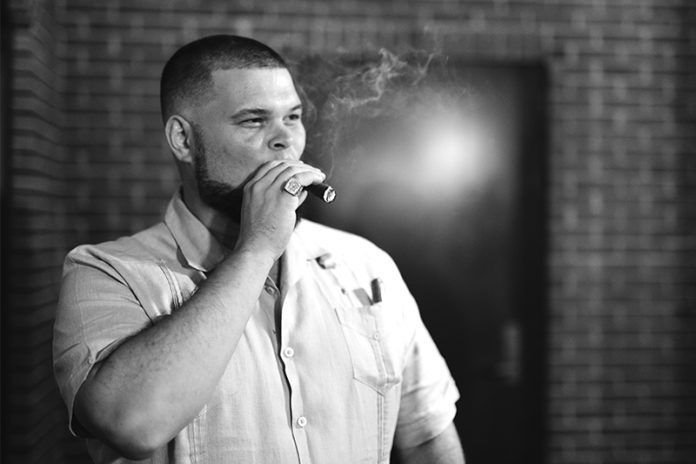 Riste Ristevski is a self-proclaimed computer nerd. He's worked in the IT field since 1999 and as a consultant on the enterprise level since 2002. He holds several certifications, including VMware, Cisco, certified ethical hacker and certified cloud security professional. In addition to his passion for computers and the IT field, Ristevski also loves cigars, so much so that he has his own boutique cigar brand, Jas Sum Kral. Ristevski has been smoking cigars on and off since 1999. He recalls his uncle giving him his first "gas station" cigar, which kickstarted his love affair with cigars. For Ristevski, he had a dream of having his own brand, but he wanted to go deeper into the process, going so far as knowing the source of the tobaccos that would be used in the blend.
"I went far and created my own blend—down to sourcing my own tobacco from various farms and warehouses around Nicaragua. I wasn't going to half-ass it and just become a glorified 'sales jockey,' as I call them," Ristevski explains.
With his family, Ristevski traveled to Nicaragua to start a new chapter in his life as a brand owner. A move like this was drastic, but he knew that living in a country where the cigar culture was strong would only benefit his young brand. He was ready to start at the most basic level to build his brand, an approach to business that came from his work in IT that often called for breaking down extensive tasks and building things from scratch.
"I love cigars and wanted to go and see how it is done from the ground level, from the farms to the store," he explains. "I was hooked—the time and the number of hands a cigar goes through to become the end product was amazing. I wanted to learn it all and submerge myself in it."
What Ristevski was building was a brand, but it was moreso a small business. In the cigar world, it would be known as a boutique brand, a phrase that some companies would play down but that he embraced. As his brand Jas Sum Kral began to come together, Ristevski built his business around the mantra of "boutique as f*ck," which he explains means his company doesn't cut corners at any level of the business. For three years, Ristevski was the only employee at Jas Sum Kral. He wore many hats within his business: blender, marketer and the overall face of the brand.

The Breakthrough
At the beginning, the biggest obstacle Ristevski had to overcome was time management. He had changed things around in his life to make the time to build his brand. He was a true entrepreneur: He continued to work in IT and ran two different businesses that were based in two different fields. As Jas Sum Kral continued to grow and demanded more of his time, Ristevski had to choose where his attention and time would be spent. He ended up letting his two side hustles go so that he could focus more on his IT career and Jas Sum Kral because computers and tobacco were his two passions.
When it came to bringing his dreams of a cigar brand to life, he had some ideas. He wanted the cigar bands and artwork to have a vintage influence and have an old-world feel with an updated European touch. When considering who his potential customers would be, Ristevski wanted to make sure that whoever chose to spend their hard-earned money on a Jas Sum Kral cigar would have a great experience overall while they smoked it. He didn't want to use the excuse that because his product was handmade, it was susceptible to flaws due to human error. This was an excuse he had heard the manufacturers of other handmade products use, and it wasn't one he was OK with using for his cigar products.
As a self-professed cigar geek, Ristevski enjoyed the process of creating the first Jas Sum Kral. He recalls driving down to the factory he used in Nicaragua and tasting the tobacco leaves and the different flavor profiles that came from combining different leaves together. He was testing out so many different blends that he continually had to stop and refuel with food and drink to stop his head from spinning from all the nicotine he was taking in. The cigar rollers he worked with would laugh at him, saying, "Gringo needs coffee and sugar."
Still, he enjoyed the creative process behind cigar blending and bringing his brand to life. He created blends for his palate and made sure he could replicate these blends in any factory he chose to use in the future. Even to this day, those first blends he created are still available and in stores now.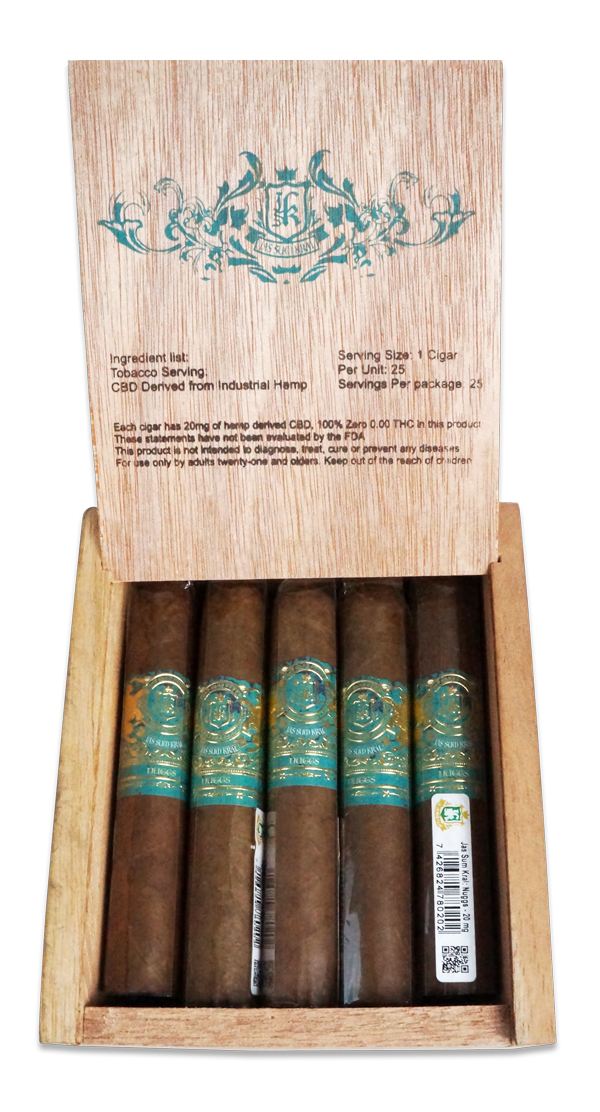 Ristevski doesn't let the fact that he owns a boutique brand stop him from pushing the envelope and creating something unique to his brand and palate. In the past year, he made headlines by releasing the Jas Sum Kral Nuggs, a CBD-infused cigar. CBD, which is short for cannabidiol, is a naturally occurring compound found in the cannabis flower. CBD is a safe, non-addictive substance that offers a variety of therapeutic benefits. Unlike tetrahydrocannabinol (THC), the compound in cannabis that gives users the high that is associated with the substance, CBD does not have any psychoactive effects. CBD is derived from hemp, which was recently legalized in the 2018 Farm Bill. Jas Sum Kral Nuggs contains no THC. Jas Sum Kral Nuggs is offered in a single (4 x 48) size. It comes in two wrapper options: an Ecuadorean Connecticut wrapper and a San Andres Mexican maduro.
Nuggs contains 20 mg of hemp-derived CBD that is consumed orally as the cigar is smoked. Released earlier in 2019, Jas Sum Kral Nuggs cigars have not only generated a lot of buzz online, but they have also been a hit with retailers.
"The feedback has been great, and the cigars are doing very well in sales. The whole process—from the factory in Esteli, Nicaragua, to the shipping, to the lab facility—has been patented. We have developed needles that don't exist in the market, combining two niches into one. It was a very hard and challenging process, like with anything else I do."
Ristevski says that two other companies tried to bring similar products to the market soon after news of Jas Sum Kral Nuggs came out. He tried one of those products and read reviews on the other, and he feels like his cigars still have the advantage.
"I can honestly tell you [that] Nuggs is a 100 percent, full-leaf premium cigar that tastes and smokes just like tobacco and not like some candy flavored B.S. you will find somewhere else. I have been approached by multiple investors and buyers on the patent of this process and can tell you that a few license deals are in place. Feel free to contact me. I'm open to talks, but bring your checkbook also," he says.
The bold decision to release Nuggs has driven Ristevski to continue to challenge the cigar category. At the end of June, he announced another buzzworthy release: the Jas Sum Kral Kine Puro Selection, a cigar infused with 20 mg of THC (see sidebar).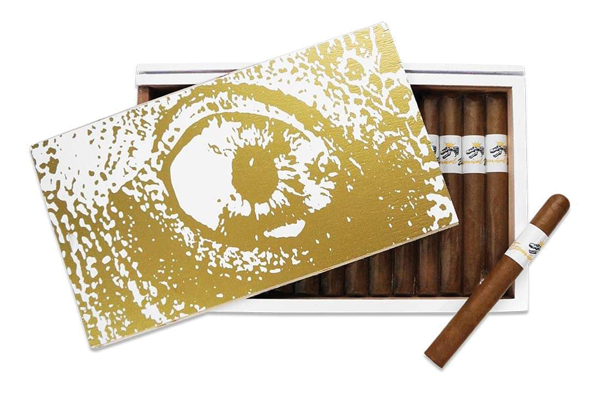 Defining Success
If he had to do it all over again, Ristevski reveals that he wouldn't do anything differently. He proclaims that he has done and followed through on everything he originally set out to do. As he's built the Jas Sum Kral brand, he has encountered his share of naysayers who have told him he was crazy for making some of the business decisions he has made and that some of his ideas—like a CBD-infused cigar—would never work.
"Now they are copying me," he boasts.
To Ristevski, success is simply waking up in the morning and being able to decide what's important and then setting out to accomplish his goals. He's sure of himself and at times defiant, but he's enjoyed building his brand and proving wrong the critics who didn't think that he or Jas Sum Kral would be around after the first 100 boxes of his cigars were sold. For others that want to embrace the boutique lifestyle and excel with it, Ristevski has three pieces of advice: be yourself; do what your gut tells you, even if all of your friends tell you that you're nuts or wrong; and repeat the first piece of advice—always be yourself, because hard work always pays off in the long term.
This story first appeared in the November/December 2019 issue of Tobacco Business magazine. Members of the tobacco industry are eligible for a complimentary subscription to our magazine. Click here for details.
– Story by Antoine Reid, senior editor and digital content director for Tobacco Business Magazine.