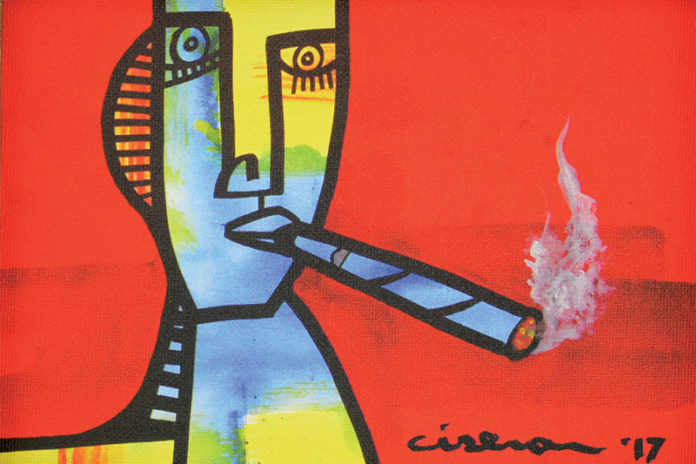 Oscar Valladares is switching it up for their newest release. The new Oscar Valladares Ciserón Edition will be the first cigar from the company to feature an Ecuadorian sun-grown wrapper, a departure from the company's typical Honduran tobacco. The cigar boxes will also feature five pieces of art working by Honduran artist Elmer Ciserón Bautista.
Ciserón's work fits into the Post-Cubist Subrealism and Minimalist styles of art. He is also an award-winning artist, having won the Julio Visquerra Regional Painting Prize in 1994 as well as various honors from the Honduran government. Each box is designed to be a collector's item, featuring one of Ciserón's untitled pieces of artwork.
The new Oscar Valladares Ciserón Edition will be limited in production to just 2,500 boxes. It will come in one vitola–Toro (6 x 52). Production will also occur in Danlí, Honduras and will begin shipping to retailers at the end of January 2018 after a launch party on Jan. 25 at Stogies World Class Cigars in Houston.
For all the latest information from Oscar Valladares Tobacco & Co., visit oscartobacco.com.