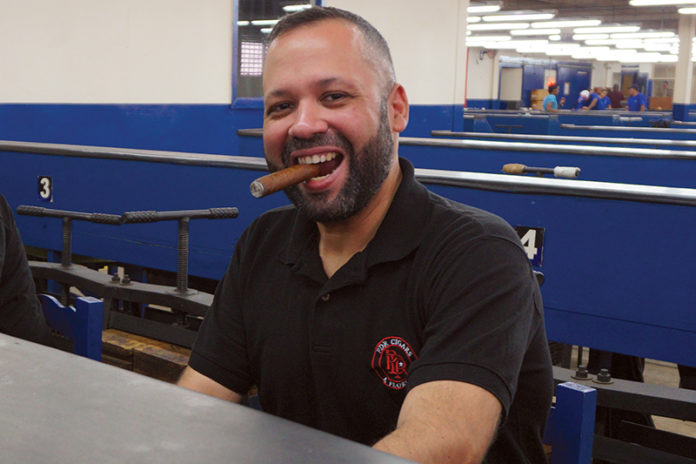 When one door closes, another always seems to open up. That certainly has been the case for Abe Flores. The 43-year-old owner of PDR Cigars has made a career of making the most out of the new opportunities that come his way. He has chased a career as a professional musician and fell just a tad bit short of his dream. He has worked in IT and built websites, and he has worked retail—all in an effort to find the passion that would lead to his next career. Through the twists and turns of everyday life, Flores ultimately would return to his Dominican roots to find that passion to spark his lifelong career.
After seeing a want ad from Tinder Box International seeking someone to build a website, Flores obtained the job and set off on a course that has seen him become one of the hottest newer cigarmakers in the industry. Beginning in 2004 with just 10 rollers, PDR Cigars is a Dominican cigar company that now employs approximately 400 people who make around 5 million cigars a year. In the 15 years since establishing PDR Cigars, Flores has become one of the brightest young cigarmakers in the industry—a seemingly overnight success story that belies all of his hard work, little bit of luck, and guidance from friends and mentors.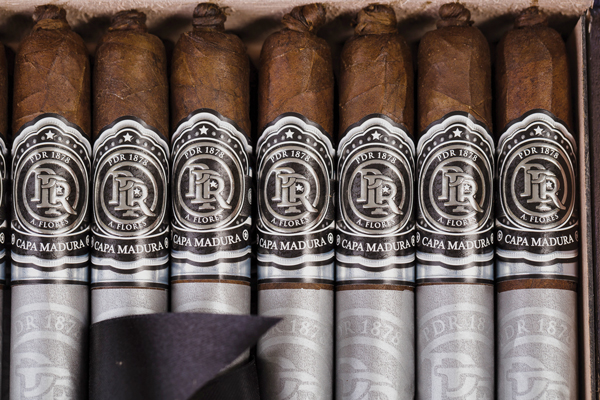 "We've had our ups and downs; that's what makes brands," Flores says. "Every legacy has a beginning—no one is born a superstar. You have to work to become one."
The Evolution of a Tobacco Man
Born in 1975 in Queens, New York, Flores spent much of his young life living on his grandfather's farm in Bonao, Dominican Republic. The family grew tobacco and coffee and raised livestock on the farm, and Flores was expected to work the farm with the rest of his family. Witnessing firsthand the difficulties of farming life—including slaughtering livestock—Flores vowed that he would never seek a job in agriculture.
"When I left my grandfather's farm in Bonao, I told myself 'never again.'" Flores recalls. "I was so happy to go back to the U.S."
Returning to the United States when he was 14, Flores settled with his family in Salem, Massachusetts. Having spent most of his life in the Dominican Republic, Flores didn't speak much English and making the transition from rural Dominican life to urban American life wasn't easy. He was one of the few Spanish speakers in his school's English as a Second Language (ESL) program and had a tough time fitting in until his ESL teacher took the class to the school auditorium.
"She invited us to pick any instrument we wanted to take home with us," Flores says. "I wanted to play the upright bass, but I wasn't big enough to hold it and carry it around, so I chose cello."
Thus sparked Flores' first passion in life. He learned to play the cello and then the upright bass, and he played in the school orchestra. He saved money to buy other instruments, including an electric bass guitar, and he started a heavy metal band. Flores was so talented that the Berklee College of Music in Boston offered him a music scholarship, but his father made him turn it down. Likewise, his father nixed Flores' idea of studying photography at the University of Massachusetts or joining the United States Air Force. Instead, Flores stayed closer to home and enrolled at Boston College to study medicine.
Flores' heart just wasn't into the training and educational commitment for a medical career. He left Boston College to enroll at Merrimack College, where he graduated with a degree in marketing. Flores began working for a France-based software company immediately after college. While going to school and working with the software company, a family connection brought Flores into the fringe of the cigar industry.
"I always smoked cigars," Flores explains. "All of my family smoked tobacco. A cousin of mine, Che, lived in New York City, and when I was in college I used to get cigars from him. He used to go to the Dominican Republic to buy cigars and sell them in New York. My cousin really taught me about flavor and strength. He had humidors in all sorts of restaurants and bars. When the Cigar Boom ended, his business ended as well."
About 18 months after joining the French software company, the Dot.com Boom busted and Flores was out of a job. He moved back to New York City to pick up his pursuit of a music career, juggle two jobs at Guitar Center and T-Mobile, and go back to school to learn how to build websites. He got a job with an advertising agency and started building websites for the company's clients, but he found the work unsatisfying.