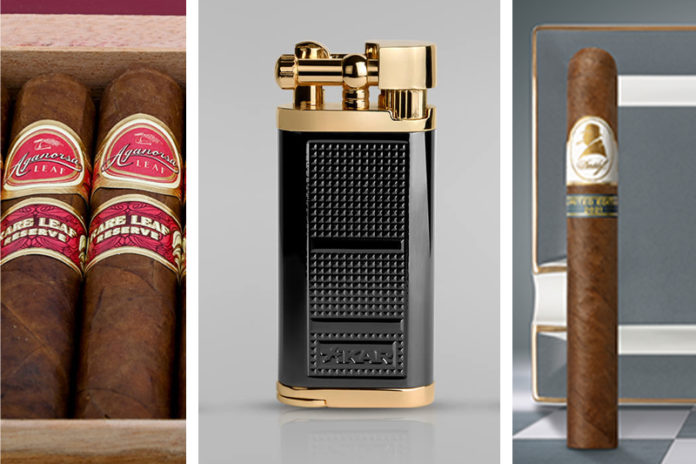 Rare Leaf Reserve
Manufacturer: Aganorsa Leaf
Sizes: Robusto (5 1/4 x 52), Toro (6 x 54), Titan (6 x 60)
MSRP: $10.99-$12.10 per cigar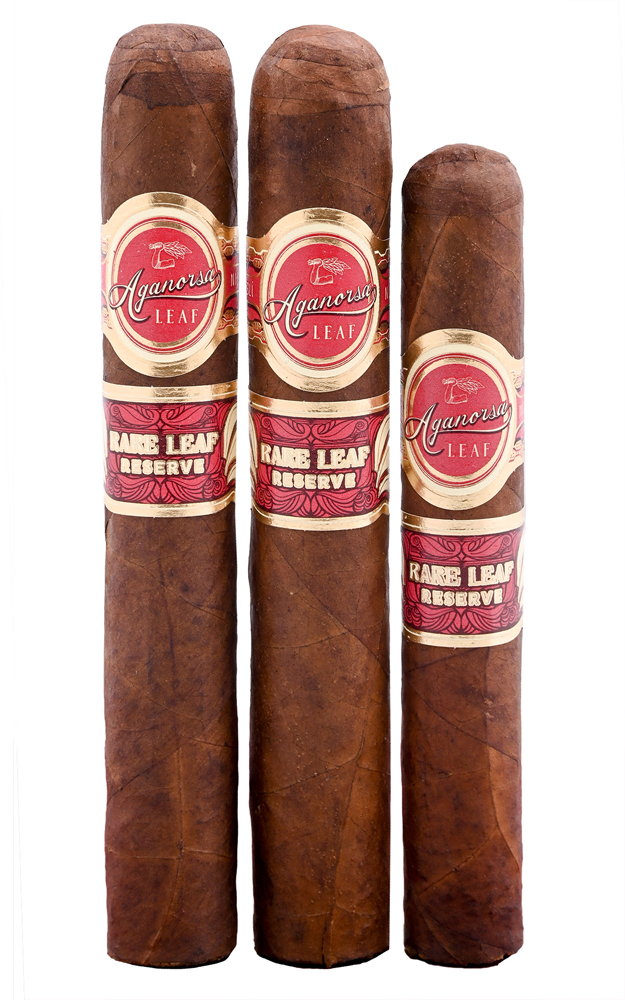 Rare Leaf Reserve is a cigar line from Aganorsa Leaf that takes the best qualities of a limited edition and a core line product and combines them into one premium cigar. The Rare Reserve Leaf blend utilizes unique tobaccos from specific lots on Aganorsa's best farms. Normally, due to the low yield these small sections produce each year, these distinct tobaccos would be viable only in a limited edition; however, Aganorsa Leaf restricted access to these tobaccos to those retailers with designated Aganorsa Select Accounts. This ensures Rare Leaf Reserve will be available regularly to this select group of tobacconists in small quantities. Rare Leaf Reserve features a cafe cover leaf from Jalapa, Nicaragua, that envelops a double binder as well as filler tobaccos of predominantly Criollo '98 with a small amount of Corojo '99.
"A constant challenge we face is utilizing tobaccos to create blends which are outstanding expressions of our signature flavor and aroma while still producing them in quantities viable to sustain production consistently rather than just as one-time limited editions or available only sporadically throughout the year," says Terence Reilly, vice president of sales and marketing at Aganorsa Leaf. "Rare Leaf will be the first project using selections of our Leaf in short supply that will be maintained in regular production. In order to achieve this, Rare Leaf will be available only to our Aganorsa Leaf Select retail partners. Rare Leaf is a Nicaraguan puro made entirely of Aganorsa Leaf. Our Criollo '98 varietals are more dominant in this blend, but our Corojo '99 is present as well and plays an important role [in] rounding out the flavor and aroma."
Beyond the typical Aganorsa Leaf customer, Rare Leaf Reserve will appeal to any retailer or consumer that is in search of an ultra-premium cigar offered at a reasonable price.
"We are vertically integrated, and controlling the whole process from seed to cigar allows us to put out what should be a $20 cigar at the $10-$12 price point. In today's world, that has a lot of appeal," says Reilly.
Rare Leaf Reserve is exclusive to Aganorsa Select Accounts. Each January, retailers that carry Aganorsa Leaf products are given the opportunity to join this select group of retail partners that are all willing to make the commitment to Aganorsa Leaf's core line brands.
"It's not for everyone, of course, and there is no pressure to partake," says Reilly. "We appreciate everyone's business. That said, we simply felt it was important to reward those who prioritize us in their humidors with something special."
Avo Classic Belicoso
Manufacturer: Avo Cigars
Size: Belicoso (6 x 48)
MSRP: $12 per cigar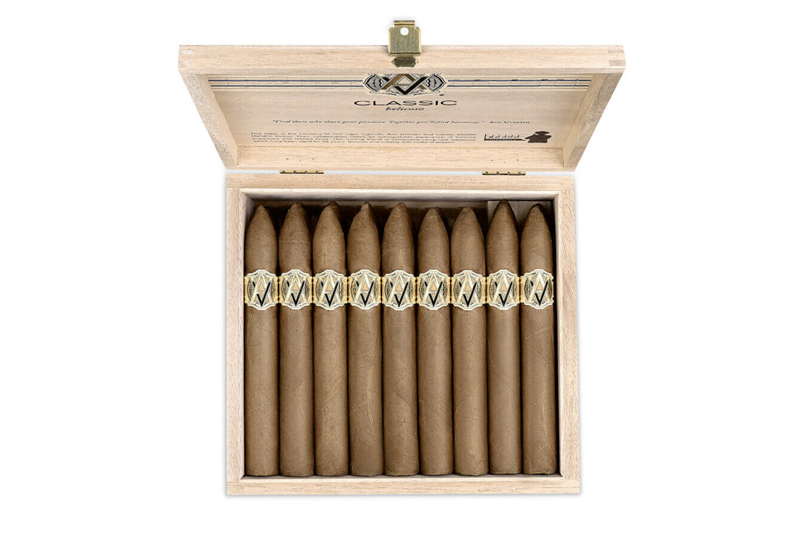 The Avo Classic Belicoso, released in 2005, is a unique vitola available for a limited time with only 2,000 25-count boxes being released in the U.S. This cigar features Dominican filler tobaccos wrapped in a sun-grown Ecuadorean wrapper.
"For over 25 years, the Avo Classic has pleased consumers with its consistently smooth yet flavorful blending and flawless construction," says Lana Fraser, director of marketing and retail at Davidoff of Geneva USA. "The Belicoso shape further intensifies the flavor delivered in this blend while maintaining the mild, creamy character you've come to expect and appreciate from Avo Classic."
The Avo Classic Belicoso is a mild to medium-strength cigar that has a creamy flavor profile with notes of earth and nuts that are complemented by a subtle pepper spice.
Havana Q
Manufacturer: J.C. Newman Cigar Co.
Sizes: Double Grande (6 x 60), Double Robusto (5 x 56), Double Toro (6 x 54), Double Churchill (7 x 52)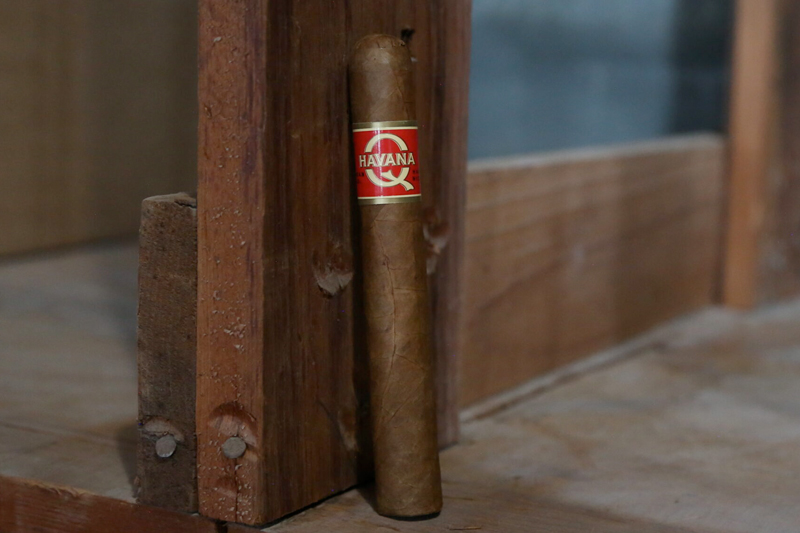 J.C. Newman Cigar Co.'s new value cigar, Havana Q, will come in a variety of different ring gauges to cater to the modern cigar smoker's varied preferences. It will also be offered in a vacuum-sealed humidor bag, making it easy to store and merchandise within brick-and-mortar locations and also making it more available to cigar smokers everywhere.
"We wanted to bring the essence of Cuba to consumers without breaking the bank. With larger sizes and convenient 'humi-bag' packaging, all varieties of smokers will find something they like in Havana Q," says Drew Newman, fourth-generation owner and general counsel at J.C. Newman Cigar Co.
Havana Q is rolled at the J.C. Newman PENSA factory located in Estelí, Nicaragua, and will be sold as individual cigars as well as in a resealable 20-count humidor bag.
Juarez Shots Le 2021
Manufacturer: Crowned Heads
Size: Petit Robusto (4 x 50)
MSRP: $5.60 per cigar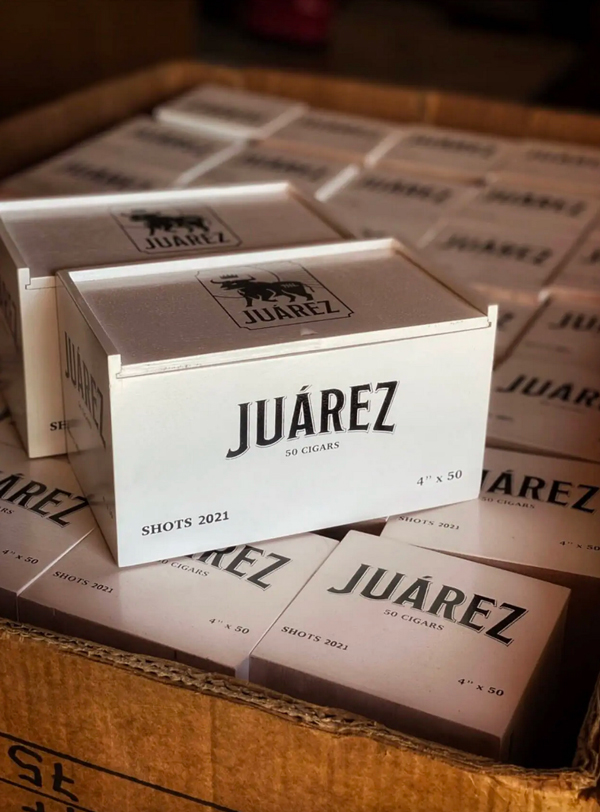 Crowned Heads' Juarez Shots returns in 2021, brought back due its popularity following last year's release. Juarez Shots is presented as a Petit Robusto in 50-count cabinet boxes. The cigar is named after a lyric in Johnny Cash's song "Cocaine Blues" from the 1968 album "At Folsom Prison."
"Juarez, as a brand, experienced dramatic growth in 2020," says Crowned Heads co-owner/founder Jon Huber. "The Shots are a great limited seasonal release that gives fans of Juarez a short-format option to enjoy the blend not only during the cold weather months but any time of year as well."
Only 500 50-count cabinet boxes of Juarez Shots are being released this year. This cigar is rolled at Tabacalera Pichardo in Estelí, Nicaragua.
Plasencia Alma Fuerte Sixto I Hexagon – Colorado Claro
Manufacturer: Plasencia Cigars
Size: Hexagono (6 x 60)
MSRP: $21 per cigar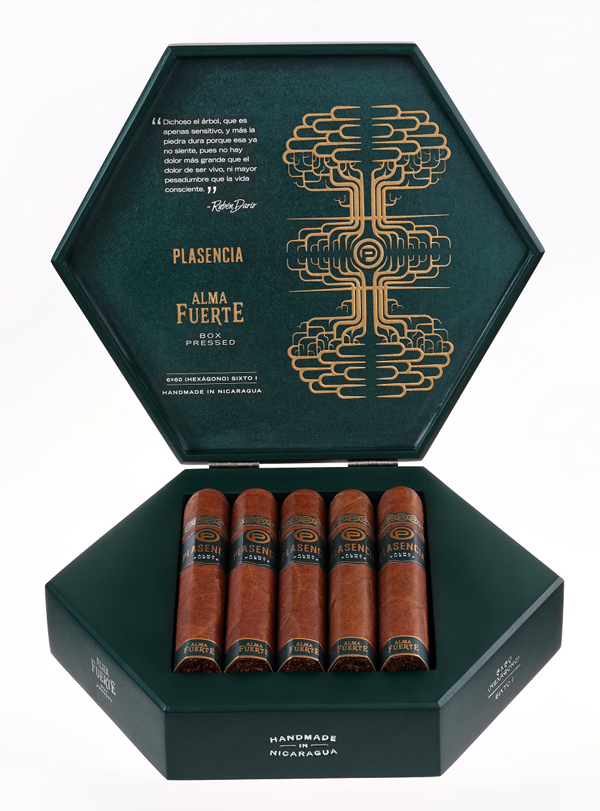 Plasencia Cigars has begun shipping the Plasencia Alma Fuerte Sixto I Hexagon – Colorado Claro to retailers. This blend is an extension to the Plasencia Alma Fuerte brand and features 10-year-aged tobacco presented in an innovative hexagon shape.