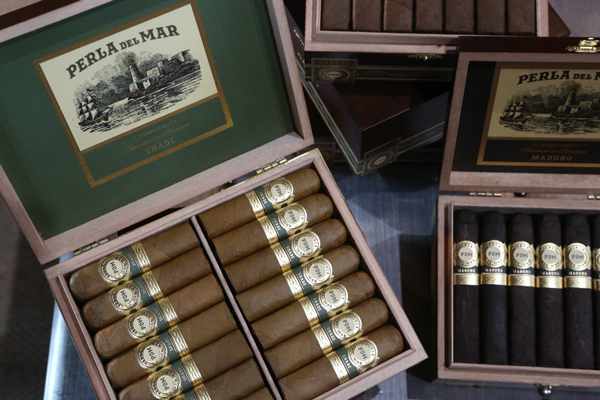 Perla del Mar
Manufacturer: J.C. Newman Cigar Co.
Sizes: Shade–Short Robusto (3 3/4 x 56), Robusto (4 3/4 x 52), Toro (6 1/4 x 54), Double Toro (6 x 60), Corona Gorda (5 1/2 x 46); Corojo–Robusto (4 3/4 x 52), Toro (6 1/4 x 54), Double Toro (6 x 60), Corona Gorda (5 1/2 x 46); Maduro–Robusto (4 3/4 x 52), Toro (6 1/4 x 54), Double Toro (6 x 60), Corona Gorda (5 1/2 x 46)
MSRP: $6-$7 per cigar
J.C. Newman Cigar Co. has begun shipping its newly revamped Perla del Mar cigar to brick-and-mortar retailers in the U.S. Handmade at J.C. Newman PENSA in Nicaragua, this is the first big change to the brand that J.C. Newman has made since the cigars first launched in 2012.
"Although our Perla del Mar cigars were good, we were not totally satisfied," said Drew Newman, general counsel and a fourth-generation member of J.C. Newman Cigar Co. "We wanted to make them better, and that's exactly what we did. After two years of effort working to perfect the brand, we are thrilled to reintroduce Perla del Mar. Although our family has been rolling cigars for 125 years, we do not rest on our laurels. We are constantly working to improve everything that we do, and we are very pleased with the new Perla del Mar."
To improve upon the Perla del Mar Shade and Maduro blends, J.C. Newman strengthened both blends with aged Nicaraguan filler tobaccos. A new flavorful Corojo blend that was rolled with a robust Ecuadorean Corojo wrapper has also been added to the Perla del Mar line. All Perla del Mar cigars are now shaped in a classic Tampa-style press and packed with traditional bands and boxes. Each blend comes in four sizes, and the cigars range in price between $6 and $7.
Perla del Mar is a brand with Cuban roots. In 1905, Cuban brothers started hand-rolling cigars using tobacco grown on their family's farm. The brothers named their company Perfecto Garcia Brothers and called their cigars Perla del Mar, a name inspired by the beautiful Caribbean waters that surround Cuba. As their brand grew popular and the demand increased, the brothers built a large cigar factory next to J.C. Newman's El Reloj factory in Ybor City, Florida. In the early 1900s, Perla del Mar was one of the leading premium cigar brands in the country. J.C. Newman is carrying on that tradition and legacy today as it works to make Perla del Mar a mainstay in humidors in the U.S. and beyond.

11TH ANNIV
Manufacturer: Room101
Size: Torpedo (6 x 52)
MSRP: $10 (per cigar)
Room101 is celebrating its 11th anniversary with a limited-edition release, the 11th Anniv. With a production run of just 1,000 20-count boxes set to be released, Room101 owner Matt Booth has revealed that this maduro wrapper cigar features only Nicaraguan tobacco while keeping the exact details of the blend a secret.
"We have earned our stripes in this industry, and we are set to earn several more in the years to come," says Booth. "I greatly appreciate all of you who have supported us along the way and all of you who will join our family and play a role in our next 11 years and beyond. You have made this milestone possible for Room101. We have traversed several lifetimes, surfing the highs and lows of this journey together. I wouldn't change a thing."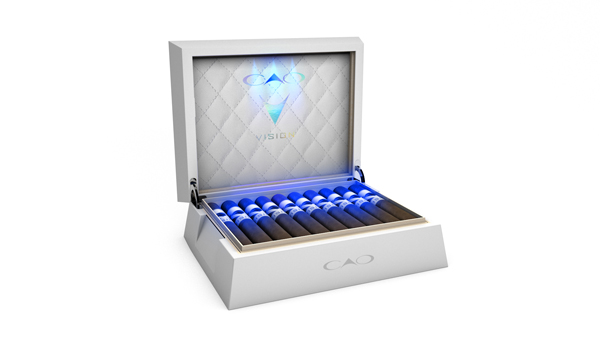 CAO Vision
Manufacturer: General Cigar Co.
Size: Vision (Churchill, 7 x 50)
MSRP: $18.99 (per cigar)
CAO Vision is a limited-edition release from General Cigar Co. that is crafted by Rick Rodriguez and CAO's Nicaraguan blending team. To create this cigar, General Cigar Co. used only the finest Cameroon wrapper leaves. CAO Vision also features an Ecuadorean Sumatra binder and Nicaraguan Habano fillers from Estelí and Jalapa. The end result is an unforgettable blend that delivers notes of nuts and spice and culminates in a subtly sweet finish. The CAO Vision was inspired in part by the CAO Cameroon.
"I've never developed my own blend with a Cameroon wrapper, and I thought it was time to do it, to share my take on a Cameroon-wrapped cigar with Benji and the fans of CAO," says Rick Rodriguez, brand ambassador and blender. "It's my way of saying thank you for this amazing career I have in the cigar business."