The Ferio Tego Elegancia is manufactured in the Dominican Republic by the Quesada family. The blend features an Ecuadorian wrapper, Dominican binder and filler tobaccos from Nicaragua and the Dominican Republic. The Ferio Tego Generoso is manufactured in Nicaragua by the Plasencia family. The blend for this cigar features a Honduran shade-grown wrapper, Nicaraguan binder and Nicaraguan filler tobaccos. Both cigars will be packaged in custom 10-count humidors and presented as 6 x 50 Toros. Ferio Tego Elegancia and Generoso will both be released in limited quantities and more widely available in 2022. Each 10-count box of Ferio Tego will have a suggested retail price of $210.
"Our 2021 Ferio Tego offerings are quite different from one another in style and pedigree, yet both share a commonality of balance and body," says Michael Herklots, co-owner of Ferio Tego. "A mild cigar need not be thin on the palate nor flavor deficient, and a bolder cigar does not need to be ferocious and aggressive. We worked very hard together with the factories to achieve a full-bodied mouth feel and presence across both blends in order to establish a 'house style' so to speak, while still preserving the elegant expression of creamier, brighter notes of Elegancia, and the generous presentation of dense, savory notes of Generoso. Both blends stand on their own, much the way a winery offers a Chardonnay and Cabernet Sauvignon together."
In addition to Ferio Tego's own branded products, the company also has re-released the Timeless Collection, a brand previously owned and distributed by Nat Sherman International. The Timeless Collection is manufactured in the Dominican Republic by Quesada Cigars.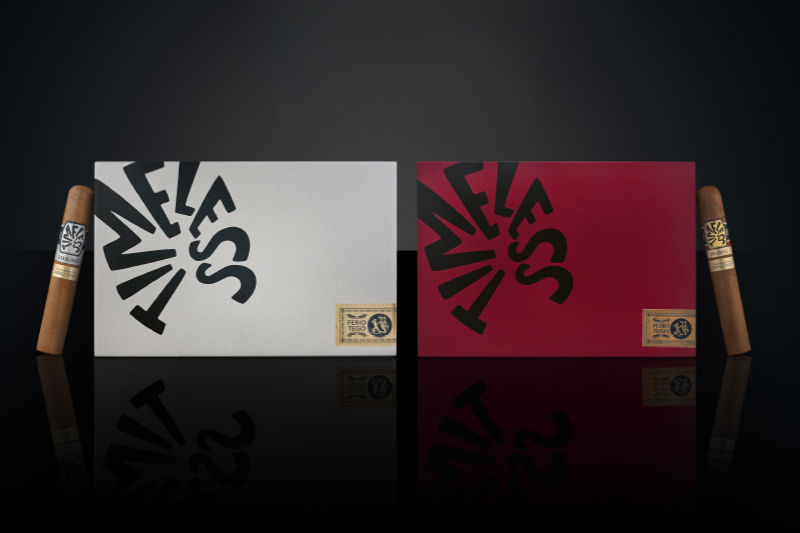 Timeless Prestige first debuted back in 2013 and was marketed as a cigar that was a "return to elegance," while most of the cigars on the market during that time were more aggressive in strength and flavor and also larger in size. The Timeless Sterling features Dominican fillers and binder tobaccos and an Ecuadorian Connecticut wrapper. It will come in 10-count boxes and be presented in five different sizes: Churchill (7 x 48, $14.50), Corona Gorda (5 3/4 x 46, $13.50), Robusto (4 3/4 x 50, $13.00), Dalias (6 1/2 x 43, $12.75) and Marevas (5 1/2 x 42, $11.50).
Timeless Prestige, which first appeared in 2012, features tobaccos from three different countries. It has a Hondruan wrapper, a Dominican-grown binder and filler tobaccos from both the Dominican Republic and Nicaragua. It will come packaged in 20-count boxes and will be available in five different sizes: Gordo (6 x 60, $12), No. 2 Torpedo (6 1/4 x 52, $11.50), Churchill (7 x 48, $11), Hermoso (5 1/2 x 54, $10.50) and Robusto (4 3/4 x 50, $9.50).
This story first appeared in the November/December 2021 issue of Tobacco Business magazine. Members of the tobacco industry are eligible for a complimentary subscription to our magazine. Click here for details.