When it comes to its cigar program, Blend Bar relies heavily on Davidoff to not only help it build out its humidors but also to help train its staff. Different area sales managers will come in to host a "cigar 101" session to help teach the staff how to talk about and sell cigars to customers.
"It makes all the difference because a lot of these newer hires come in and are very intimidated by the humidor—just like guests can be intimidated by the humidor—especially when trying to sell a $30-$40 cigar. You have to give sales people the product knowledge, which then gives them the confidence to feel that they can sell a $40 cigar or anything high-end. Having the knowledge to be able to explain to the guests what they're getting with a nice cigar or bourbon, why it's that experience, why it's like taking a vacation for two hours is important," Johnston explains.
Treating Them with Respect
A lot goes into opening and running a successful retail store, lounge or bar. For the team behind Blend Bar with Davidoff Cigars, success is all in the fine details. From the start, Holden and Johnston knew they wanted to create something different. They didn't want to create just another bar or cigar shop; they wanted to start a corporation. Holden, Johnston and Arbuckle each brought something unique to the partnership that led to the launch of Blend Bar and filled in where the other may have lacked in terms of knowledge and skill.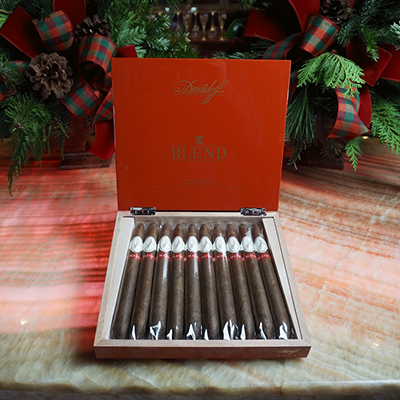 There were things that had to be learned along the way as well. Johnston admits that over the years he's learned how to delegate certain tasks and how to look at business from a different angle. Launching a business is one thing, but learning how to grow that business, how to analyze and work with profit and loss, how to create a business for cigar smokers that also appeals to those that don't smoke—these are all necessary for growth and long-term success in 2022 and beyond.
As you're mapping out the future of your retail outlet, keep service in mind. Blend Bar with Davidoff Cigars was built around the idea of hospitality and experience. Johnston advises retailers to think about the businesses they frequent. Why does that business, restaurant or store appeal to you? Why do you enjoy going into it? Is it clean? How does the staff treat you when you walk in? This simple approach to viewing businesses is oftentimes lost on today's brick-and-mortars that find themselves competing with the ease of online shopping. It all comes down to treating your customers right, Johnston explains. Make them feel at home, and let customers and guests know you're happy to have them in store. If you treat your customers right and show them some respect, those customers in turn will become your business' biggest supporters and promoters.
This story first appeared in the March/April 2022 issue of Tobacco Business magazine. Members of the tobacco industry are eligible for a complimentary subscription to our magazine. Click here for details.
– Photography by New Ground Photography. Story by Antoine Reid, senior editor and digital director for Tobacco Business Magazine. You can follow him on Instagram @editor.reid.