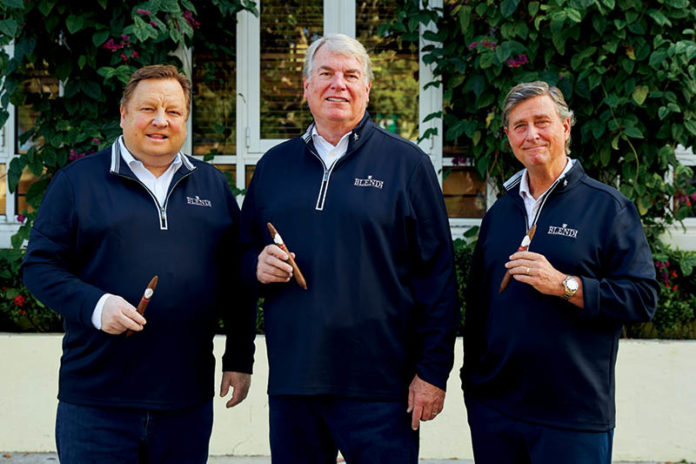 Part 2 of the March/April 2022 cover story from Tobacco Business featuring Mark Holden, Corey Johnston and Kim Arbuckle. For part 1, click here.
The Right Investment
Investing in a good ventilation system and décor, securing stores in cities and locations where Blend Bar could thrive, and stocking the humidor with a great selection of cigars seems like it would be enough to guarantee success, but there was one major factor that could make or break the business. Hospitality and hiring the right people to interact with the customers was very important to fulfill the original vision of creating a business where the customer experience was paramount.
"You know the old saying, 'Treat someone like they're in your home.' But really, it's that generous perception and that wanting to entertain the guests, and it's about having the staff to offer the warm welcome and perform all the little details," says Johnston.
It may come off as common sense, but there's a certain procedure or ritual performed at Blend to make patrons feel that they're at home: When a cigar is bought, there's someone on staff waiting to cut it for the customer; if you left your lighter at home, a staff member is ready to help you light up; a napkin is placed under each drink, and if you're in need of a refill, a staff member anticipates that before you have to ask. These are all little details that come with running a bar and lounge, but together they build an experience and help guests enjoy themselves. The more the guest enjoys his or herself, the more likely they are to come back. The more they come back, the more likely they are to bring their friends and family with them, which helps builds Blend's customer base.
None of these rituals or relationships with the customers could be built without the help of a dedicated, passionate staff that understands and believes in the original vision held by the founding partners. Richard Payton is a good example of a Blend Bar employee that's helped put Blend on the map. Before joining Blend Bar, Payton had experience in the scotch world and had been a waiter at several high-end restaurants in Indianapolis. Payton was the first person in the U.S. to become a certified cigar sommelier through Tobacconist University's certification program. At Blend, Payton is attributed as having played a big role in developing how guests are greeted and handled when they come into any Blend Bar with Davidoff Cigars. Guests appreciate Payton's passion, product knowledge and overall attention to detail, such as their preferences, so much that they oftentimes seek him out personally to help them whenever they come into Blend. Payton is an example of the type of employee that's sought out for all four locations of Blend Bar with Davidoff Cigars—someone that not only has great hospitality skills but is also willing to learn and train to become even better than they were the day they were hired.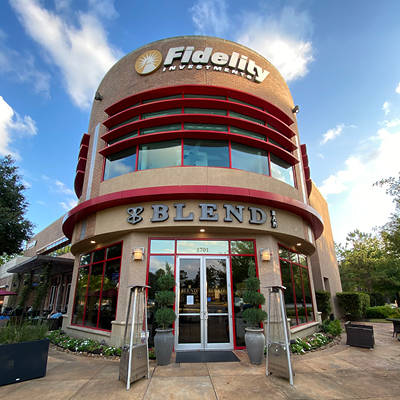 Viewing their business as a home rather than just a retail establishment also sets the tone for everything that takes place in each store. Johnston explains that Blend Bar doesn't have customers; it has guests. This may seem minor or a matter of semantics, but it's an important distinguishing factor that's key to Blend Bar's appeal and success. Those that enter Blend are made to feel like guests in a home. There are some that use Blend's amenities such as its members-only boardroom for meetings and others that come in regularly to work remotely and get work done. Many of Blend Bar's guests view each other as friends and family, too, and see Blend as another home rather than just a business they visit. Guests oftentimes visit Blend several days a week and will make new friends while enjoying the lounge or bar. Guests have been known to golf together and even take trips with one another. This transformation that takes place, where strangers enter Blend Bar and leave as guests and become friends is perhaps the most important thing that takes place in Blend.
Cigars are at the core of Blend Bar with Davidoff Cigars' business, but it's not its entire business. Approximately 20 percent of Blend's guests do not smoke cigars so it's important to Johnston and others to ensure those guests feel welcomed at Blend just as anyone else would. This is accomplished through the ventilation system that keeps the cigar smoke at a minimum and also through a menu that includes food and drinks. Blend Bar offers some zero-proof non-alcoholic cocktails, other spirits and food to appeal to a greater audience beyond cigars, working within each location's local laws and taxes to develop a food and spirits program that will resonate with its customer base.